air tv Anywhewre Wi-Fi Enabled Network DVR and Streaming Device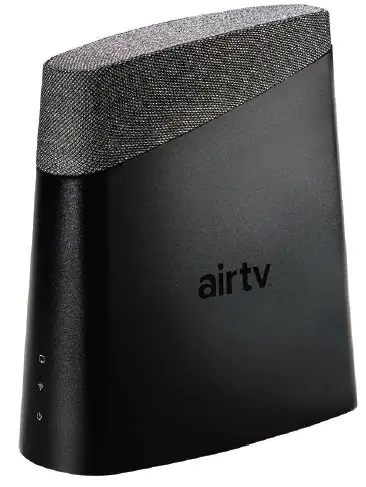 Important Safety Instructions
Read these instructions.
Keep these instructions.
Heed all warnings.
Follow all instructions.
Do not use this apparatus near water.
Clean only with dry cloth.
Do not block any ventilation openings. Install in accordance with the manufacturer's instructions.
Do not install near any heat sources such as radiators, heat registers, stoves or other apparatus (including amplifiers) that produce heat.
Protect the power cord from being walked on or pinched particularly at plugs, convenience receptacles, and the point where they exit the apparatus.
Only use attachments/accessories specified by the manufacturer.
Unplug this apparatus during lightning storms or when unused for long periods of time.
Refer all servicing to qualified service personnel. Servicing is required when the apparatus has been damaged in any way, such as power-supply cord or plug is damaged, liquid has been spilled or objects have fallen into the apparatus, the apparatus has been exposed to rain or moisture, does not operate normally, or has been dropped.
The AC-DC power supply and cord shall remain readily operable so that the apparatus can easily be disconnected from AC power.
The AC-DC power supply is still connected to AC power whenever the power supply is plugged into a live power outlet even if the apparatus LEDs indicate it is off.
If using an outdoor antenna, follow NEC guidelines included with the antenna for grounding of the coaxial cable.

WARNINGCancer and Reproductive Harmwww.P65Warnings.ca.gov
This device complies with part 15 of the FCC Rules. Operation is subject to the following two conditions:
This device may not cause harmful interference.
This device must accept any interference received, including interference that may cause undesired operation.
This device must be installed at least 20cm (-8 inches) from typical person locations per FCC RF exposure guidelines.Do not make any modifications to this device; doing so may void your authority to operate it.
NOTE: This device has been tested and found to comply with the limits for a Class B digital device, pursuant to part 15 of the FCC Rules. These limits are designed to provide reasonable protection against harmful interference in a residential installation. This equipment generates, uses and can radiate radio frequency energy and, if not installed and used in accordance with the instructions, may cause harmful interference to radio communications. However, there is no guarantee that interference will not occur in a particular installation. If this equipment does cause harmful interference to radio or television reception, which can be determined by turning the equipment off and on, the user is encouraged to try to correct the interference by one or more of the following measures:
Reorient or relocate the receiving antenna.
Increase the separation between the device and receiver.
Connect the device into an outlet on a circuit different from that to which the receiver is connected.
Consult the dealer or an experienced radio/TV technician for help.
Model: AirTV AnywhereResponsible Party US Contact Information:AirTV L.L.C.9601 Meridian Blvd.Englewood, CO 80112www.AirTV.netWarranty, safety, regulatory and legal information can be found at www.AirTV.net/legal
What's included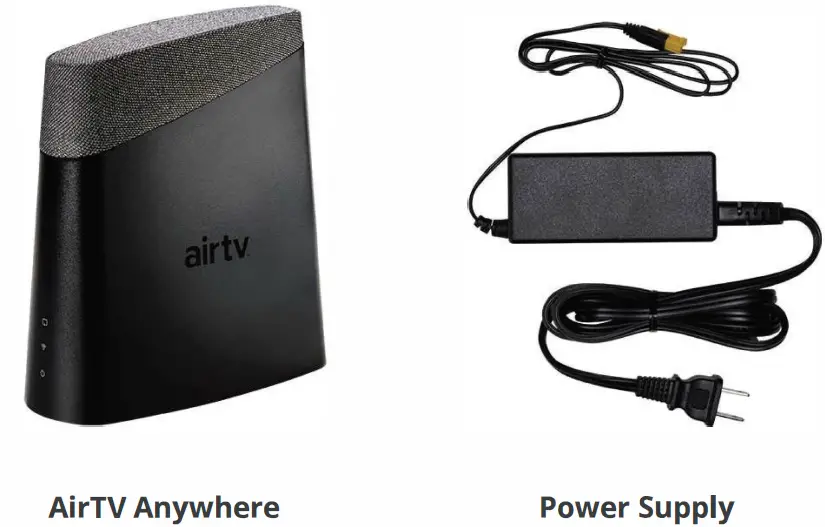 What you'll need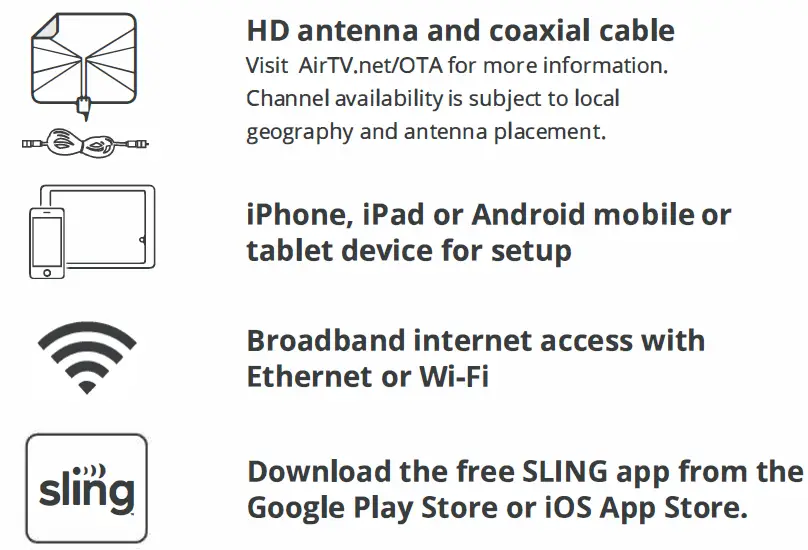 Warning! Do not move this receiver while it is plugged in! This receiver contains a hard drive which can be damaged by excessive heat, shock or vibration. Please ensure that the receiver is well ventilated. Damage caused by incorrect handling is not covered by warranty. When moving the receiver, always unplug and wait 30 seconds.To avoid overheating, place your AirTV Anywhere in a well ventilated place. Avoid placing it on carpet, warm surfaces or in direct sunlight.
Set up my AirTV Anywhere
Have a SLING account?Skip to Step 3.
Need a free SLING account? Visit sling.com/airtv.
Download and install the SLING app on an iPhone. iPad or Android mobile or tablet device.
Sign in to the SLING app.Go to settings–+ Locals–+ Set Up AirTV and follow the on-screen instructions.
[xyz-ips snippet="download-snippet"]