Schlage NDE Wireless cylindrical lock Datasheet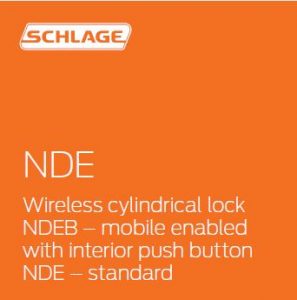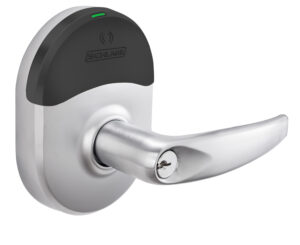 Overview
The Schlage® NDE wireless cylindrical lock is designed to affordably extend electronic access control deeper into the building beyond traditional perimeter and high security openings. And now Schlage offers the NDE wireless lock with a mobile enabled option that gives users the security and convenience of using a smart device to gain access1.
NDE wireless locks simplify installation by combining the lock, credential reader, door position sensor and request-to-exit switch all in one unit. NDE wireless locks require only minor modifications to existing mechanical Schlage ND cylindrical door prep; and eliminate the need to install additional components or run wires to each opening.
The new NDEB mobile enabled wireless lock also has an interior push button with indication that expands the way the lock operates to include storeroom, office, privacy and apartment functions.
NDE wireless locks can be set up and configured wirelessly with a connected smartphone or tablet – no proprietary device needed. With the ENGAGE™ cloudbased web and mobile apps, it's easy to configure lock settings, add users, and view audits and alerts from virtually anywhere. And using the built-in Wi-Fi®, automated daily updates to lock configuration and user access rights are possible.
The open architecture design allows for advanced capabilities including networked real-time communication. Using the ENGAGE Gateway and an integrated solution from one of our physical access control software (PACS) providers2  Schlage offers organizations the freedom to use the solution of their choice.
The NDE is ideal for office and suite entries, conference rooms, common area doors, resident units, and sensitive storage areas with cylindrical door prep. NDE suites with all Schlage ND levers and keyways, and most finishes, providing attractive options to meet the requirements of nearly any environment.
1  Use of mobile credential on the NDEB mobile enabled lock is dependent on availability of compatible mobile credential2  Integration with NDEB mobile enabled wireless locks required for operation. For information on PACS providers and their capabilities visit us.allegion.com/alliances.
Features And Benefits
Ready for the future with the ability to read Bluetooth (NDEB) and NFC (NDE, NDEB) mobile credentials
NDEB includes interior push button with indication for storeroom, office, privacy, and apartment applications
Wireless configuration from connected smartphones and tablets
Built-in Wi-Fi® enables automated daily updates sent directly from host software
Networked real-time communication available with the ENGAGE Gateway and PACS provider solutions
Designed to be easy to install, connect, manage, and use
Fits mechanical ND door prep with minor modifications
Weather resistant design for use on perimeter doors
Lever handing is field reversible in seconds; no tools required
Up to 2 years of battery life

Exterior of the lock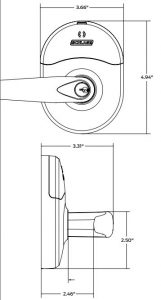 Interior of the lock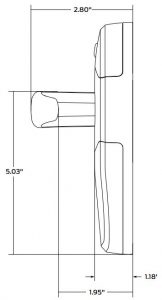 NDE Wireless Lock Specifications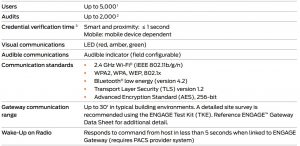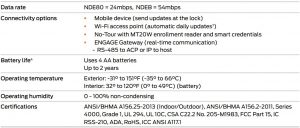 Functionality
DEB with Interior Push Button– Storeroom– Office– Privacy– Apartment
NDE– Storeroom
NDEB and NDE come with Vandlgard® standard
Available Status Signals
Request-to-exit
Door position
Interior cover tamper5
Magnetic tamper
Battery status
Lock/unlock status6
Communication status5
Flexible Solutions
NDE wireless locks offer connectivity options to fit any size budget or business.
Mobile
No-Tour with MT20W
Wi-Fi
Real-time withENGAGE Gateway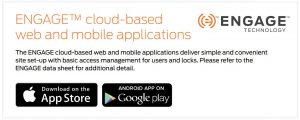 Maximum database storage capacity of lock. Can vary by access control software database capacity.
Maximum audit storage capacity of lock. Can vary by access control software audit storage capacity.
Response time does not include latency time of host when linked with an ENGAGE Gateway or when using No-Tour.
Assuming indoor application, default settings, 80 actuations, interior LED disabled and one Wi-Fi update per day.
Consult your access control software provider for specific scope of support.
Software indicates lock/unlock status based on sequence of events.
When using the ENGAGE cloud-based access management software
Mechanical Specifications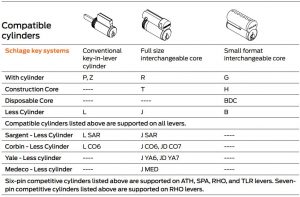 Multi-Technology Reader Specifications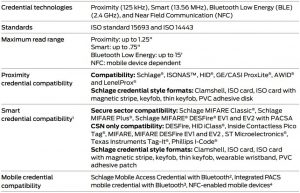 1  No-Tour applications require a 1K Byte Schlage MIFARE smart credential2  Supported through ENGAGE3  Dependent on PACS provider capabilities. Visit us.allegion.com/alliances for more information4 See minimum supported guidelines
NDE to NDEB Retrofit Kit
Retrofit kits are available allowing the upgrade of existing NDE locks to the NDEB model, adding mobile enabled functionality and new functions supported by an interior push button with indication.
Kit includes: Interior escutcheon with PCBA and DPS with lead (requires modified door prep)*
* Kit requires reuse of exterior of lock, lock chassis, existing levers/spring cages, battery cover, mounting screws and interior mounting plate.
Ordering information

Selections correspond with the numbers above
Standards options are indicated in bold. See price book for specific configuration options.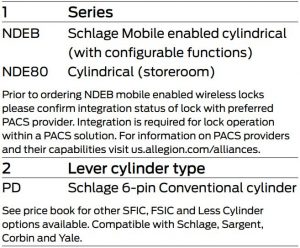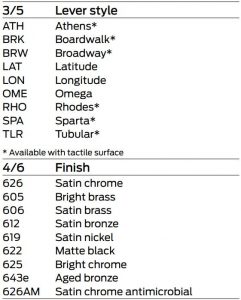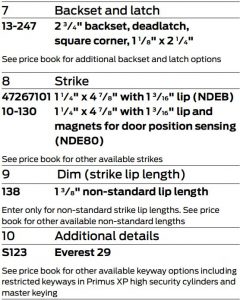 Lever Styles
The NDE shares the same levers as ND. All NDE locks feature mechanical key override; standard, SFIC or FSIC options available.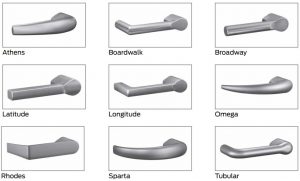 Finishes
Warm tone finishes

Cool tone finishes

Allegion, the Allegion logo, ENGAGE technology, the ENGAGE technology logo, Schlage, and the Schlage logo are trademarks of Allegion plc, its subsidiaries and/or affiliates in the United States and other countries. All other trademarks are the property of their respective owners.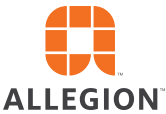 About Allegion
Allegion (NYSE: ALLE) is a global pioneer in safety and security, with leading brands like CISA®, Interflex®, LCN®, Schlage®, SimonsVoss® and Von Duprin®. Focusing on security around the door and adjacent areas, Allegion produces a range of solutions for homes, businesses, schools and other institutions. Allegion is a $2 billion company, with products sold in almost 130 countries. For more, visit www.allegion.com.
© 2020 Allegion010409, Rev. 09/20www.allegion.com/us
Schlage NDE Wireless cylindrical lock Datasheet – Schlage NDE Wireless cylindrical lock Datasheet –
Questions about your Manual? Post in the comments!