Your Trusted Office Furniture ManufacturerINSTRUCTION MANUAL
ALTERSEAT (M) SDN. BHD.Add: B-1, 20, Jalan Persiaran Jalil 1, Bukit Jalil, 57000 KualaLumpur Tel: (+60) 16 601 8581Web: www.alterseat.com
INTRODUCTION
Welcome to the Alterseat Team and thank you for altering your ergonomic experience with us. This product is manufactured and designed solely by Alterseat (M) Sdn. Bhd. We specialize in producing and manufacturing office chairs for over 20 years including other furniture.Before proceeding into this manual, ensure that after unpacking and before any assembly, all items and parts of the installation area are clear of any damages. If there are any damages found, immediately contact our customer service number 03-5033 2690 for assistance.This product is intended for indoor use. Kindly take time to read and follow the instructions provided in the following pages. Install as described and guided in this installation manual. We accept no liability for damages caused for any improper use.From,Team Alterseat
PARTS OF THE CHAIR
TOP PIECE
LEG
HEADPIECE
ATTACHING THE HEADREST
HEADPIECE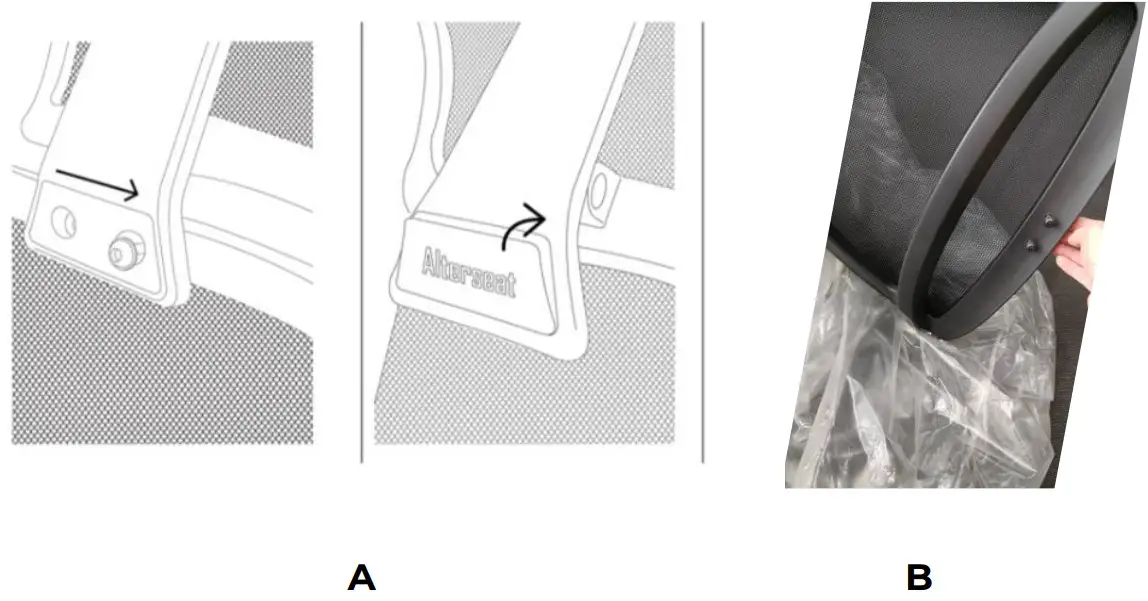 INSTRUCTIONS
A. Using the Allen Key provided, remove the 2 screws (loosely attached) to the headrest area of the top piece.B. Align the headrest according to the 2 pilot holes and tighten the screws with the same Allen Key provided.
INSERTING THE ACRYLIC TAG
ACRYLIC TAG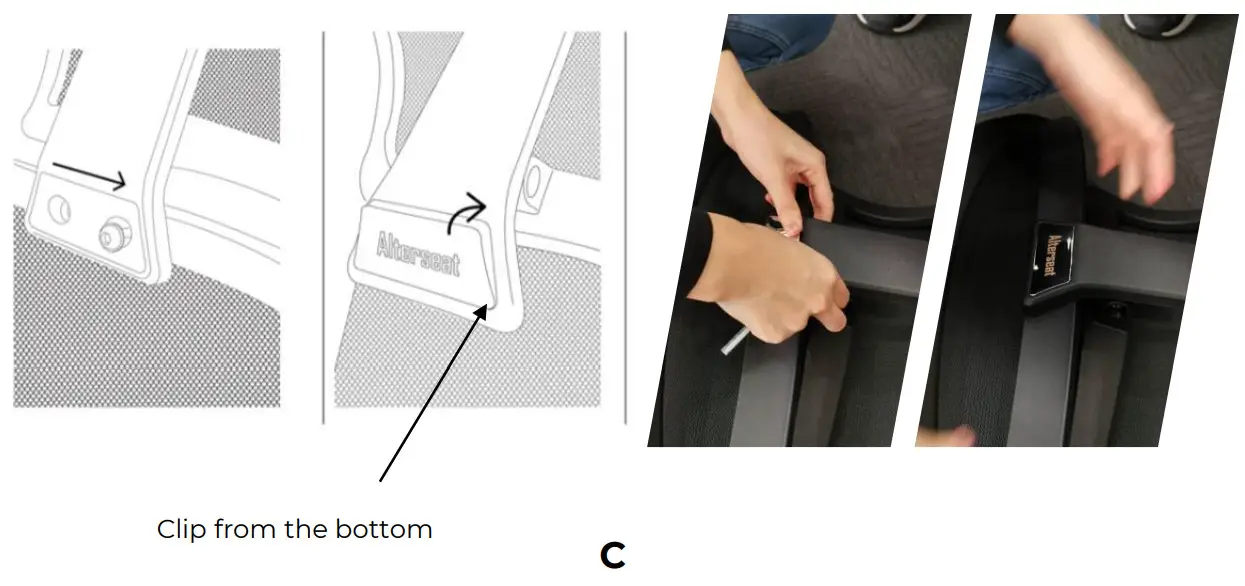 C. Gently insert the Alterseat Acrylic Tag, starting from the bottom of the tag. You will hear a 'Click' sound when it is tightly locked.
CONNECTING THE BACK PIECE
BACK PIECE W SEAT PIECE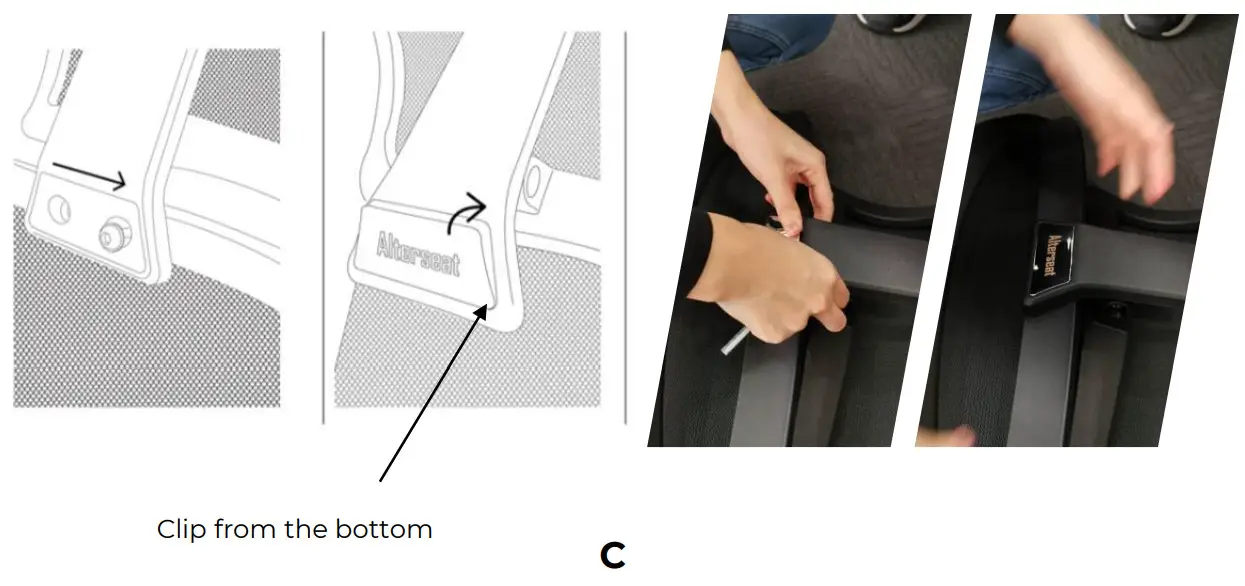 INSTRUCTIONSD. At the base of the back piece, remove all 3 screws that are loosely attached with the larger Allen Key provided.E. Align the back piece to the seat piece. Reattach the 3 screws in the same triangle shape. Tighten with Allen Key provided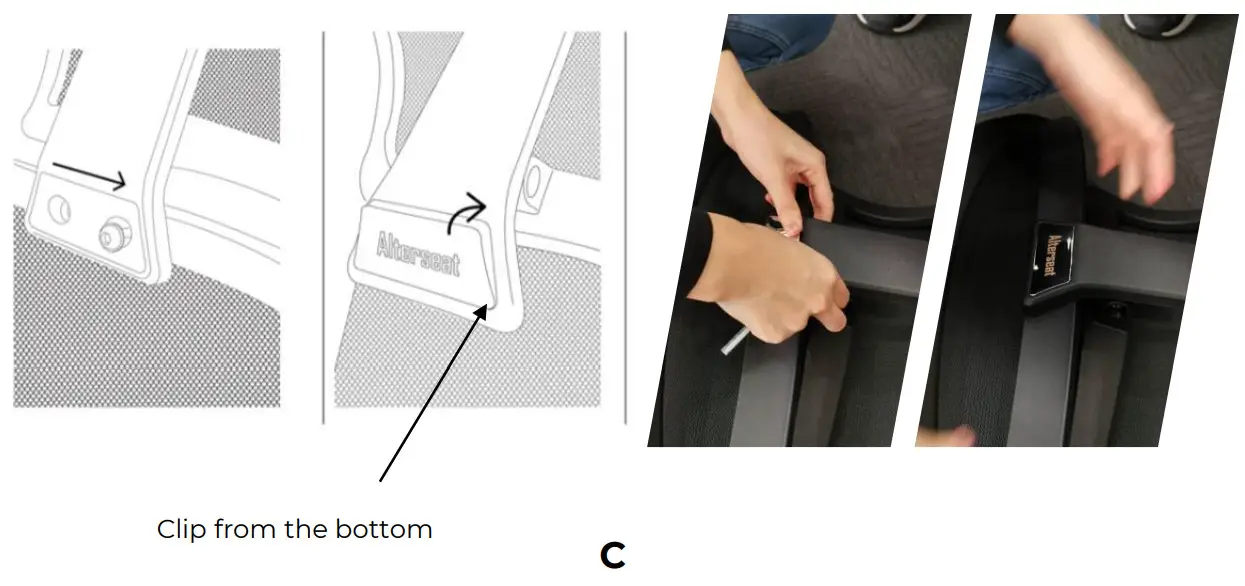 INSTRUCTIONSF. If your seat looks like this, congratulations! You have successfully connected the back piece and seat piece together. You have now assembled the Top Section of your chair.  Keep going!
CONNECTING THE GAS LIFT
GAS LIFT W ALUMINUM BASE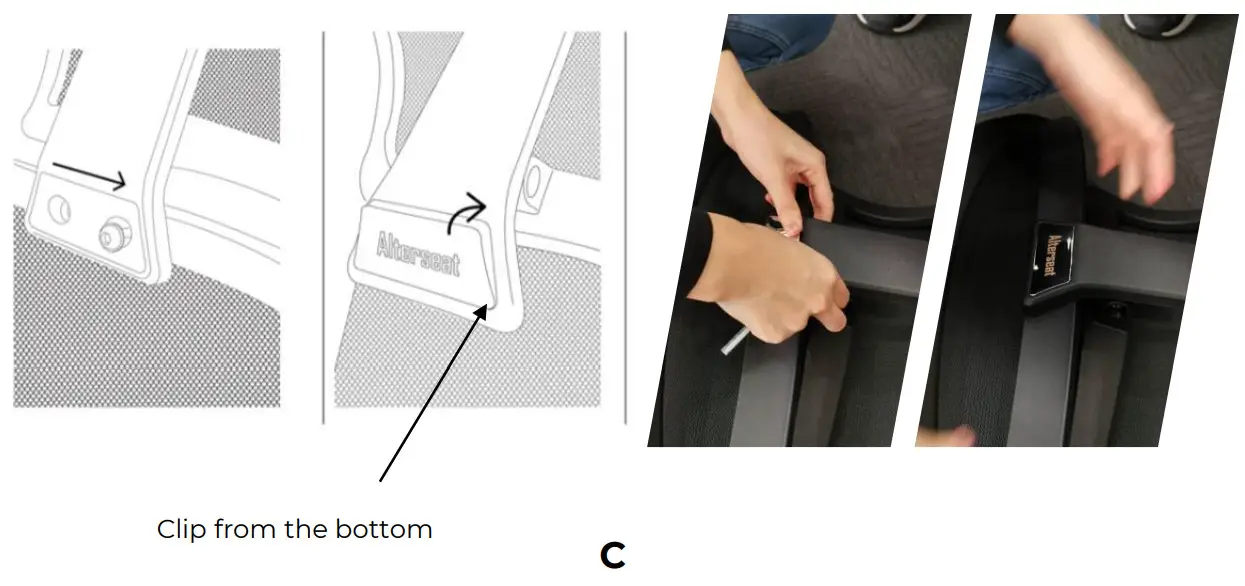 INSTRUCTIONS
G. Insert the wider end of the Gas Lift into the Aluminum Base.Note: No 'click' sound will be heard.
CONNECTING THE TOP PIECE W LEG
TOP PIECE W LEG PART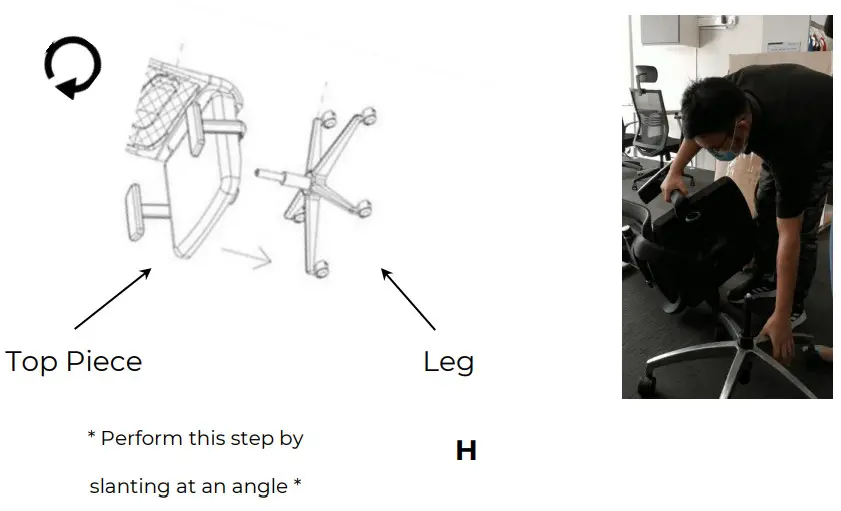 INSTRUCTIONSH. Slant the 'Top Piece' on one side. Then insert the 'Leg' from a side angle to connect both segments together.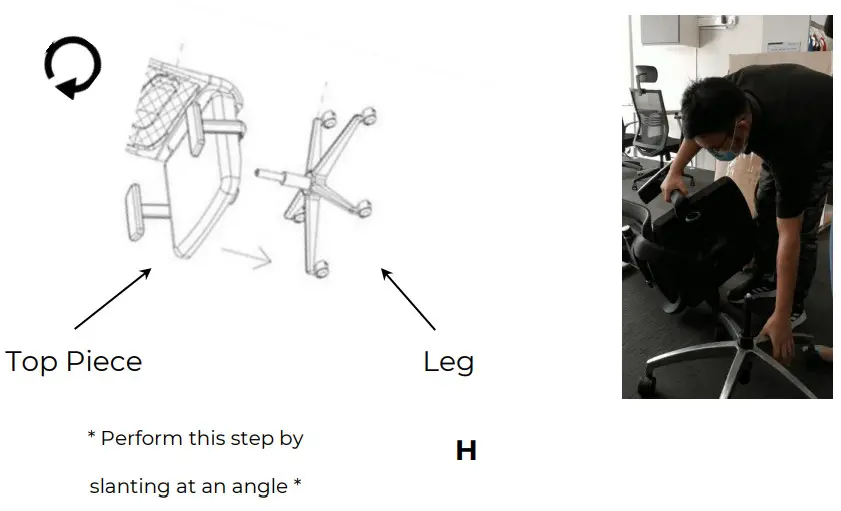 I. Once both parts are successfully connected, lift your chair in an upwards and straight direction. You are now ready to sit with Alterseat!
ADJUSTING YOUR SEAT
ARMREST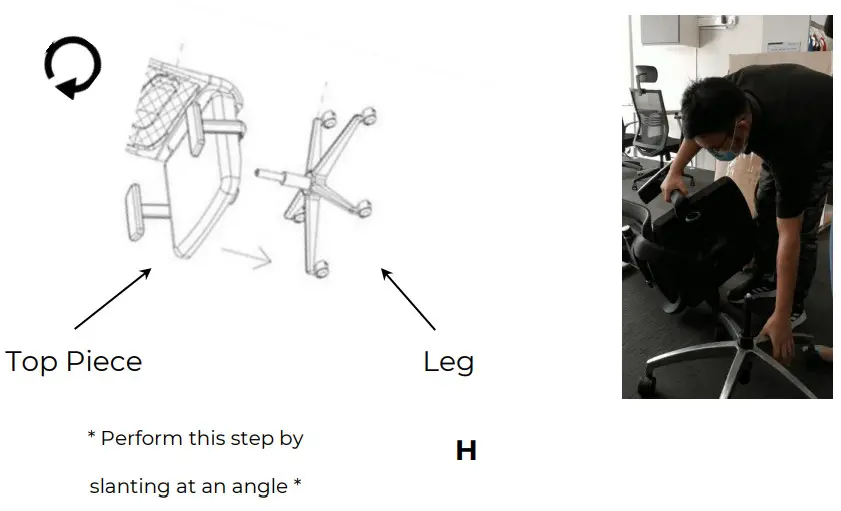 INSTRUCTIONSA. Left and Right: Move Handles Side To SideB. Up and Down: Press Button Under Armrest
HEADREST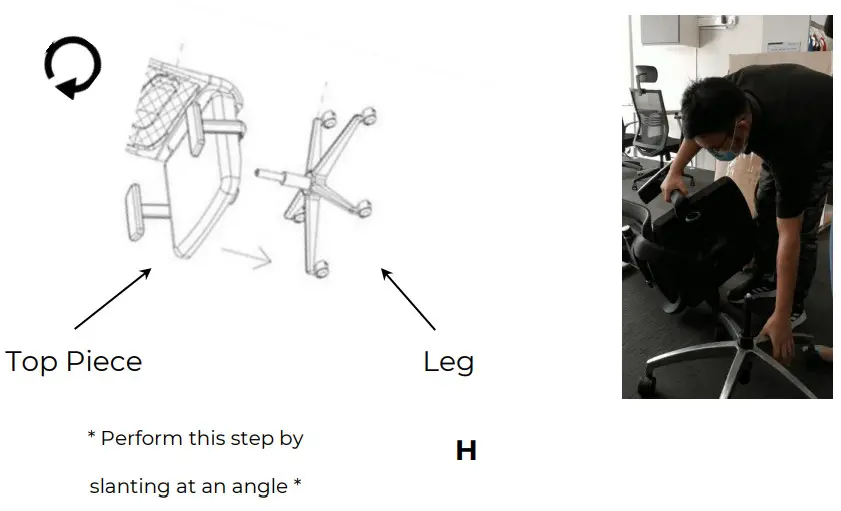 INSTRUCTIONSC. Height: Adjust in an upward and downward motionD. Angle: Tilt forward or backward
HEIGHT, RECLINE & INCLINE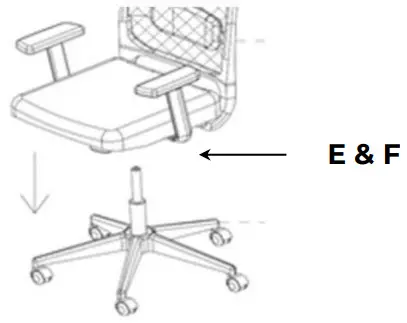 INSTRUCTIONSE. Lever: To go lower, sit while pushing the lever down. To go higher, stand while pushing the lever down.F. Recline & Incline: To recline, pull lever outwards and lean backward. To lock position in place, push lever inwards. To incline, pull lever outwards, lean backward, and slowly return to the original position.
LUMBAR SUPPORT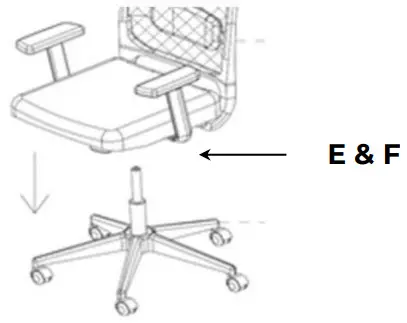 INSTRUCTIONSG. Turn knob clockwise for lumbar support to roll downwards. Turn knob anticlockwise for lumbar support to roll upwards.
Your Trusted Office Furniture ManufacturerTHANK YOU
References
[xyz-ips snippet="download-snippet"]