alula RE636 Wireless Outdoor Siren User Guide

The RE636 Wireless Outdoor Siren is an auditory warning device that produces high volume warning sounds and visual strobing.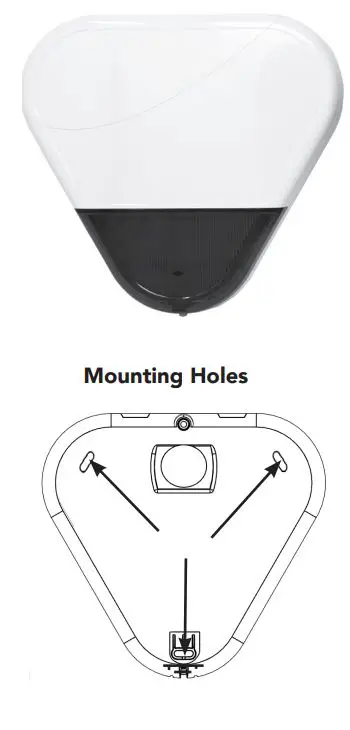 Features
Multi-cadence siren
100 dBA minimum at 1m
2-5 year battery life (batteries included) or AC powered (RE012-17 sold separately)
IP56 water resistant enclosure
Sounds a high volume warning for burglary, smoke and carbon monoxide alarm conditions. Volume is adjustable through the Connect+ Installer application, or through the interactive service provider's web portal.
Enrol by placing the panel and siren into wireless enrolment mode. The siren's PWR and RF LEDs will blink back and forth when in enrolment mode. If the siren has never been enrolled, enrolment mode will start automatically when opening the cover. To overwrite a previously enrolled ID, power up the device while holding the tamper. When the red RF LED illuminates, release the tamper switch. After enrolling the siren, take the panel out of wireless enrolment mode.
Once the siren is properly enrolled, test functionality in a desired location.
The panel supports up to eight RE636 sirens at one time.
Replace batteries by opening the cover and removing the inner cover to gain access to the 3 C-cell batteries.
To remove inner cover, push down the two latches, then pull out the clear inner cover.
Wall power can be installed by routing the power supply wire through the hole in the back plastic. Route wire around the posts and through plastic notch (see diagram) so the inner cover does not collide.
Mounting can be done by securing the siren to a surface with the Notch mounting screws (included) at the three slotted mounting holes. Ensure arrows inside are pointed up.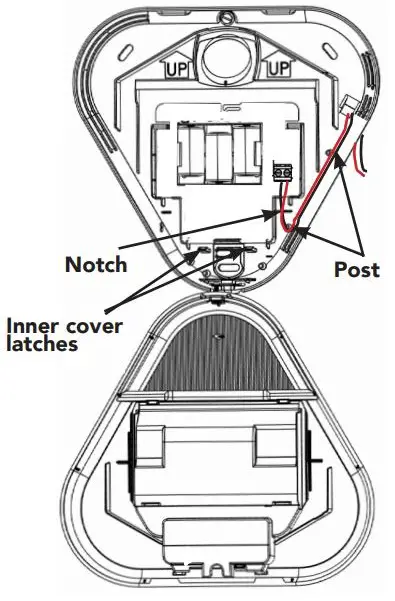 Pro Tips
Cover can hang from bottom of enclosure and inner cover can clip into cover for convenience while work is being done inside enclosure.
To change the strobe lens, unscrew the cover screw until it is past the lens, and then push on the corner of the lens to loosen and remove. Select desired colour.
Use the panel installation guide to verify proper system setup.
Power (PWR) LED will turn on when the siren is awake (every 18 seconds on battery and always when powered from wall).
RF LED will blink when a packet is received.
Enrol packets are automatically sent every 18 seconds when in enrol mode. Pressing or releasing the tamper switch while sensor is in enrol mode will send another enrol packet.
Specifications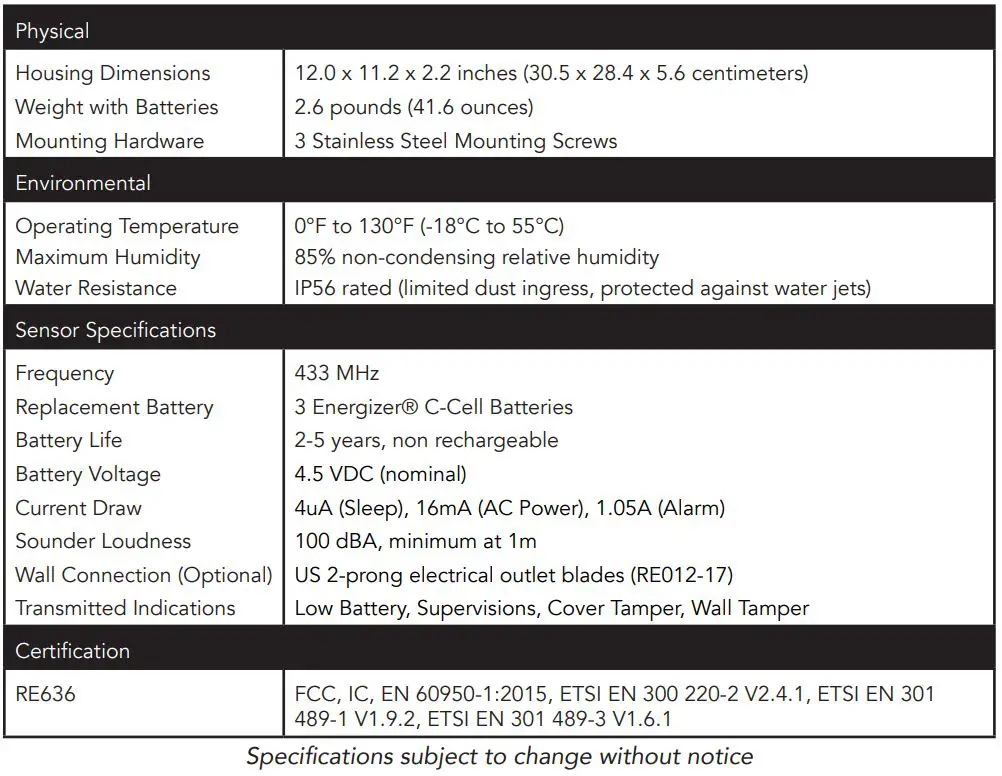 IC NOTICEThis device complies with Industry Canada license-exempt RSS standard(s). Operation is subject to the following two conditions:(1) This device may not cause interference, and (2) This device must accept any interference, including interference that may cause undesired operation of the device.IC: 8310A-RE636
FCC NOTICEThis device complies with Part 15 of the FCC rules. Operation is subject to the following two conditions:(1) This device may not cause harmful interference.(2) This device must accept any interference that may be received, including interference that may cause undesired operation.Changes or modifications not expressly approved by Alula could void the user's authority to operate this equipment.FCC ID: U5X-RE636
TRADEMARKSAlula and Connect+ are trademarks owned by Alula Holdings, LLC. Energizer is a registered trademark owned by Energizer Brands, LLC.
47-0063-00 · REV B · 2020-07-29 Tech Support Line · (888) 88-ALULA · (888) 882-5852alula.net
[xyz-ips snippet="download-snippet"]