Warning: Use of undefined constant id – assumed 'id' (this will throw an Error in a future version of PHP) in /home/admin/domains/manualsplanet.com/public_html/praca/dom_delete_new.php on line 17
Warning: Use of undefined constant id – assumed 'id' (this will throw an Error in a future version of PHP) in /home/admin/domains/manualsplanet.com/public_html/praca/dom_delete_new.php on line 18
Warning: Use of undefined constant id – assumed 'id' (this will throw an Error in a future version of PHP) in /home/admin/domains/manualsplanet.com/public_html/praca/dom_delete_new.php on line 18
Warning: Creating default object from empty value in /home/admin/domains/manualsplanet.com/public_html/praca/dom_delete_new.php on line 212
Warning: Creating default object from empty value in /home/admin/domains/manualsplanet.com/public_html/praca/dom_delete_new.php on line 138

INSP-3Wiring Inspector Testeramprobe.com
Designed for use in residential and light commercial environmentsThe INSP-3, wiring inspector is a rugged tester designed to verify building wiring compliance to electrical code, especially voltage drop under load. Identify issues with splices, connections, and conductor quality, crucial to the safety and performance of the electrical system.
Features
Testing efficiency – relevant test data (voltage, voltage drop, hot and neutral voltage drop, voltage with load, ground impedance) is presented on a single large display to save operator time
Verifies if wiring is tested for load-carrying ability that it meets electrical code recommendations for voltage drop under load
 Meter detects faulty wiring in need of repair without removing outlet cover plates or panel covers– Faulty splices and connections– Incorrect wiring– Undersized wiring– Faulty GFCIs– Faulty or incorrectly wired AFCIs– Incorrect line voltage– Poor ground quality– Fault currents
User selectable 0, 10,15, and 20 amps load to verify the performance of the electrical system
Incorrect wiring or voltage drop test failure is clearly indicated by flashing screen
Will not trip circuit breakers or blow fuses during the test
Tests GFCI and AFCI operations
Check ground quality for safety and ability to support sensitive electronic equipment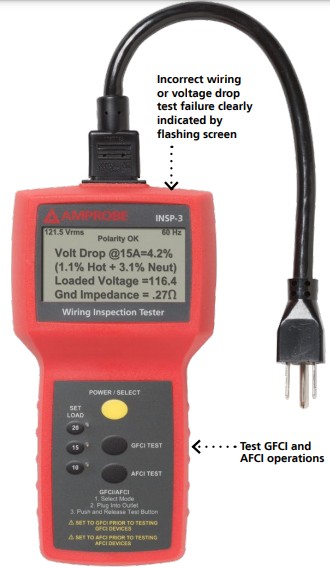 INSP-3Wiring Inspector Tester

Safety Certification

All Amprobe tools, including the Amprobe INSP-3, are rigorously tested for safety, accuracy, reliability, and ruggedness in our state-of-the-art test lab. In addition, Amprobe products that measure electricity are listed by a 3rd party safety lab, either UL or CSA. This system assures that Amprobe products meet or exceed safety regulations and will perform in a tough, professional environment for many years to come.
Detects faulty wiring without removing outlet cover plates.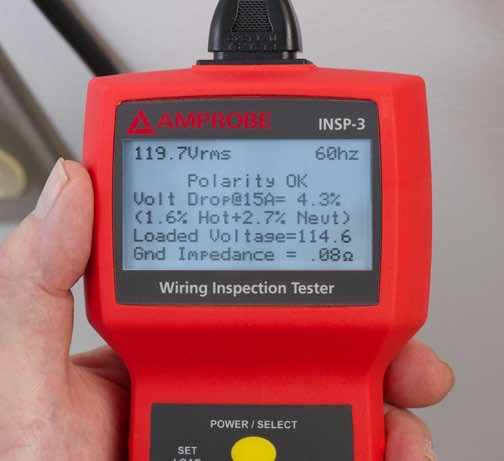 No scrolling or switching screens is needed with the large LCD display.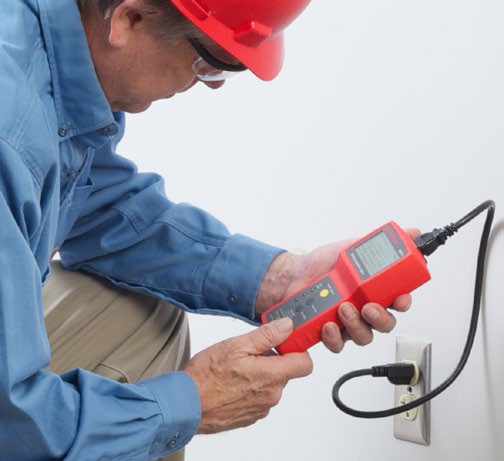 Verify-in seconds whether a building's wiring (including voltage drop under load) complies with electrical code.
Specifications
INSP-3

Load
Constant 0, 10, 15, or 20 AMP simulation regardless of line voltage
Operating Voltage
95-120 VAC
Battery
9V Alkaline
Fuse
1/2 Amp, 125 Volt
GFI Trip
6.0 mA nominal to trip GFI, 30 mA to trip RCD
AFCI Trip
Up to 8, 120 AMP pulses within 1/2 second period
Operating Temperature
32 ºF to 120 ºF (0 ºC to 50 ºC)
Accuracy
+/-2%, +/- 2 digits
Included: Power cord, 9V alkaline battery (installed), user manual, carrying case
Amprobe® | [email protected] | Fluke Corporation, Everett, WA 98203 | Tel: 877-AMPROBE (267-7623)
©2018 Amprobe® For detailed specifications and ordering go to amprobe.com 3976061 B
References
[xyz-ips snippet="download-snippet"]