Charge Fast, Live MoreAt a Glance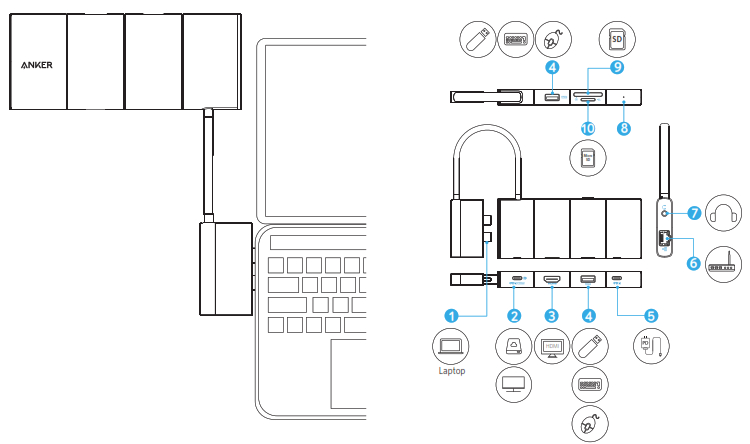 PowerExpand9-in-2 USB-C Media HubUSER MANUAL
| | |
| --- | --- |
| Item | Description |
| 1. USB-C connector | Plug into the USB-C port of a USB-C compatible computer |
| 2. USB-C port | · Connect to a USB-C device to support data transfer at speeds up to 10 Gb/s· Connect to a device to stream video at resolutions up to Hz· Connect to a PD charger, supports 100W max |
| 3. HDMI port | Connect to a device with an HDMI port to stream video at resolutions up to 4K(030 Hz. |
| 4. USB-A port | Connect to a USB-A device to support data transfer at speeds up to 5 Gb/s |
| 5. PD-IN port | Connect to a PD charger to charge your laptop or tablet with an input up to 100W |
| 6. Ethernet port | Connect to a router or modem at 10/100/1000 Mbps |
| 7. Audio port | Connect to earphones or other devices with a 35 mm connector |
| 8. Power indicator | Turns white when connected to a laptop |
| 9. SD 3.0 Card Slot | Insert an SD 3.0 card to copy files to and from your device |
| 10. microSD Card Slot | Insert a microSD card to copy files to and from your device |
Specifications
| | | |
| --- | --- | --- |
| | Data Speed | 10 Gbps |
| | Supported Systems | Windows OS, Mac OS, Chrome OS, iPad OS |
| | Size | 128 x 53 x 14mm / 5.0 x 2.1 x 0.6 in |
| | Weight | 155 g / 5.5 oz |
Important Safety Instructions
Avoid dropping.
Do not disassemble.
Do not expose to liquids.
For the safest and fastest charge, use original or certified cables.
This product is suitable for moderate climates only.
The maximum ambient temperature when using this product must not exceed 104°F / 40°C.
Open flame sources, such as candles, must not be placed near this product.
Only use a dry cloth or brush to clean this product.
Declaration of ConformityHereby, Anker Innovations Limited declares that the product type A8384 is in compliance withDirective 2014/30 /EU & 2011/65/EU. The full text of the EU declaration of conformity is available at the following internet address: https://www.anker.com/productsAnker Innovations LimitedRoom 1318-19, Hollywood Plaza, 610 Nathan Road, Mongkok, Kowloon, Hong KongAnker Innovations Deutschland GmbH | Georg-Muche-Strasse 3, 80807 Munich, GermanyAnker Technology (UK) Ltd | Suite B, Fairgate House, 205 Kings Road, Tyseley, Birmingham, B11 2AA, United Kingdom
FCC StatementThis device complies with Part 15 of the FCC Rules. Operation is subject to the following two conditions:(1) This device may not cause harmful interference, and(2) This device must accept any interference received, including interference that may cause undesired operation.Warning: Changes or modifications not expressly approved by the party responsible for compliance could void the user's authority to operate the equipment.NOTE: This equipment has been tested and found to comply with the limits for a Class B digitaldevice, pursuant to Part 15 of the FCC Rules. These limits are designed to provide reasonable protection against harmful interference in a residential installation.This equipment generates, uses, and can radiate radio frequency energy and, if not installed and used in accordance with the instructions, may cause harmful interference to radio communications.However, there is no guarantee that interference will not occur in a particular installation. If this equipment does cause harmful interference to radio or television reception, which can be determined by turning the equipment off and on, the user is encouraged to try to correct the interference by one or more of the following measures:– Reorient or relocate the receiving antenna.– Increase the separation between the equipment and receiver.– Connect the equipment into an outlet on a circuit different from that to which the receiver is connected.– Consult the dealer or an experienced radio/TV technician for help.The following importer is the responsible party: Company Name: Fantasia Trading LLCAddress: 5350 Ontario Mills Pkwy, Suite 100, Ontario, CA 91764Telephone:1-800-988-7973
IC StatementThis device complies with Industry Canada license-ICES-003. Operation is subject to the following two conditions:(1) This device may not cause interference, and  (2) This device must accept any interference, including interference that may cause undesired operation of the device. Le présent appareil est conforme aux CNR  d'Industrie Canada applicables aux appareils radio exempts de licence. L'exploitation est autorisée aux deux conditions suivantes : (1) l'appareil ne doit  pas produire  de brouillage, et (2) l'utilisateur de l'appareil doit accepter tout brouillage radioélectrique subi, même si le brouillage est susceptible d'en compromettre le fonctionnement.
Customer Service
| | |
| --- | --- |
| | 18-Month Limited Warranty |
| | Lifetime Technical Support |
| | [email protected] |
| | (US) +1 (800) 988 7973 Mon-Fri 9:00am – 5:00pm (PT)(UK) +44 (0) 1604 936200 Mon-Fri 6:00 – 11:00 (GMT)(DE) +49 (0) 69 9579 7960 Mo-Fr 6:00 – 11:00(中国) +86 400 0550 036周一至周五 9:00 – 17:30 (日本) +81 03 455 7823 月-金 9:00 – 17:00 |
Please note that your rights under applicable law governing the sale of consumer goods remain unaffected by the warranties given in this Limited Warranty

30VdE191N1 vICOvvinnini NOLLIN1d3C1-HOIH
The Adopted Trademarks HDMI, HDMI High-Definition Multimedia Interface, and the HDMI Logo are trademarks or registered trademarks of HDMI Licensing  Administrator, Inc. in the United States and other countries.
References
[xyz-ips snippet="download-snippet"]