by AnkerQUICK START GUIDE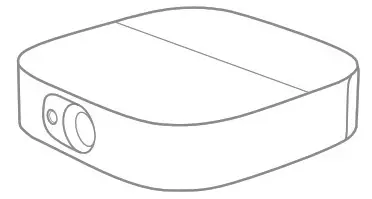 Nebula Vega / Nebula Vega Portable
Place Nebula Vega / Nebula Vega Portable on a flat, stable surface.
Open the projector nameplate as illustrated to use it as a stand
Nebula Vega: Press to power on.Nebula Vega Portable: Press and had for 2s to power On.
Press and hold  A menu pops up. SelectPower Off to turn off the projector.
When the projector is on standby mate. press to tum on /off the projector.
| | |
| --- | --- |
| | Press the button on the remote control to adjust the focus. |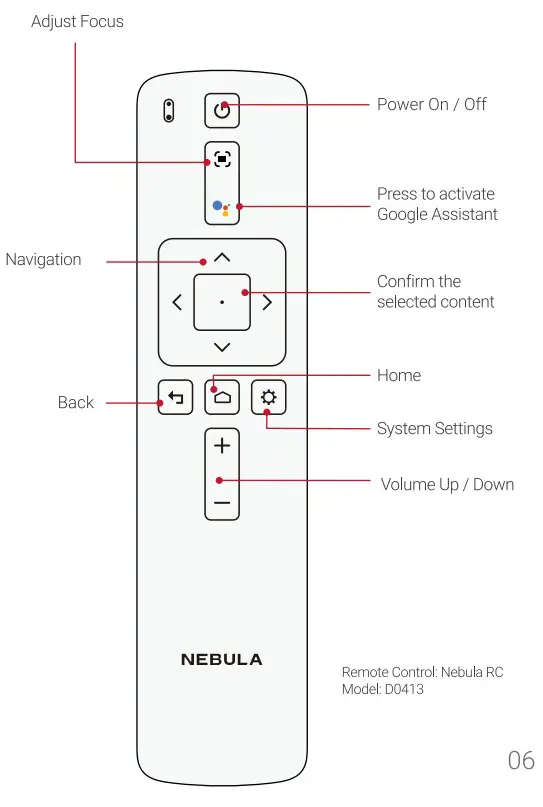 Download the Nebula Connect app from the App Store (iDS devices) a Google Play (Android devices) to control your projects.
Enable NueMoth on your smartphone.
Open the Nebula Connect app, and follow the on-screen instructions to complete the connection setup.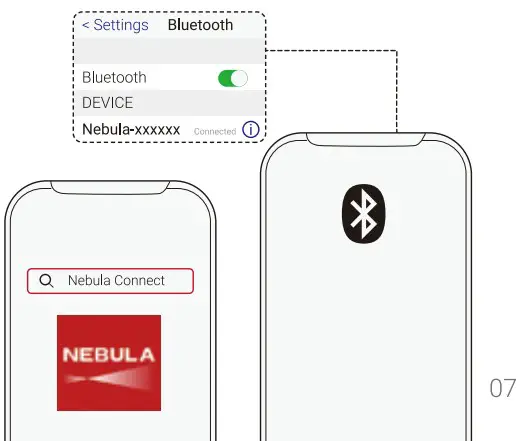 Wirelessly cast movies, games, and music from your phone to Nebula Vega / Nebula Vega Portable.
Play a video dip on your phone and then tap the cast icon on the video screen.
Select the device D:2120* or D2121* you want to cast to• This ccolecke will mirror the screen of the connected phone a computer.

Make Sure Nebula Vega / Nebula Vega Portable and your phone are connected to the same wireless network

The HOMI pert and USO port cannot be used to simultaneously stream video and audio content.
Important Safety Instructions
Due to the enclosure material, the product must only be connected to a USB 2.0 or higher
The adapter should be installed near the equipment and must be easily accessible.
Do not use the device in an environment where the temperature is too high or too low. Never expose the device to strong sunshine or wet environments.
The ideal temperature range for this product and its accessories is 41°F – 95°F / 5°C – 35°C.
When charging, place the device in an environment with a temperature that ranges between 41°F – 77°F / 5°C – 25°C as well as good ventilation.
Only use the charger provided by the manufacturer. Using unauthorized chargers may cause danger and violate the projector's guarantee.
This charger is for indoor use only.
The charger type for D2120 is NSA60ED-190300 with output voltage/current of DC 19V,3A Max.The charger type for D2121 is PN653U with output voltage/current of 5V,3A/9V3A/12V,3A/15VDC,3A/20VDC,3.25A.The charger type for D2121 is A2713 with output voltage / current of 5V,3A/9V,3A/15VDC,3A/20VDC,3.25A.
The plug of the adapter is considered as the disconnect device. Once unplugged, the charger is considered disconnected from the power source.
Possibly hazardous optical radiation emitted from this product,do not stare at operating lamp. May be harmful to the eyes.
Notice

This product complies with the radio interference requirements of the European Community.Declaration of ConformityHereby, Anker Innovations Limited. declares that this device is in compliance with the essential requirements and other relevant provisions of Directive 2014/53/EU. For the Declaration of Conformity, visit the website: www.SeeNebula.com.RF exposure information for D2120/D2121: The Maximum Permissible Exposure (MPE) level has been calculated based on a distance of d=20 cm between the device and the human body. To maintain compliance with RF exposure requirements, use products that maintain a 20cm distance between the device and the human body.CAUTION RISK OF EXPLOSION IF BATTERY IS REPLACED BY AN INCORRECT TYPE. DISPOSE OF USED BATTERIES ACCORDING TO THE INSTRUCTIONSWifi Operating Frequency Range:2412-2472 MHz(2.4G); 5150•5250 MHz, 5725-5850 MHz (5G)Wifi Max Output Power for D2120:18.47 dBm(ERIP for 2.40);20.95 dBm(ERIP for 5G)Wifi Max Output Power for D2121:18.22 d8m(ERIP for 2.40);21.22 dBm(ERIP for 5G)Bluetooth Operating Frequency Range:2402-2480 MHz; Bluetooth Max Output Power for D2120:8.63 dBm(EIRP) Bluetooth Max Output Power for D2121:7.38 dBm(EIRP) 5150-5250 MHz can be used indoors only.
AT
BE
BG
HR
CY
CZ
DK
EE
Fl
FR
DE
EL
HU
IE
IT
LV
LT
LU
MT
NL
PL
PT
RO
SK
SI
ES
SE
UK
RF warning statement for 00413:The device has been evaluated to meet general RF exposure requirements. The device can be used in portable exposure conditions without restriction.Bluetooth Operating Frequency Range(for 00413) : 2402-2480MHz; Bluetooth Max Output Power(for 00413):4.346dBm(EIRP)Anker Innovations Deutschland GmbH I Georg-Muche-Strasse 3-5, 80807 Munich, GermanyAnker Technology (UK) Ltd I Suite B, Fairgate House, 205 Kings Road, Tyseley, Birmingham, B11 2AA, United Kingdom

Your product is designed and manufactured with high-quality materials and components, which can be recycled and reused.

This symbol means the product must not be discarded as household waste and should be delivered to an appropriate collection facility for recycling. Proper disposal and recycling help protect natural resources, human health, and the environment. For more information on the disposal and recycling of this product, contact your local municipality, disposal service, or the shop where you bought this product.
FCC Statement
This device complies with Part 15 of the FCC Rules. Operation is subject to the following two conditions: (1) this device may not cause harmful interference, and (2) this device must accept any interference received, including interference that may cause undesired operation.Warning: Changes or modifications not expressly approved by the party responsible for compliance could void the user's authority to operate the equipment.Note: This equipment has been tested and found to comply with the limits for a Class B digital device, pursuant to Part 15 of the FCC Rules. These limits are designed to provide reasonable protection against harmful interference in a residential installation.This equipment generates, uses, and can radiate radio frequency energy and, if not installed and used in accordance with the instruction manual, may cause harmful interference to radio communications. However, there is no guarantee that interference will not occur in a particular installation. If this equipment does cause harmful interference to radio or television reception, which can be determined by turning the equipment off and on, the user is encouraged to try to correct the interference by one or more of the following measures:
Reorient or relocate the receiving antenna.
Increase the separation between equipment and receiver.
Connect the equipment into an outlet on a circuit different from that to which the receiver is connected.
Consult the dealer or an experienced radio/TV technician for help.
RF Exposure Information(SAR)This equipment complies with FCC radiation exposure limits set forth for an uncontrolled environment. This equipment should be installed and operated with a minimum distance of 20cm between the radiator and your body.This transmitter must not be co-located or operated in conjunction with any other antenna or transmitter.Notice: Shielded cables All connections to other computing devices must be made using shielded cables to maintain compliance with FCC regulations.The following importer is the responsible party.Company Name: Fantasia Trading LLCAddress: 9155 Archibald Ave, Suite 202, Rancho Cucamonga,CA 91730, USATelephone: 1-800-988-7973

HDMI and HDMI logo and High-Definition Multimedia Interface are trademarks or registered trademarks of HDMI Licensing LLC in the United States and other countries.

DOLBYAUDIO Manufactured under license from Dolby Laboratories. Dolby, Dolby Audio, Pro Logic, and the double-D symbol are trademarks of Dolby Laboratories.Anker Innovations LimitedRoom 1318-19, Hollywood Plaza, 610 Nathan Road, Mongkok,Kowloon, Hong KongTo get a full user manual, you can get it from the Nebula Connect APP or website: www.seenebula.com/downloads

For FAQs and more information,please visit:www.SeeNebula.com

[email protected]+1 (800) 988 7973 (US) Mon-Fri 9:00am – 5:00pm (PT)+44 (0) 1604 936200 (UK) Mon-Fri 6:00 – 11:00 (GMT)+49 (0) 69 9579 7960 (DE) Mo-Fr 6:00 – 11:00©Anker Innovations Limited. All rights reserved.NEBULA and the NEBULA logo are trademarks of Anker Innovations Limited,registered in the United States and other countries. Anker Innovations LimitedRoom 1318-19, Hollywood Plaza, 610 Nathan Road, Mongkok, Kowloon, Hong KongModel: D2120/D212151005002440 vo1
References
[xyz-ips snippet="download-snippet"]