USER MANUALPowerCore III 19K 60WPower Bank
Charging Your Phone or Tablet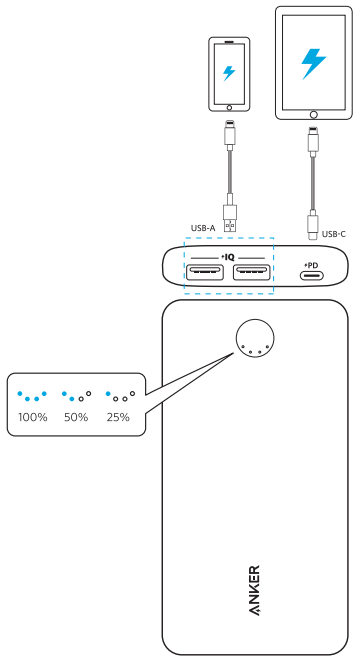 Charging Your Bluetooth Earphones or Smart Watches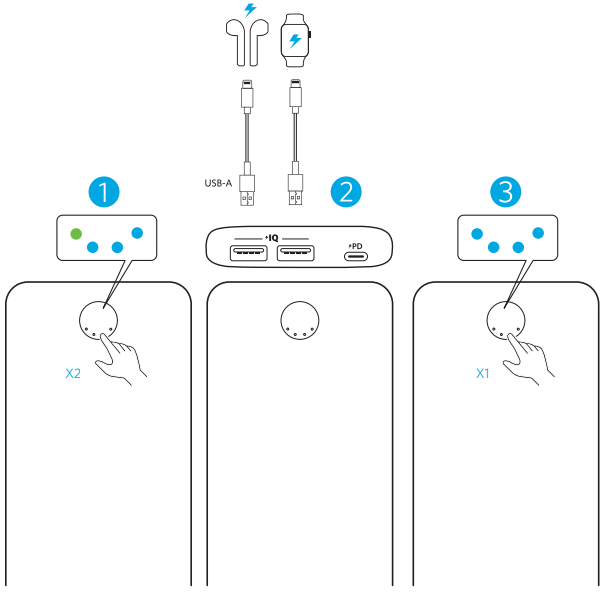 To activate the trickle-charging mode, press the power button twice or press and hold for 2 seconds. The LED indicator will turn green.
Charge your smartwatch, Bluetooth earphones, or other low-power accessories.
To turn off "trickle-charging" mode, press the power button once again.
Recharging Your PowerCore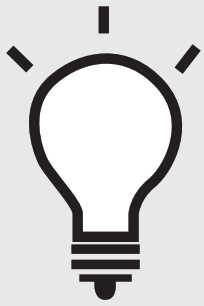 When your PowerCore is fully charged, the LED indicators will turn off.
Specifications
| | |
| --- | --- |
| Capacity | 19200mAh/71.04Wh |
| USB-C Input | 5V 3A / 9V 3A / 15V 3A / 20V 3A |
| USB-C Output | 5V 3A / 9V 3A / 15V 3A / 20V 3A |
| USB-A Output | 5V 3A(2.4A Max Per Port) |
| Total Output | 60W Max |
| Size | 168.9 x 79.2 x 22.4 mm / 6.6 x 3.1 x 0.9 in |
| Weight | 422 g / 14.9 oz |
For FAQs and more information, please visit:
anker.com/support
@Anker@Anker Japan@Anker Deutschland
@AnkerOfficial@Anker_JP
@anker_Official@anker_jp
Important Safety Instructions
When using this product, basic precautions should always be followed, including the following:
Store product in a cool and dry place.
Do not store the product in a hot or humid environment.
Use of a power supply or charger not recommended or sold by the product manufacturer may result in a risk of fire or injury to persons.
Operating temperature should be between 32°F to 104°F / 0℃ to 40℃.
Do not disassemble the product. Take it to a qualified service person when service or repair is required. Incorrect reassembly may result in a risk of fire or injury to persons.
If the product is not used for long periods of time, you should change and discharge once every three months.
When charging a device, the product may feel warm, this is a normal operating condition and should not be cause for concern.
In normal conditions, the battery performance will decline over several years.
Do not dispose of the product in heat or fire.
Do not clean the product with harmful chemicals or detergents.
Misuse, dropping or excessive force may cause product damage.
 When disposing of secondary cells or batteries, keep cells or batteries of different electrochemical systems separate from each other.
Be aware discharged battery may cause fire or smoke, tape the terminals to insulate them.

This symbol indicates that this product shall not be treated as household waste. Instead, it shall be handed over to the applicable collection point for the recycling of electrical and electronic equipment.CAUTION: Risk of explosion if the battery is replaced by an incorrect type.WARNING: The batteries (battery pack or batteries installed) shall not be exposed to excessive heat such as sunshine, fire, or the like. The extremely low air pressure may result in an explosion or the leakage of flammable liquid or gas.
Declaration of Conformity
Hereby, Anker Innovations Limited declares that product type A1284 is in compliance with Directive 2014/30/EU. The full text of the EU declaration of conformity is available at the following internet address: www.anker.com Anker Innovations Limited Room 1318-19, Hollywood Plaza, 610 Nathan Road, Mongkok, Kowloon, Hong Kong Anker Innovations Deutschland GmbH I Georg-Muche-Strasse 3-5,80807 Munich, GermanyAnker Technology (UK) Ltd I Suite B, Fairgate House, 205 KingsRoad, Tyseley, Birmingham, B11 2AA, United Kingdom
FCC Statement
This device complies with Part 15 of the FCC Rules. Operation is subject to the following two conditions: (1) This device may not cause harmful interference, and (2) this device must accept any interference received, including interference that may cause undesired operation. Warning: Changes or modifications not expressly approved by the party responsible for compliance could void the user's authority to operate the equipment. Note: This equipment has been tested and found to comply with the limits for a Class B digital device, pursuant to Part 15 of the FCC Rules. These limits are designed to provide reasonable protection against harmful interference in a residential installation. This equipment generates, uses, and can radiate radio frequency energy and, if not installed and used in accordance with the instructions, may cause harmful interference to radiocommunications. However, there is no guarantee that interference will not occur in a particular installation. If this equipment does cause harmful interference to radio or television reception, which can be determined by turning the equipment off and on, the user is encouraged to try to correct the interference by one or more of the following measures:
Reorient or relocate the receiving antenna.
Increase the separation between the equipment and receiver.
Connect the equipment into an outlet on a circuit different from that to which the receiver is connected.
Consult the dealer or an experienced radio / TV technician for help.The following importer is the responsible party.Company Name: Fantasia Trading LLCAddress: 5350 Ontario Mills Pkwy, Suite 100, Ontario, CA 91764Telephone: +1-800-988-7973
IC Statement
This device complies with Industry Canada license‐ICES-003. Operation is subject to the following two conditions: (1) This device may not cause interference, and (2) This device must accept any interference, including interference that may cause undesired operation of the device.
Customer Service
| | |
| --- | --- |
| | 18-Month Limited Warranty |
| | Lifetime Technical Support |
| | [email protected] |
| | (US) +1 (800) 988 7973 Mon-Fri 9:00am – 5:00pm (PT) |
References
[xyz-ips snippet="download-snippet"]