anko 18LY56 Sport Bluetooth Earphone User Guide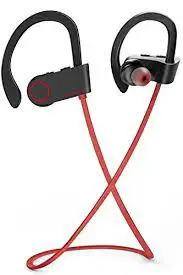 WHAT'S IN THE BOX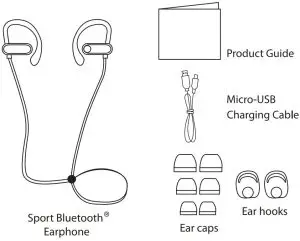 ]
WARNING
Working temperature: 0 – 45˚C.
Battery cannot be subjected to high or low extreme temperatures, low air pressure at high altitude during use, storage or transportation.
Replacement of a battery with an incorrect type that can result in an explosion or the leakage of flammable liquid or gas.
Disposal of a battery into fire or a hot oven, or mechanically crushing or cutting of a battery, that can result in an explosion.
Leaving a battery in an extremely high temperature surrounding environment that can result in an explosion or the leakage of flammable liquid or gas.
A battery subjected to extremely low air pressure that may result in an explosion or the leakage of flammable liquid or gas.
CONTROL BOX
POWER ON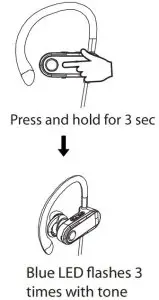 POWER OFF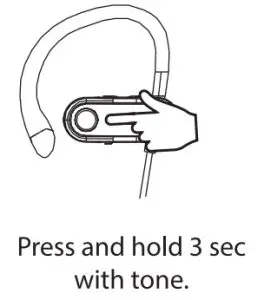 BLUETOOTH PAIRING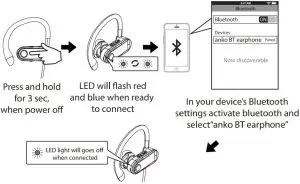 Play

Calling mode

Charging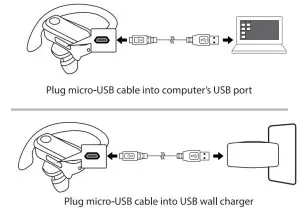 Troubleshooting
Headphones will not turn on

Ensure headphones are fully charged before turning it on.

My mobile device is unable to find the Bluetooth headphones

Check that the headphones is in pairing mode (blue/red indicator lights flashing).
Remove" anko BT earphone "from Bluetooth settings list and setup again.
If still no search result, please restart the headset and phone, and try again.

After successfully pairing, headphones disconnect

Check the battery level and recharge if low.
Ensure headphones are within 30ft of mobile device and free of destructions.
The connection may be affected by obstructions such as walls or other electronic devices. Try moving closer to the device you are connected to.

When answering a call, I cannot hear anything

Ensure the mobile device is  connected to headphones and not on speakerphone mode.
Increase the volume on your mobile device.

There is no sound when listening to music

Increase the volume on your mobile device.
Reconnect the headphones to your mobile device.
Check if the app has paused or stopped playback.

Headphones will not charge

Check whether the charging cable is funtional.
Ensure the micro-USB charging cable is fully seated in the headphones and wall charger ports.
Ensure the charging cable and wall charger are functional.
Warranty
Thank you for your purchase from Kmart.
Kmart Australia Ltd warrants your new product to be free from defects in materials and workmanship for the period stated above, from the date of purchase, provided that the product is used in accordance with the accompanying recommendations or instructions where provided. This warranty is in addition to your rights under the Australian Consumer Law.
Kmart will provide you with your choice of a refund, repair or exchange (where possible) for this product if it becomes defective within the warranty period. Kmart will bear the reasonable expense of claiming the warranty. This warranty will no longer apply where the defect is a result of alteration, accident, misuse, abuse or neglect.
Please retain your receipt as proof of purchase and contact our Customer Service Centre on 1800 124 125 (Australia) or 0800 945 995 (New Zealand) or alternatively, via Customer Help at Kmart.com.au for any difficulties with your product. Warranty claims and claims for expense incurred in returning this product can be addressed to our Customer Service Centre at 690 Springvale Rd, Mulgrave VIC 3170.
Our goods come with guarantees that cannot be excluded under the Australian Consumer Law. You are entitled to a replacement or refund for a major failure and compensation for any other reasonably foreseeable loss and damage. You are also entitled to have the goods repaired or replaced if the goods fail to be of acceptable quality and the failure does not amount to a major failure.
For New Zealand customers, this warranty is in addition to statutory rights observed under New Zealand legislation.
References
[xyz-ips snippet="download-snippet"]