anko 42990970 Small Gaming Speakers with LED Lights User Manual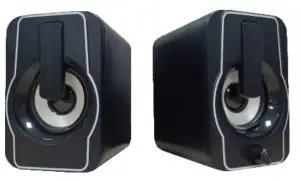 Important Precautions:
These PC speakers shall not be exposed to dripping or splashing and that not objects filled with liquids, such as vases, shall be placed on the speaker.
Minimum distances 50 cm around the apparatus for sufficient ventilation.
The ventilation should not be impeded by covering the ventilation opening switch items,such as news papers, table-cloths or curtains.
No naked flame sources such as lighted candles,should be placed on the apparatus.
The use of apparatus in moderate climates.
Excessive sound pressure from ear phones and headphones can cause hearing loss.
The internal battery is non-user replaceable.
Do not use this apparatus near the water.
Function overview: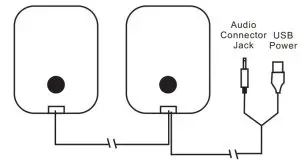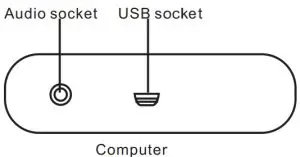 How to use this speaker:
Function Operation:
Connect: Connect USB power and audio connector jack to the corresponding interface of the computer.
Play: After connecting, you can play the audio.on your computer.
Volume control: "+" turned up "-"turned down ;Or you can adjust the volume through the computer.
Specifications:
Model No: 42990970Frequency response: 100Hz-18KHzOutput: 2 x 3WSpeaker Power supply: 5V / 1A
Troubleshooting
No sound or poor sound
Adjust the volume.
Check that the speakers are connected correctly.
Check if the stripped speaker wires are clamped.
Disconnect and reconnect the AC power plug, then turn on the speaker again.
12 Month Warranty
Thank you for your purchase from Kmart.Kmart Australia Ltd warrants your new product to be free from defects In materials and workmanship for the period stated above, from the date of purchase, provided that the product is used in accordance with accompanying recommendations or Instructions where provided. This warranty is In addition to your rights under the Australian Consumer Law.
Kmart will provide you with your choice of a refund, repair or exchange (where possible) for this product if It becomes defective within the warranty period. Kmart will bear the reasonable expense of claiming the warranty. This warranty will no longer apply where the defect is a result of alteration, accident, misuse, abuse or neglect.
Please retain your receipt as proof of purchase and contact our Customer Service Centre on 1800 124 125 (Australia) or 0800 945 995 (New Zealand) or alternatively, via Customer Help at Kmart.com.au for any difficulties with your product. Warranty claims and claims for expense incurred in returning this product can be addressed to our Customer Service Centre at 690 Springvale Rd, Mulgrave Vic 3170.
Our goods come with guarantees that cannot be excluded under the Australian Consumer Law. You are entitled to a replacement or refund for a major failure and compensation for any other reasonably foreseeable loss or damage. You are also entitled to have the goods repaired or replaced if the goods fail to be of acceptable quality and the failure does not amount to a major failure.
For New Zealand customers, this warranty is in addition to statutory rights observed under New Zealand legislation.
[xyz-ips snippet="download-snippet"]