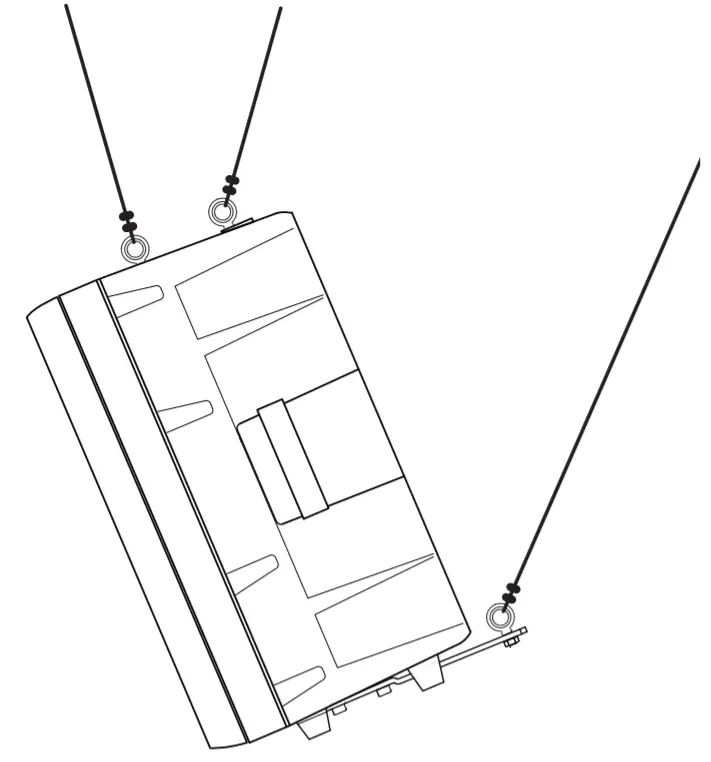 109-2151AMT Rigging KitInstallation Instruction Manual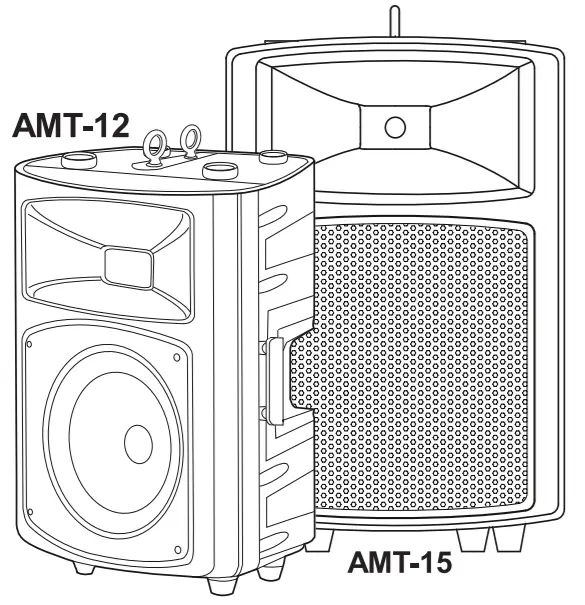 For ApogeeAMT-12 and AMT-15Loudspeakers
109-2151 AMT RiggingKit Components

NOTE: YOU MUST READ AND UNDERSTAND THIS MANUAL IN ITS ENTIRETY BEFORE ATTEMPTING TO HANG ANY SPEAKERS.
Attaching the Bottom Bar Assembly to an AMT Loudspeaker
Connect the Bottom Bar Assembly
Attach the Bottom Bar Assembly to the underside of an AMT-Series Speaker as shown here.
When attached properly, the completed Bottom Bar Assembly should appear attached to the AMT Speaker as shown here.
NOTE: Be sure that all hardware has been tightened securely. DO NOT over-tighten.
Installing RiggingEyebolts into an AMT Loudspeaker
Install two Rigging Eyebolts into the two Eyebolt openings located on the top of the AMT speaker and tighten securely.IMPORTANT: Use shims as needed to achieve proper alignment of the rigging eyebolts. See below.
NOTE: Be sure that all hardware has been tightened securely. DO NOT over-tighten.
Hanging the Speaker
The configuration of the rigging cables or chains can be done in various ways depending on the situation. This manual does not cover the rigging configurations, however, the information on the BACK PAGE is extremely important and must be adhered to when flying the speakers

YOU ARE HANGING HEAVY ITEMS OVER PEOPLE'S HEADS. THIS IS SERIOUS BUSINESS!

YOU MUST ACCURATELY FOLLOW THE INSTRUCTIONS FOR ALL THE PARTS INVOLVED IN THE INSTALLATION. FAILURE TO DO SO CAN CAUSE SERIOUS INJURY OR DEATH TO OTHERS AND EXPOSE YOUR COMPANY AND YOU TO LEGAL ACTION.
Hanging the Speaker (cont"d)
THE INFORMATION ON THIS PAGE IS EXTREMELY IMPORTANT AND MUST BE ADHERED TO WHEN FLYING THE SPEAKERS.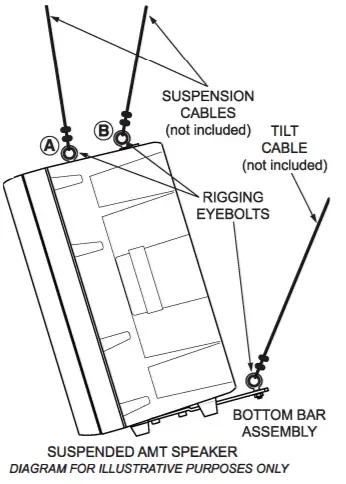 Use redundant suspension systemsAlways use a minimum of 2 suspension cables  ( or chains and make sure one is secured to each eyebolt g_ruha  top af Iha5pfaker (A and B). Using two cables, minimum, and securing one to each eyebolt provides backup suspension should one cable connection fail. Use redundant cable clamps on each cable and strip back any cable cladding in the area of the clamp.
Ensure capacity of suspension cables, chains, and anchor pointsMake sure the cables, chains, and any associated hardware have a working load rating for AT LEAST 10 TIMES the speaker weight. Make sure the structural anchor points for the cables or chains have a working load rating for AT LEAST 10 TIMES the speaker load as well.
Ensure proper cable pull directionThe proper cable pull direction is IN-LINE with the loop of the eyebolt.The load capacity of the eyebolt decreases rapidly as the pull direction moves closer to being 90-degrees to the loop. This is why it is very important to align the eyebolts as shown in Section 2.NOTE: If you are using 2 cables on one eyebolt to form a "V", a 90-degree pull direction is OK since the 2 cables cancel out the 90-degree forces on the eyebolt. You must still connect a backup cable (for a total of 3) to the other eyebolt on the speaker.
Double-check that all hardware is properly tightened.Follow manufacturer's recommendations for tightening (over-tightening can be dangerous).
Limited Warranty; Exclusion of Certain Damages
Apogee Sound 109-2151 AMT Rigging Kit is warranted to be free from defects in material or workmanship for three (3) years from the date of sale to the original purchaser. Any part of the product covered by this warranty that, with normal installation and use, becomes defective will be repaired or replaced by Apogee, at our option, provided the product is shipped insured and prepaid to Apogee Sound Factory Service Department, 50 Spring Street, Ramsey, NJ 07446, USA. The product will be returned to you freight prepaid. This warranty does not extend to any of our products that have been subjected to abuse, misuse, improper storage, neglect, accident, improper installation, or have been modified or repaired or altered in any manner whatsoever, or where the serial number or date code has been removed or defaced.
THE FOREGOING LIMITED WARRANTY IS APOGEE'S SOLE AND EXCLUSIVE WARRANTY AND THE PURCHASER'S SOLE AND EXCLUSIVE REMEDY. APOGEE SOUND MAKES NO OTHER WARRANTIES OF ANY KIND, EITHER EXPRESSED OR IMPLIED, AND ALL IMPLIED WARRANTIES OF MERCHANTABILITY OR FITNESS FOR A PARTICULAR PURPOSE ARE HEREBY DISCLAIMED AND EXCLUDED TO THE MAXIMUM EXTENT ALLOWABLE BY LAW. Apogee's liability arising out of the manufacture, sale, or supplying of products or their use or disposition, whether based upon warranty, contract, tort, or otherwise, shall be limited to the price of the product. In no event shall Apogee be liable for special, incidental, or consequential damages (including, but not limited to, loss of profits, loss of data, or loss of use damages) arising out of the manufacture, sale, or supplying of products, even if Apogee has been advised of the possibility of such damages or losses. Some states do not allow the exclusion or limitation of incidental or consequential damages, so the above limitation or exclusion may not apply to you. This warranty gives you specific legal rights, and you may also have other rights which vary from State to State.
Products that are out of warranty will also be repaired by the Apogee Sound Factory Service Department — the same address as above or call 201-934-8500. The parts and labor involved in these repairs are warranted for 90 days when repaired by the Apogee Sound Factory Service Department. All shipping charges in addition to parts and labor charges will be at the owner's expense. All returns require a Return Authorization number.

www.apogee-sound.com© Copyright 2010 Bogen Communications, Inc.Specifications are subject to change.54-2190-03B 1008
References
[xyz-ips snippet="download-snippet"]