Touchstone CM8200
Docsis3.1 Ultra Fast Cable Modem
FEATURES:
2×2 OFDM/ OFDMA DOCSIS® 3.1 channels and/or 32×8 SCQAM DOCSIS® 3.0
Full Capture Bandwidth Tuner
Multi-Processor Technology with ARM-based Application Processor
2 Gigabit Ethernet Ports
Switchable upstream filters for 42 MHz or 85MHz operation with option for full 204MHz US support
Switchable downstream filters for 85MHz or 108MHz with an option for 258MHz and an upper edge of 1218MHz
Multiple L2VPN BSoD support with OAM extensions
Extensive OAM capabilities including Y.1731
US and DS spectrum analyzer
PNM based network monitoring and diagnosis
PRODUCT OVERVIEW:
CM8200 supporting DOCSIS 3.1 allows unprecedented data rates to be delivered to MSO customers. The CM8200 is designed to easily deploy Gigabit+ data services. Switchable US and DS filters are designed to produce superior RF performance while reducing interference in the home network and allowing the flexibility required for MSO to transition from DOCSIS3.0 to DOCSIS3.1. Increased DRAM and Flash allow new applications to be deployed on the modem. This feature-packed unit is intended to serve as the hub of the subscriber's network, connecting all IP-capable devices (Internet, Data, Voice, and Video) throughout the customer's premises.
Residential high-speed data support has always been a concern of the operator. The CM8200 distinguishes itself with capabilities to minimize these support needs. US and DS spectrum analysis along with proactive network management-based diagnostics take the monitoring and diagnostic capabilities of the CM8200 to a premium level. OAM extensions to L2VPN allow for system-level provisioning and diagnostics. Multiple provisioning methods (SNMP, Configuration File, Remote WebGUI access) allow custom-designed setup to be applied to monitor the end-user more efficiently. Multiple remote access levels (User, Cusadmin, and MSO) also allow more ease and flexibility for manual configuration and control.
The CM8200 will help lead the future to advanced home and small office services.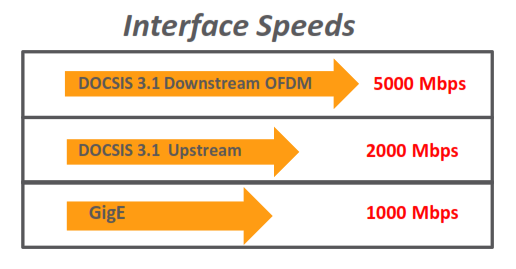 Specifications
PhysicalOperating Temperature °C – 0 to 50Operating Relative Humidity  – 5-85% (Non condensing)Storage Temperature °C  –  -40 to 70Dimensions (H x W x D) in.  –  10.1 x 10.3 x 3.25Weight lbs  –  2.1Diagnostic LED's (Front)  –  Power, US/DS, Online,Diagnostic LED's (Rear)  –  Ethernet Link/Speed
InterfacesRF Interface   –  1 External'F' type connectorData Interfaces (bridged)  –  2 x 10/100/1000 Base-T Ethernet (RJ-45 connector)Home port Input Voltage (nominal) –  115VAC, 60 Hz
RF DownstreamBonded Channels  –  Up to 32 SCQAM and/or 2 OFDMTuner Configuration  –  Full capture tuning rangeConfigurable Diplex Filter  –  85MHz-108MHz-258MHzFrequency Range (MHz)  –  85MHz-1218MHz DOCSISData Rate (Mbps Max.)  –  Over 5 GbpsRF Input Sensitivity Level (dBmV)  – -15 to +15 (DOCSIS)
RF UpstreamBonded Channels  – Up to 8 SCQAM & 2 OFDMAFrequency Range (MHz)  –  5 MHz to 204 MHzConfigurable Diplex Filter  –  42MHz-85MHz-204MHzData Rate (Mbps Max.)  –  Over 2 GbpsRF Output Level (dBmV )  –  +65 dBmV (64 QAM, single upstream) +57dBmv (64QAM, 4-8 upstream) +65dBmV (16 QAM, single upstreams)
Ordering InformationModel / DescriptionCM8200   –  DOCSIS3.1 Cable Modem
Touchstone CM8200 Docsis3.1 Ultra Fast Cable Modem Datasheet – Touchstone CM8200 Docsis3.1 Ultra Fast Cable Modem Datasheet –