Astroai Air Mattress Portable Pump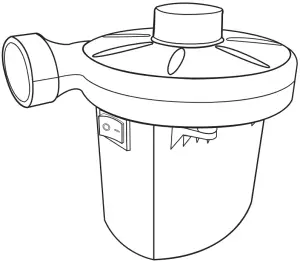 Thank you for purchasing the Air Mattress Portable Pump from AstroAI. In order to ensure the best performance and safety, please read and follow the instructions before use. For future reference, please keep the instructions. We hope you can enjoy your new Air Mattress Portable Pump. If you need any help and support from our customer service team, you are welcome to contact us via [email protected]. Thank you again.
WARNING
Please read the instructions carefully before use.
Please keep the product in a dry place and away from direct sunlight.
DO NOT modify this product at will.
Please keep the product away from fire, corrosive liquid and strong acid.
DO NOT use or store in humid environment.
DO NOT use the product for other purposes.
Please do not let your product work for more than 10 minutes and take at least 3 minutes off.
DO NOT let the hair, gravel and stone into the pump, they will make the pump unable to work or even burn out.
When the pump is working, please do not observe the Inflatable and deflectable nozzles, which may hurt your eyes.
DO NOT put your fingers into the gap of the pump anytime, or it will hurt your fingers.
When using DC supply power through the car, please make sure to start your car first.
DO NOT block the heat dissipation port when working.
Accidents may occur during shipping, please contact our support team if you experience any of the following problems:
The pump does not work.
Lack of accessories.
Damaged power cord or damaged body.
DIAGRAM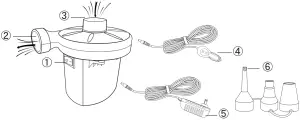 ① Switch
② Inflatable Nozzle
③ Deflatable Nozzle
④ Cigarette Lighter
⑤ AC Adapter
⑥ 3 Interlocking Nozzles
FEATURES
BODY
Made of new high strength ABS plastic; special surface treatment technology and unique shape help you to have a better experience when using; extra length of the power cord can make your operation more flexible.
NOZZLES
Three kinds of practical Nozzles perfectly match most of your inflatable items and wear-resistant materials greatly improve the service life of the Nozzles.
PRODUCT EFFICIENCY
Compatible with AC and DC dual power supply; versatile use; high-performance motor can quickly inflate and deflate your items; suitable for large inflatable items.
INSTRUCTIONS
Before starting, please press the "O" Switch, insert the cylindrical plug  into the hole, and then insert the plug into the AC socket (insert the 12V adapter or car cigarette lighter when using vehicles) .
According to the Nozzles type of items you choose the appropriate Nozzles and accurately insert the "inflatable" or "deflatable" Nozzles, and then press the "__" switch, the air pump will work.
When the inflatable item is filled to the appropriate pressure (or vacuum), please press the "O" switch, and unplug the plug or cigarette lighter.
PRODUCT SPECIFICATIONS
Input Voltage

US/JP/CADC 12V/AC 100-120V

EU/UKDC 12V/AC 200-240V

Output Power

50W

Maximum Gas Flow

300L/min

Maximum Pressure

0.5 PSI

Maximum Working Time

10 min

AC Power Cord Length

2.5 meters/98.4 in

DC Power Cord Length

3 meters/118 in
TROUBLESHOOTING
Q: The pump does not work?A: Please ensure that socket or cigarette lighter has power and the switch "-" is on.
Q: Poor performance of inflating/deflating?A: Please make sure the deflatable nozzle is blocked by objects.
PACKAGE CONTENTS
1x Air Mattress Portable Pump
1x 3 Interlocking Nozzles
1x AC Adapter
1x DC Cigarette Lighter
1x Warranty
1x User Manual
1 YEAR WARRANTY LIMITED WARRANTY FORM ASTROAI
Each AstroAI Air Mattress Portable Pump will be free from defects in material and workmanship. This warranty does not cover damage from neglect, misuse, contamination, alteration, accident, or abnormal conditions of operation or handling. This warranty covers the original purchaser only and is not transferable. Any question or concerns? Please feel free to contact us.
AstroAI always wants to provide our customers with excellent products as well as customer service. To know more about us, please visit AstroAl.com.
Web: www.astroai.comE-mail: [email protected]

[xyz-ips snippet="download-snippet"]