ASUS Fast. Easy. Setup CMAX6000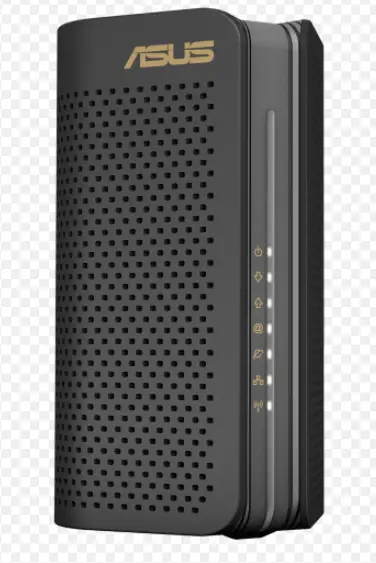 Before you start to set up, do the following:
Turn off and unplug all existing routers and modems.
Turn off the computer that will be used to activate the device.
Prepare the cable service account phone number and account number.
Prepare your CMAX6000
Use the coaxial cable provided by your cable service provider to connect the cable port on the CMAX6000 to the cable wall outlet or a line splitter. Make sure the coax cable is properly tightened.
Insert the power adapter to the DC-IN port and plug it to the power outlet.
Connect the CMAX6000 and your computer by the network cable provided (to minimize activation issues, use wired connection instead of wireless).
It might take 2 to3 minutes to boot up. When the Cable WAN LED lights turn white, the hardware is ready for setup.
NOTES: 
Use only the adapter that came with your package. Using other adapters may damage the device.
Specifications:
DC Power adapter
DC Output: +12V with max 3A current;
Operating Temperature
0~40oC
Storage
0~70oC
Operating Humidity
50~90%
Storage
20~90%
Activate your Internet service
To activate the Internet service, you must have:
Account information from your ISP
MAC address of your cable modem router
Model number of your cable modem router (CMAX6000), located on the bottom of the router
Device serial number (S/N), located on the bottom of the router.
Visit your cable Internet provider's website an follow the onscreen instructions to activate your Internet service.
Note: If the CMAX6000 still does not connect to the Internet, see the Troubleshooting.
Connect to the CMAX6000's Wi-Fi network
Use your Wi-Fi device to search for the CMAX6000's Wi-Fi network name (SSID). The SSID and password are on the product label on the bottom of the CMAX6000.
Note: To protect your network, after activating the Internet service, navigate to http://router.asus.com, enter the default login name "admin" and password "password", then follow the instruction to change login name and password.
Activation Troubleshooting
Contact your cable Internet provider by phone,
When asked, provide the following information:
If your CMAX6000 is visible to your service provider but you still have no Internet connection, reboot CMAX6000 and check online status again.
CMAX6000 is not visible to your Internet provider or your Internet provider cannot support troubleshooting:

Launch web browser and navigate to http://router.asus.co or http://10.0.0.1.
Enter the default login name "admin" and password "password".
Go to Troubleshooting > Feedback, click "Generate" and "Download" to get a feedback file.
Contact the ASUS Service Center and provide the device information (model name, serial number and MAC address) and the feedback file to the technical support personnel for assistance.
LED Indicators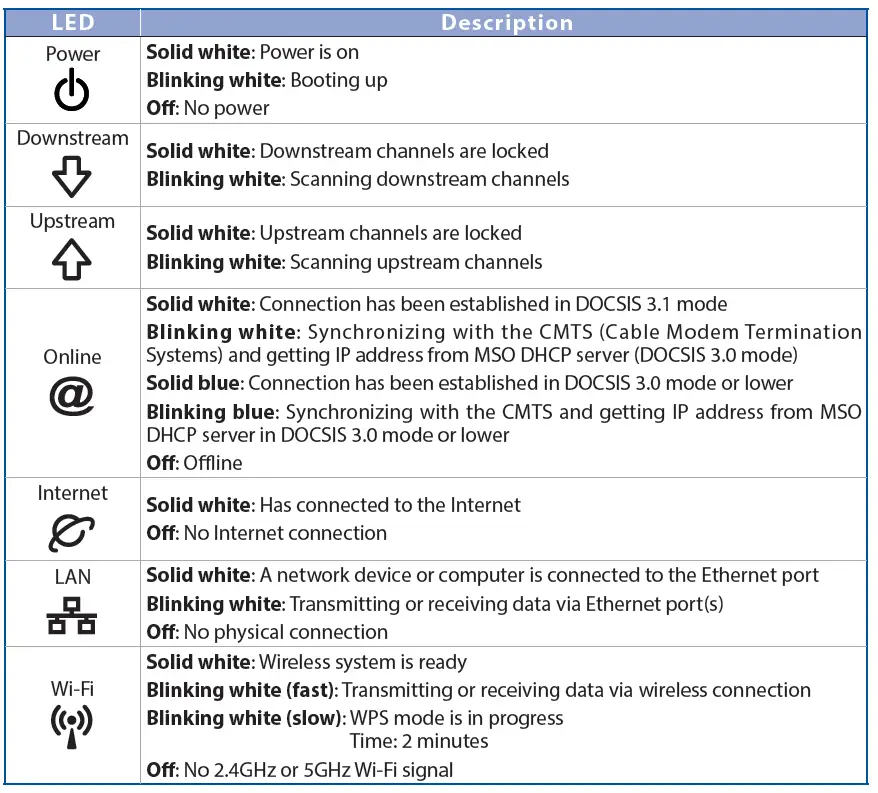 https://activate.spectrum.net/
References
[xyz-ips snippet="download-snippet"]