Quick Start GuideES945O/TB3ES945WO/TB3Omnidirectional Condenser Boundary Microphone
Included accessories

How to Mount the product
Table/ceiling hole size (actual size)

Example: Mounting on a table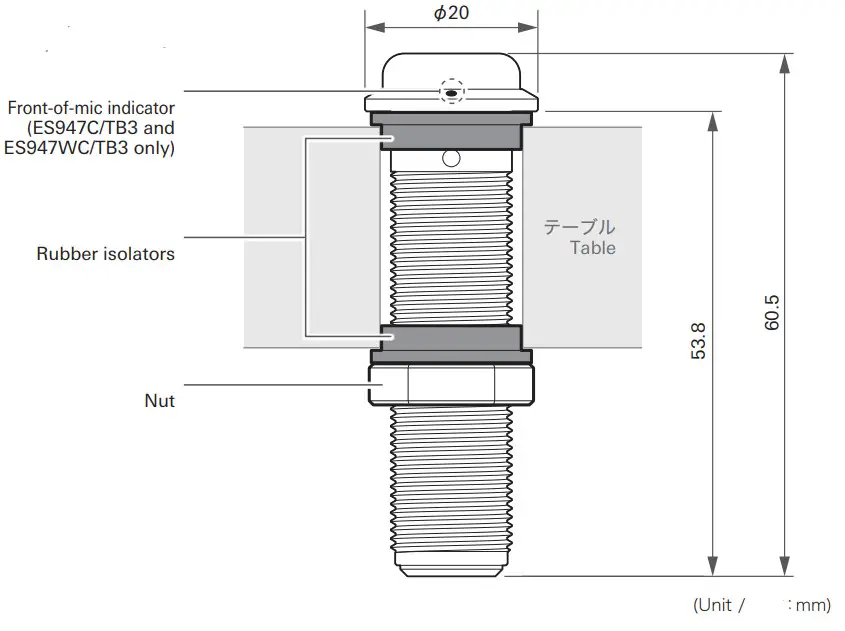 Connection procedure
The output connector is an XLR-M type with polarity as shown in the figure below.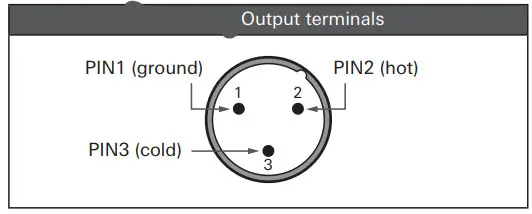 For details, refer to the user manual available for download on our website: www.audio-technica.com
Thank you for purchasing this product. Before using the product, read through the user manual to ensure that you will use the product correctly. Please keep this manual for future reference.
Safety precautions
Although this product was designed to be used safely, failing to use it correctly may result in an accident. To ensure safety, observe all warnings and cautions while using the product.Cautions for the product
Do not subject the product to a strong impact to avoid malfunction.
Do not disassemble, modify or attempt to repair the product.
Do not handle the product with wet hands to avoid electric shock or injury.
Do not store the product under direct sunlight, near heating devices or in a hot, humid or dusty place.
Notes on use
Do not swing or carry the microphone by the cable to prevent the microphone from becoming disconnected or damaged.
Do not wind the cable around the rack or allow the cable to become pinched.
The microphone should be placed on a flat, unobstructed mounting surface.
Placing any object on a surface (such as a conference table) before its finish is fully cured may result in damage to the finish.
Audio-Technica Corporation2-46-1 Nishi-Naruse, Machida, Tokyo 194-8666, Japanwww.audio-technica.com©2020 Audio-Technica CorporationGlobal Support Contact: www.at-globalsupport.com〒194-8666www.audio-technica.co.jpMade in Japan
[xyz-ips snippet="download-snippet"]