auraLED Led Lights User Manual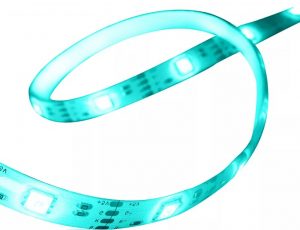 INTRODUCTION & FEATURES
Give your home living room a unique atmospheric twist with the ColorStrip LED lights by tzumi. Designed with a safe adhesive backing, this colorful backlight can be fixed directly onto the back of your TV or computer screen, enhancing your home theater and easing light-induced fatigue. It fits screens up to 65″ and includes a wireless remote controller, which provides you with the freedom to customize your selection of 16 colors and find the perfect brightness, rhythm, and color scheme.
PACKAGE CONTENTS
1 6.5 Ft LED Mood Light
1 Wireless Remote Control
Product Overview & Functions

Wireless Remote Control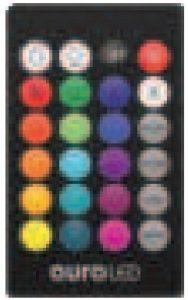 CR2025 cell battery (included)
When Remote Control operation becomes slow, it is time to change the battery. Compatible with CR2025 and CR2032 battery types.
INSTALLATION
NOTE: Please make sure that the back surface of your TV is clean from dust, oils, or fingerprints before attempting to apply your LED Mood Light. Use an alcohol based cleaning cloth to wipe the back of your TV.
Locate the USB port on the back of your TV. If your TV does not have a USB port, you may use any other USB power source.
Make sure that you are satisfied with the coverage area of the LED strip prior to peeling off the adhesive tape. Make sure that the USB cable is placed near the USB port and has enough slack to reach safely. The Remote Receiver must also be visible in order to work properly. See below.
Peel off the backing of the strip to expose the adhesive.
Apply to the cleaned surface of the back of TV. Press down for a couple of seconds to secure.
Connect the LED Strip with the USB Cable and insert the cable into the USB port.
Once connected, remove the protective plastic strip from remote control to activate the battery.
Press the ON button to turn on the LED strip.
Refer to the color combinations settings on the remote to customize your LED strip.
Assembly
Connect the LED strip with the USB cable.

See below for suggested placement depending on your TV size: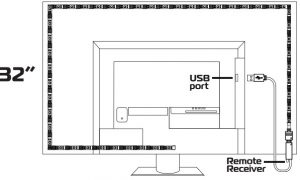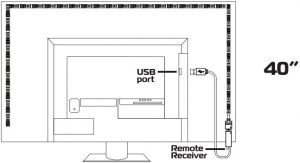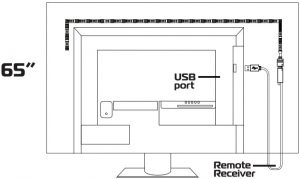 These illustrations are for visual reference only. LED Strip placement will vary depending on each individual unit.
WIRELESS REMOTE CONTROLS
Button 1 and 2 can be used to control the brightness for button 5, change the speed for button 6,7,8,9.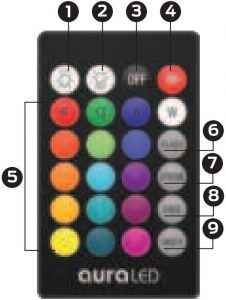 Brightness (Up)
Brightness (Down)
Power OFF
Power ON
LED Color Buttons -16 colors
Flash Transition Effect
Strobe Transition Effect
Fade Transition Effect
Smooth Transition Effect
When remote control operation becomes slow, it is time to change the battery. Replace with a new cell battery.
 Compatible with CR2025-CR2032 battery types
LED LIGHT STRIP SPECS
LED Strip
| | |
| --- | --- |
| Input: | DC 5V/0.5A – 2A |
| Power Consumption: | 2.5w -10W |
| LED Chip: | 5050, RGB |
| Color | 16 colors with 4 Mood light settings |
| Beam Angle: | 120 degrees |
| LED Strip: | 60 LED lights 16.5 foot (78″) |
| Back Adhesive: | 3M self-adhesive |
| Working Temperature: | -20°C – 45°C |
| Working Humidity: | 0% – 80% RH |
CARE & IMPORTANT SAFEGUARDS
Keep LED strip away from flammable objects.
Always make sure that all parts have been connected properly.
Check to make sure the voltage of the power source (USB) is 5V.
Do not connect the LED strip to the power source until all of the installation have been completed.
Do not cut any part of the LED strip or its connectors.
Always make sure that the Remote Receiver is not covered or blocked. This will ensure proper operation using the remote control.
If this product malfunctions, please do not try to repair it yourself, take it to a qualified electrician.

[xyz-ips snippet="download-snippet"]