AZUNO TIG100A Series Tire Inflator with Pressure Gauge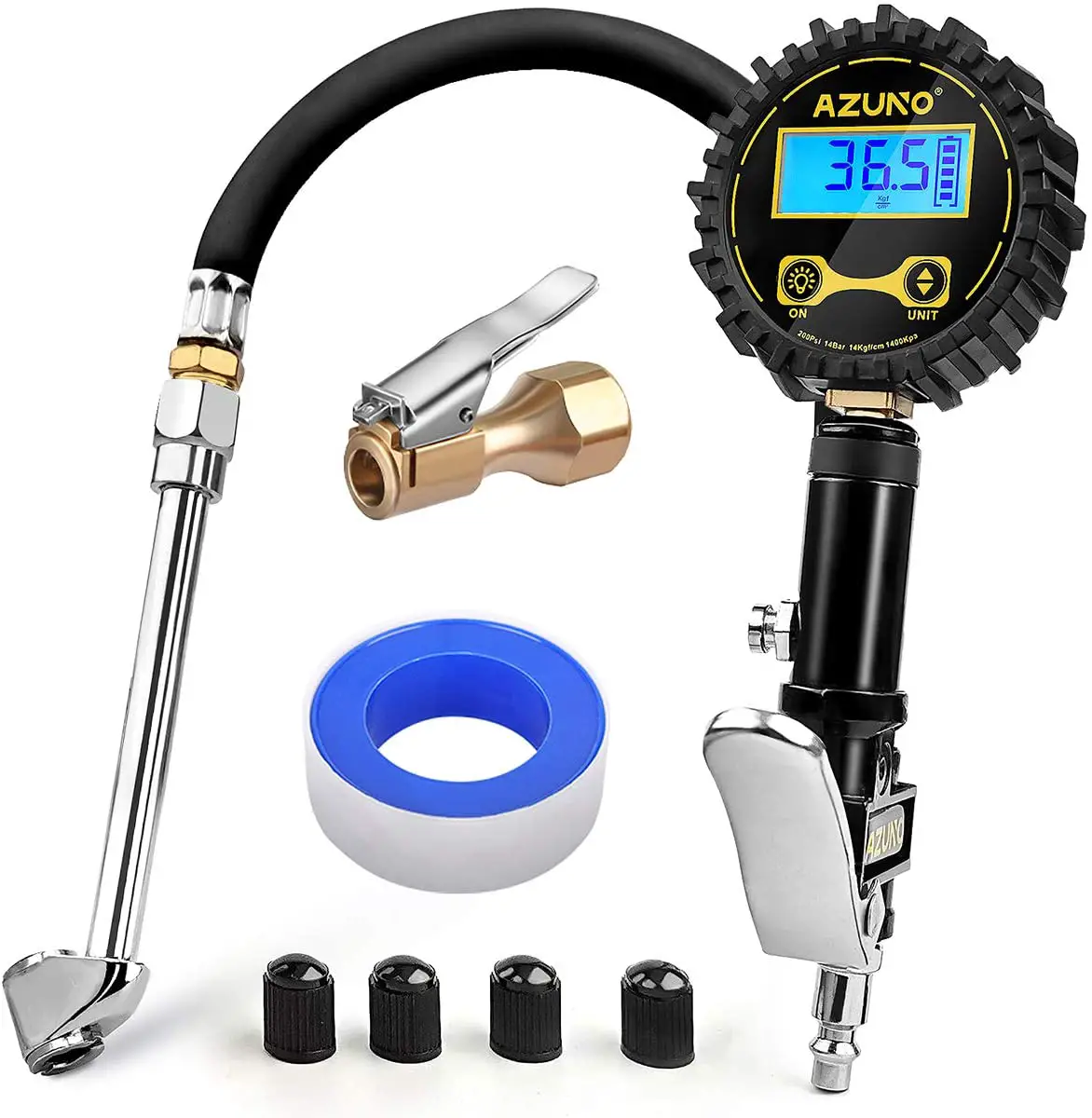 Acknowledgement
From now on you could inflate tires without having to continually check pressure and then adjust.We hope you enjoy your new Tire Inflator Gauge.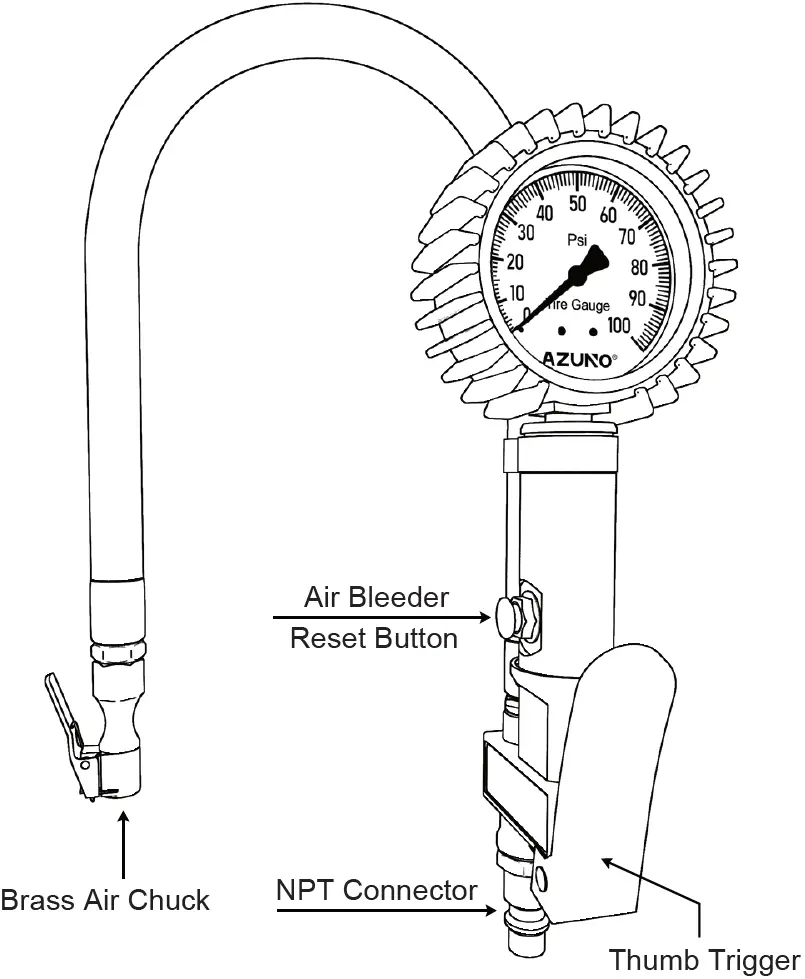 Technical Specs & Package Contents
| | |
| --- | --- |
| Technical Specs | TIG100A Series |
| Measurement Units | PSI |
| Maximum Range | 100 PSI |
| Accuracy | ±2% |
| Dial Type | Glow Dial Analogue |
| Reading Validity | Stable in 30s |
| Operating Temperature | -4°F ~ 122°F |
| Power Supply | Battery Free |
| | |
| --- | --- |
| Package Contents | AZUNO TIG100A Series |
| Tire Inflator Gauge with 30cm Hose | x1 |
| Brass Air Chuck (Installed) | x1 |
| User Manual | x1 |
| Dual Head Air Chuck | x1 |
| Tire Valve Stem Caps | x1 |
| Thread Seal Tape Roll | x1 |
| Storage Bag | x1 |
Instructions for Use
Use AZUNO Tire Inflator Gauge to inflate tires to the optimal pressure level, along with an Air Compressor.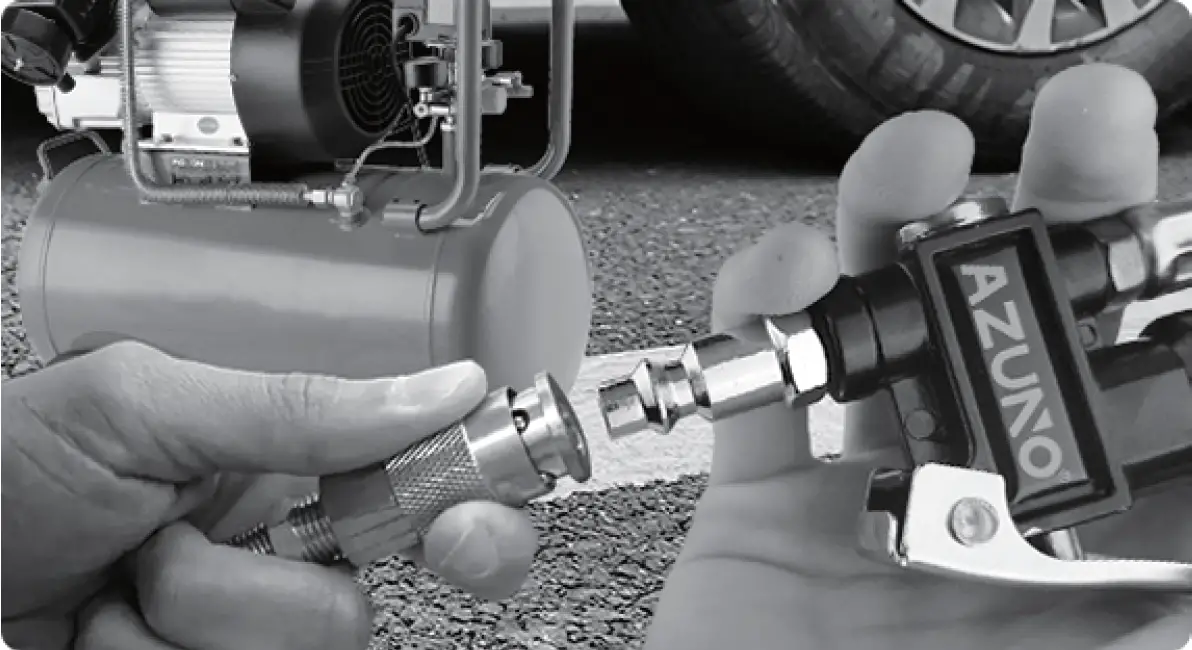 Connect the Inflator Gauge to an air compressor using the NPT connector.
Press the Air Bleed Valve/Reset Button to ensure the gauge is set to Zero.
Connect an Air Chuck to the steel hose (An Air Chuck has been pre-installed, or you could use one of your own).
Use the chuck to connect to the tire valve.
Fill in the air by pressing the Thumb Trigger and hold the lever until desired pressure level is reached.
Release excess air using the Air Bleed Valve/Reset Button. (Releasing air could be operated later without connecting to Air Compressor)
Maintenance and Servicing
Cleaning
WARNING: Blow dirt and dust out of the main housing with dry air as often as dirt is seen collecting in and around. Wear approved eye protection and approved dust mask when perform-ing this procedure.WARNING: Never use solvents or other harsh chemicals for cleaning the non-metallic parts of the tool. These chemicals may weaken the materials used in these parts. Use a cloth dampened only with water and mild soap. Never let any liquid get inside the tool; never immerse any part of the tool into a liquid.
Optional Accessories
WARNING: Since accessories, other than those offered by AZUNO, have not been tested with this product, use of such accessories with this tool could be hazardous. To reduce the risk of injury, only AZUNO recommended accessories should be used with this product.Consult AZUNO for further information on the appropriate accessories.
Protecting the Environment
Separate collection. This product must not be disposed of with normal household waste. Should you find one day that your AZUNO product needs replacement, or if it is of no further use to you, do not dispose of it with household waste.Make this product available for separate collection.Separate collection of used products and packaging allows materials to be recycled and used again.Re-use of recycled materials helps prevent environmental pollution and reduces the demand for raw materials.
Contact
Email: [email protected]Website: www.azunotools.com
Protect Your Purchase


[xyz-ips snippet="download-snippet"]