AZZA HURRICANE III Digital RGB Fan 120mm User Manual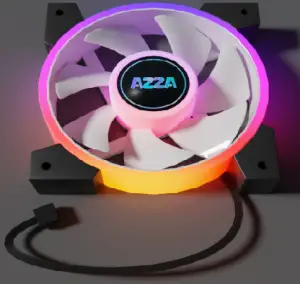 Hurricane III Digital RGB Fan Parallel Connection (daisy-chaining)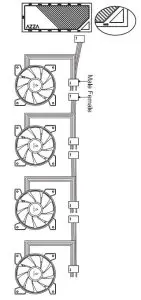 Model:AZZA Hurrican III Digital RGB Fan 12 cm( FNAZ-12DRGB3-341)
HURRICANE III Digital RGB Fan Installation For Motherboard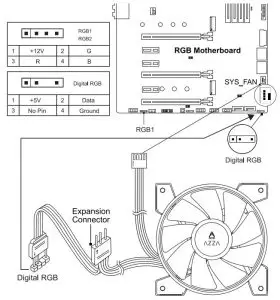 CAUTIONConnecting a strip to an incorrect connector can potentially cause damage to the LED strip, due to the RGB, and Digital RGB connectors providing different voltages .Our digital RGB devices are WS2812B-compliant. Each fan contains 10digital/addressable LED diodes. The WS2812B standard supports up to 60 diodes at the maximum for a single header, so please do not daisy-chain more than 5 digital RGB fans together.
AZZA  HUB Installation
Installation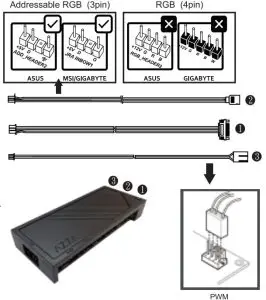 (1) Sata power connector cable(2) 3pin ARGB motherboard sync adapter(3) 4pin PWM cable
AZZA HUB Function

Ports and connectors
7×3 pin ARGB ports I supports ARGB devices: ARGB fan, ARGB strips…etc
6×4 pin PWM fan ports
1×2 pin connector to Reset (or LED) switch
1xSATA power connector
1×3 pin ARGB connector to MB
1x4pin PWM fan connector to MB
Functions:
Total of 17 lighting modes
Lighting modes can be controlled by Reset (or LED) switch, or can be controlled by MB. (Hold the LED button for 3 seconds to switch the RGB control function between motherboard RGB software and LED button)

Magnet on the back of the hub box or using velcro on the back of the hub box, it can put in any place inside the metal part of the case.
6 sets of ARGB port next to PWM port to ease the connection on fans

 WARNING!
The addressable RGB fans can connect directly to the 5V addressable headers of compatible motherboards,such as those from MSITM, ASUS Tm GigabyteTM and ASROCKTM'
Please note: Only 5V addressable header from compatible motherboards are supported; please do Not connect the fan to a 12V non-addressable header.
Please check your motherboard's specifications before use. Do not go past the motherboard's allowed limits on power ratings and LED count when connecting multiple fans / LED strips.
[xyz-ips snippet="download-snippet"]