Behringer USB Boundary Microphone BU100 User Guide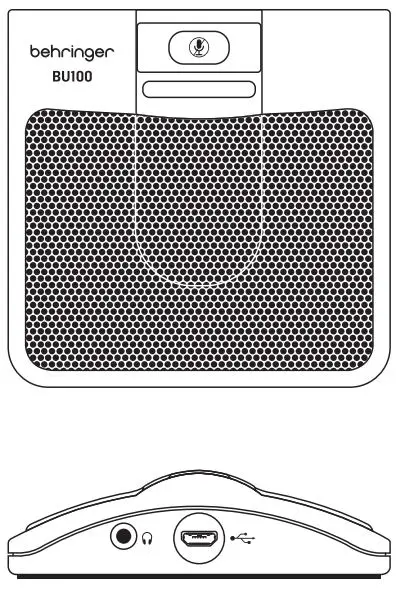 FEATURES
Studio-grade USB boundary microphone for transparent vocal projections
Ideal for streamers, podcasters, gamers, recording and conference calls
Cardioid polar pattern minimizes background noise and feedback
"Plug and play" for easy setup on your desktop computer, laptop and other USB-enabled audio devices
Exceptional frequency response with high-resolution audio, perfect for voice and acoustic instruments
Integrated noise-reducing circuit for high signal-to-noise ratio
Zero-latency direct monitoring port for speakers or headphones
Convenient mute button with status indicator LED
Peg holes for optional wall mounting
Rugged reliable metal construction
High-quality USB cable included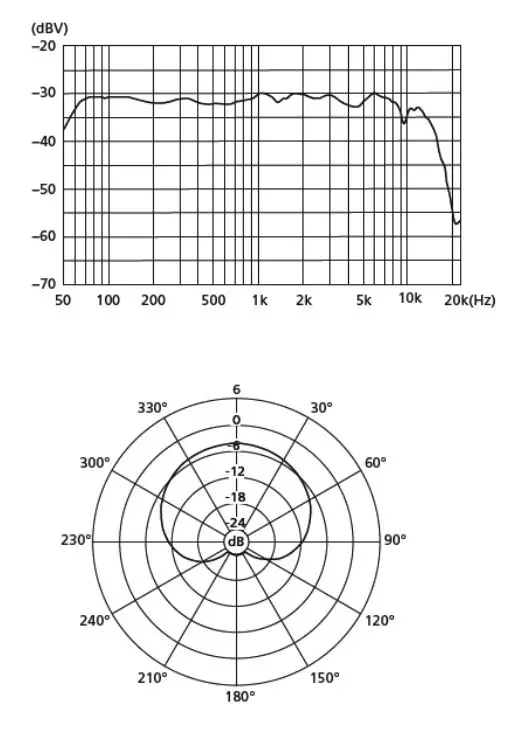 Controls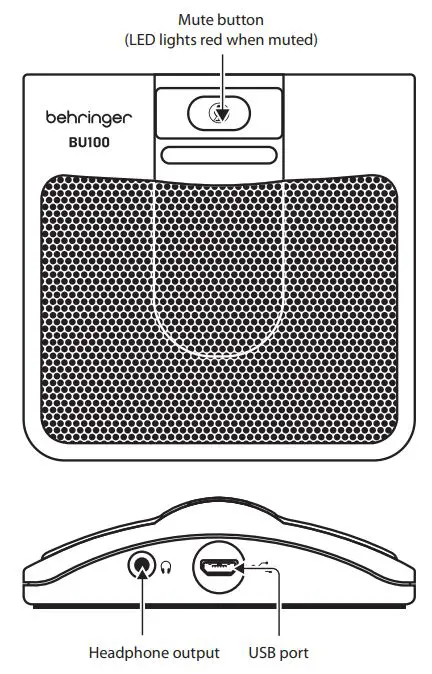 Specifications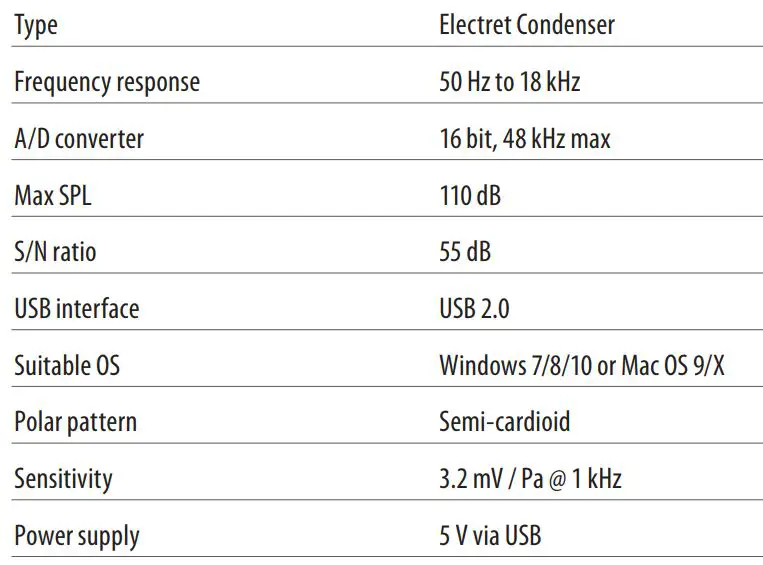 Behringer is constantly striving to maintain the highest professional standards. As a result of these efforts, modifications may be made from time to time to existing products without prior notice. Specifications and appearance may differ from those listed or illustrated.
FEDERAL COMMUNICATIONS COMMISSION COMPLIANCE INFORMATION
BehringerBU100
Responsible Party Name: Music Tribe Commercial NV Inc.Address: 901 Grier Drive Las Vegas, NV 89118 USAPhone Number: +1 747 237 5033
BU100This equipment has been tested and found to comply with the limits for a Class B digital device, pursuant to part 15 of the FCC Rules. These limits are designed to provide reasonable protection against harmful interference in a residential installation. This equipment generates, uses and can radiate radio frequency energy and, if not installed and used in accordance with the instructions, may cause harmful interference to radio communications. However, there is no guarantee that interference will not occur in a particular installation. If this equipment does cause harmful interference to radio or television reception, which can be determined by turning the equipment off and on, the user is encouraged to try to correct the interference by one or more of the following measures:
Reorient or relocate the receiving antenna.
Increase the separation between the equipment and receiver.
Connect the equipment into an outlet on a circuit different from that to which the receiver is connected.
Consult the dealer or an experienced radio/TV technician for help.
This device complies with Part 15 of the FCC rules. Operation is subject to the following two conditions:
(1) this device may not cause harmful interference, and(2) this device must accept any interference received, including interference that may cause undesired operation.
Important information:Changes or modifications to the equipment not expressly approved by Music Tribe can void the user's authority to use the equipment.
Music Tribe Commercial NL B.V. Schiphol Boulevard 359 D Tower, 11d 1118BJ, Schiphol, The Netherlands
LEGAL DISCLAIMER
Music Tribe accepts no liability for any loss which may be suffered by any person who relies either wholly or in part upon any description, photograph, or statement contained herein. Technical specifications, appearances and other information are subject to change without notice. All trademarks are the property of their respective owners. Midas, Klark Teknik, Lab Gruppen, Lake, Tannoy, Turbosound, TC Electronic, TC Helicon, Behringer, Bugera, Oberheim, Auratone and Coolaudio are trademarks or registered trademarks of Music Tribe Global Brands Ltd. © Music Tribe Global Brands Ltd. 2021 All rights reserved.
LIMITED WARRANTY
For the applicable warranty terms and conditions and additional information regarding Music Tribe's Limited Warranty, please see complete details online at musictribe.com/warranty.

[xyz-ips snippet="download-snippet"]