Getting to know the Belkin USB-C toEthernet + Charge Adapter, INC001
The Belkin USB-C to Ethernet + Charge Adapter, INC001 provides convenient access to a fast and reliable internet connection through a Gigabit Ethernet port and allows for USB Power Delivery at the same time. It's a plug-and-play adapter that works universally with Mac® and Windows® laptops and other USB-C® devices. For more information, click here.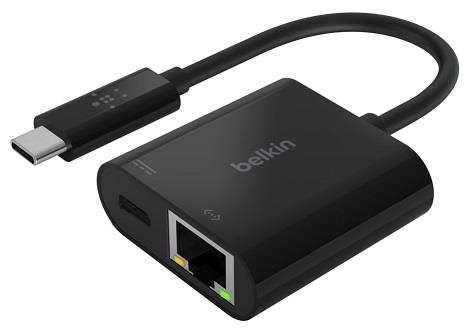 Product Features
 The tethered cable connects directly to your USB-C laptop
 Supports pass-through charging up to 60W for USB-C devices
 Supports network speeds of up to 10/100/1000 Mbps
2-year limited warranty
Product Dimensions
 Width: 41 mm / 1.6 in
 Height: 14.5 mm / 0.57 in
 Length (without cable): 131.5 mm / 5.18 in
Length (with cable): 191.5 mm / 7.54 in
Compatibility
The Belkin INC001 is compatible with mobile devices and laptops that have a video-enabled USB-C port. It has also been tested to work with Thunderbolt™ 3 port-compatible devices.
Package Inclusions
 Belkin INC001
 Quick start guide
 Regulatory documentation
References
[xyz-ips snippet="download-snippet"]