BLACK and DECKER SKU #CC600/601/602 User Manual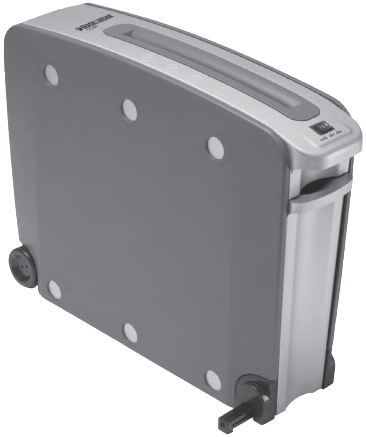 SKU #CC600/601/602Please read these instructions before use
Thank you for buying a Black & Decker paper shredder. Black & Decker paper shredders have become the benchmark for innovation, performance and quality to protect against identity theft. We have taken great care in designing and engineering a product to meet and exceed your needs.
To ensure years of safe, efficient performance, please readthese important product usage and safety instructions.
If you have any questions regarding the product, please feel free tocall toll-free 1-800-297-5028.
Product Information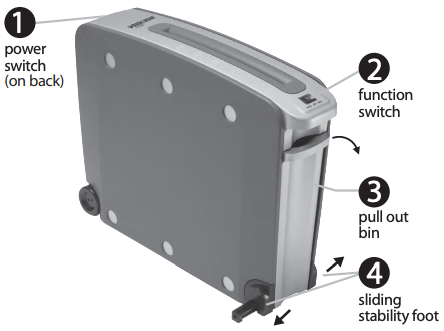 Sheet capacity: 6 20 lb. pages in one pass
Paper Shred Size: .16" x 1.38" 4mm x 35mm
Voltage: 120
The Following are Important Safety Instructions.Read All Instructions Before Using.

WARNING: Hazardous moving parts. Keep fingers and other body parts away.
WARNING: To reduce risk of fire, electrical shock or injury:
NEVER allow children to operate a paper shredder, even under adult supervision. A paper shredder is NOT a toy.
DO NOT use flammable synthetic oil, petroleum-based products or aerosols of any kind on or near product at any time.
DO NOT operate any electrical product with a damaged cord.
AVOID getting jewelry, hair or loose clothing too close to feed slot as serious injury can occur.
DO NOT handle plug or product with wet hands.
KEEP children and pets away from the shredder.
UNPLUG shredder when not in use.
DO NOT attempt to feed more sheets of paper than specified on the feeder.
DO NOT open shredder head to attempt repair: It could expose you to electric shock and will void your warranty.
DO NOT attempt to shred materials other than paper. The socket-outlet shall be installed near the equipment and shall be easily accessible.
ALWAYS empty the wastebasket prior to becoming full.
DO NOT place shredder near heat or water source.

WARNING ICONS: The icons on top of the shredder warn the user of the potential dangers if the shredder is used improperly.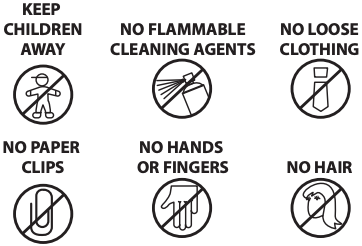 Setup
Check shredder for damage or defects; some particles of paper are normal due to product testing.
Plug the power cord into any easily reached standard outlet.
To use, have the Power Switch (1), located on the back of the shredder, in the ON (–) position.
Place allotted amount of paper into the shredder.
Press the Function Switch (2) to the AUTO (I) position.
(I) indicates Forward, (II) indicates Reverse, (O) indicates the Off position.
Customer Service
Black & Decker has a toll-free help line for customers living in the United States and Canada. Our customer service phone number is 1-800-297-5028 or visit our website at www.blackanddeckershredders.com.
Maintenance
Regular emptying of the basket is important to ensure the smooth operation of the cutting cylinders. The shredder will not operate when the basket is full. Regular oiling is also necessary for proper performance. It is recommended to use shredder oil every few weeks.
Troubleshooting
If you have a problem with your shredder, check the symptoms and remedies below.
If you cannot solve the problem this way, contact Black & Decker paper shredders Customer Service. Do not open shredder head to attempt repair: It could expose you to electric shock and will void your warranty.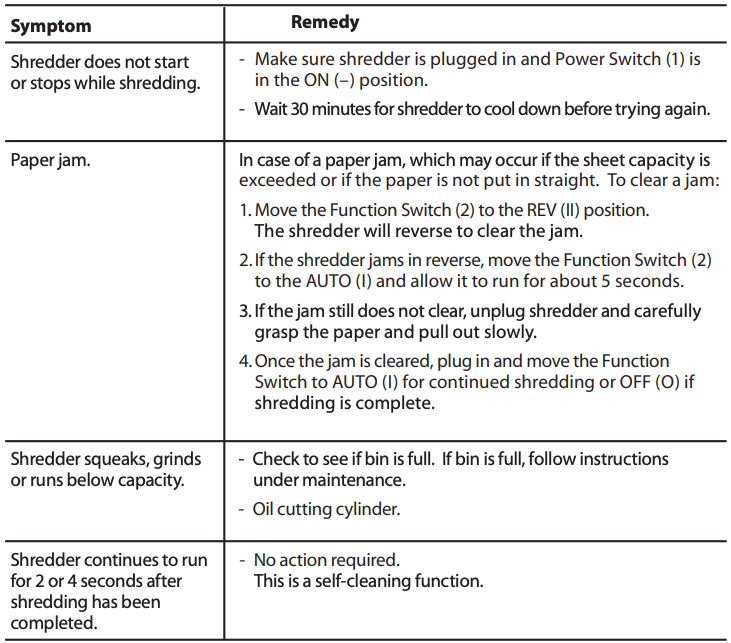 BLACK and DECKER SKU #CC600/601/602 User Manual – BLACK and DECKER SKU #CC600/601/602 User Manual –
[xyz-ips snippet="download-snippet"]