Model:  IR12XS, IR16X, IR18XS
Customer Care Line: 1-800-465-6070For online customer service: www.prodprotect.com/blackanddecker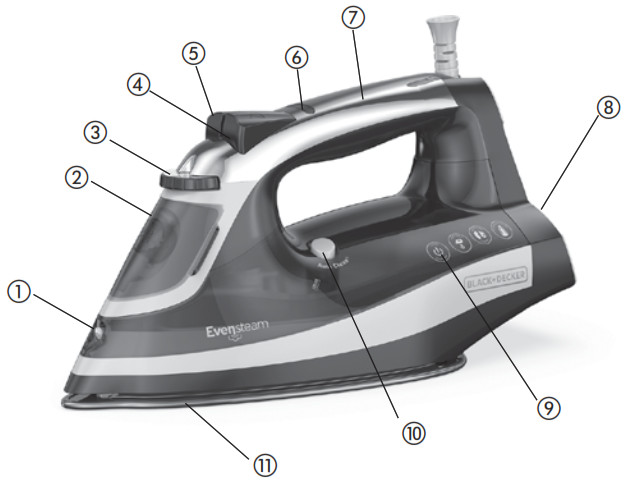 EVEN STEAM IRON
Product may vary slightly from what is illustrated.
| | |
| --- | --- |
| 1. Spray nozzle2. Water-fill cover3. Fabric select dial4. Spray button5. Steam button6. Automatic shutoff light | 7. Handle8. Slip-resistant heel9. Water tank10. AUTO CLEAN button11. Soleplate™ |
Please Read and Save this Use and Care Book.
IMPORTANT SAFETY INSTRUCTIONS
When using your iron, basic safety precautions should always be followed, including the following:
READ ALL INSTRUCTIONS BEFORE USING.
Use iron only for its intended use.
To protect against a risk of electric shock, do not immerse the iron in water or other liquids.
The iron should always be turned to the minimum (min) setting before plugging or unplugging from the outlet. Never pull on the cord to disconnect from the outlet; instead grasp  plug and pull to disconnect.
Do not allow the cord to touch hot surfaces. Let iron cool completely before putting away. Loop cord loosely around iron when storing.
Always disconnect iron from electrical outlet when filling with water or emptying, and when not in use.
Do not operate the iron if it has been dropped, if there are visible signs of damage to the iron or its cord, or if it is leaking. To avoid the risk of electric shock, do not disassemble the iron; take it to a qualified service person for examination and repair, or call the appropriate toll-free number on the cover of this manual. Incorrect reassembly can cause a risk of electric shock when the iron is used.
If the supply cord is damaged, it must be replaced by the manufacturer, its service agent or a similarly qualified person in order to avoid a hazard.
Close supervision is necessary for any appliance being used by or near children. Do not leave iron unattended while connected or on an ironing board.
Burns can occur from touching hot metal parts, hot water or steam. Use caution when you turn a steam iron upside down or use the surge of steam—there may be hot water in the reservoir. Avoid rapid movement of iron to minimize hot water spillage.
This appliance is not intended for use by persons (including children) with reduced physical, sensory or mental capabilities, or lack of experience and knowledge unless they have been given supervision or instruction concerning use of the appliance by a person responsible for their safety.
Children should be supervised to ensure that they do not play with the appliance.
The iron must be used and rested on a stable surface.
 When placing the iron on its stand, ensure that the surface on which the stand is placed is stable.
SPECIAL INSTRUCTIONS
To avoid a circuit overload, do not operate another high-wattage appliance on the same circuit.
If an extension cord is absolutely necessary, use a cord rated 15 amps or higher. A cord rated for less amperage could result in a risk of fire or electric shock due to overheating.  Care should be taken to arrange the cord so that it cannot be pulled or tripped over.
SAVE THESE INSTRUCTIONS.This product is for household use only.
POLARIZED PLUG
This appliance has a polarized plug (one blade is wider than the other). To reduce the risk of electric shock, this plug is intended to fit into a polarized outlet only one way. If the plug does not fit fully into the outlet, reverse the plug. If it still does not fit, contact a qualified electrician. Do not attempt to modify the plugin anyway.
TAMPER-RESISTANT SCREW
Warning: This appliance is equipped with a tamper-resistant screw to prevent the removal of the outer cover. To reduce the risk of fire or electric shock, do not attempt to remove the outer cover. There are no user-serviceable parts inside. Repair should be done only by authorized service personnel.Note: If the power cord is damaged, please contact the warranty department listed in these instructions.
HOW TO USE
This product is for household use only.Getting Started
Remove the plastic band around the power plug and all labels, tags, and stickers attached to the body, cord, or soleplate of the iron.
Remove and save literature.
Please visit www.prodprotect.com/blackanddecker to register your warranty.
Filling the Water Tank
With the iron on a flat surface, soleplate down, open the water-fill cover.
Tilt the iron slightly. Using a clean measuring cup, pour water into the opening until the water reaches the "MAX" level mark on the side of the water tank. Do not overfill. Close the water-fill cover securely. Tip: This iron is designed to use normal tap water. If your water is very hard, you can use a mixture of 50% tap water and 50% distilled water  to avoid build-up. It is not recommended to use water with perfumes or scented additives.
To refill at any time during the ironing process, unplug the iron and follow the above procedure.
USING YOUR IRON
 Plug the iron into an outlet. The red power/auto shut-off light will illuminate, indicating that the iron is heating.
Read the manufacturer's fabric label for clothing care recommendations to help select the correct temperature setting.Tip: Since it takes an iron longer to cool down than heat up, organizing your clothing from Low to High temperatures can cut down your ironing time.
The SmartSteam™ one-dial control automatically regulates steam level based on the fabric setting.
Allow the iron for about 2 minutes to heat up to the desired temperature.Tip: To dry iron (no steam) use SmartSteam™ settings 1–3, or for high heat simply empty the water tank. Once preheated, press the Burst of Steam button a few times to fully  empty the water tank before ironing.
When finished ironing, turn the dial to the MIN setting, unplug iron from the outlet, and allow iron to cool before storing.
Burst of Steam
To help remove stubborn wrinkles, fill the tank and select a setting from 4–6, then press the steam burst button.Anti Drip System This iron is engineered to prevent water spotting at lower temperatures.Vertical SteamingHold the iron vertically and press the Burst of Steam button to steam garments right on the hanger, or to steam draperies and curtains.Spray MistPress the Spray Mist button to dampen tough wrinkles while ironing. This setting works at any SmartSteam™ dial setting. Do not spray silk.3-way Auto Shut-OffThe iron will automatically switch to Auto Shut-Off mode and stop heating after being left inactive for 30 seconds on the soleplate or side, and 8 minutes on the heel rest. When the iron is in Auto Shut-Off mode, the red light on the handle will blink. Simply move the iron to resume ironing and the soleplate will automatically heat to the selected temperature.
CLEANING AND CARE
This product contains no user-serviceable parts. Refer to qualified service personnel.
AUTO CLEAN™ SYSTEMTo keep the steam vents free of any build-up, follow these instructions once a month.
Fill the water tank below the MAX line. Plugin the iron.
Turn the dial to 6 and allow the iron to heat on the heel rest.
Turn the dial to MIN, unplug the iron and hold over a sink with the soleplate face down.
Press and hold the Auto Clean ™ button. Be careful as hot water and steam will come out of the vents. Continue to hold the button until the tank is empty. If necessary, rock the iron back and forth.
 When empty, release the button, stand iron its heel rest and plug it in for 2 minutes to dry any remaining water.
CLEANING OUTSIDE SURFACES
Make sure the iron is unplugged and has completely cooled.
Wipe the soleplate and outer surface with a soft, damp cloth. Water and small amounts of gentle household soaps, such as dishwashing liquid, can be used. Never use heavy-duty cleaners, vinegar or abrasive scouring pads that may scratch or discolor the iron.
After the iron has been thoroughly dried, turn the iron back on and lightly steam over an old cloth. This will help remove any residue left in the steam holes.
When finished cleaning, turn iron off and allow time to cool before storing.
STORING YOUR IRON
Check that the iron is on the MIN setting, unplugged, and completely cool.
Always store the iron vertically on its heel to prevent water from leaking from the soleplate.
NEED HELP?
For service, repair or any questions regarding your appliance, call the appropriate 800 number on the cover of this book. Please DO NOT return the product to the place of purchase. Also, please DO NOT mail the product back to the manufacturer, nor bring it to a service center. You may also want to consult the website listed on the cover of this manual.Two-Year Limited Warranty (Applies only in the United States and Canada)What does it cover?
Any defect in material or workmanship provided; however, Spectrum Brands, Inc.'s liability will not exceed the purchase price of the product.
For how long? 
Two years from the date of the original purchase with proof of such purchase.
What will we do to help you?
Provide you with a reasonably similar replacement product that is either new or factory refurbished.
How do you get service?
Save your receipt as proof of date of sale.
Visit the online service website at www.prodprotect.com/blackanddecker, or call toll-free 1-800-465-6070, for general warranty service.
If you need parts or accessories, please call 1-800-738-0245.
What does your warranty not cover?
Damage from commercial use
Damage from misuse, abuse, or neglect
Products that have been modified in any way
Products used or serviced outside the country of purchase
Glass parts and other accessory items that are packed with the unit
Shipping and handling costs associated with the replacement of the unit
Consequential or incidental damages (Please note, however, that some states do not allow the exclusion or limitation of consequential or incidental damages, so this limitation may not apply to you.)
How does state law relate to this warranty?
This warranty gives you specific legal rights. You may also have other rights that vary from state to state or province to province.
Are there additional warranty exclusions?
This warranty shall not be valid where it is contrary to the U.S. and other applicable laws, or where the warranty would be prohibited under any economic sanctions, export control laws, embargos, or other restrictive trade measures enforced by the United States or other applicable jurisdictions. This includes, without limitation, any warranty claims implicating parties from, or otherwise located in, Cuba, Iran, North Korea, Syria, and the disputed Crimea region.
At the end of this product's life, you can mail it to Spectrum Brands at 507 Stokely Drive, Deforest, WI 53532 marked "Product Takeback: Please Recycle!"
BLACK+DECKER and the BLACK+DECKER logos are trademarks of The Black & Decker Corporation, used under license by Spectrum Brands, Inc. for its manufacturing and sale of this product.All rights reserved.

Made in China.© 2021 Spectrum Brands, Inc., Middleton,WI 53562 All rights reserved.28429 E/S/FT22-5004104-C
References
[xyz-ips snippet="download-snippet"]