DEPT.10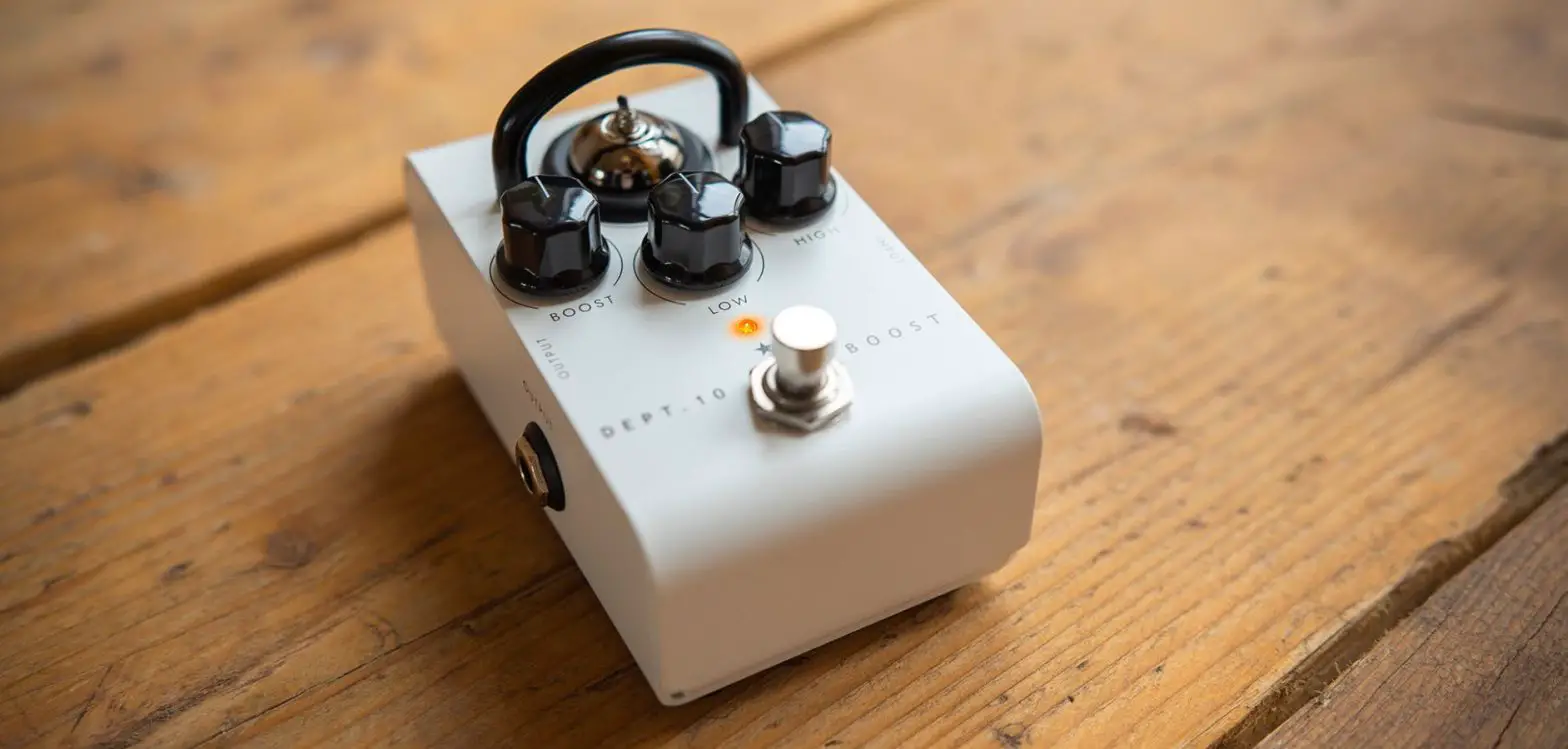 BOOSTOwner's Manualthe sound in your head

Designed and Engineered by Blackstar Amplification UK
Blackstar Amplification Ltd, Beckett House, 14 Billing Road, Northampton, NN1 5AW, the UK For the latest information go to: www.blackstaramps.com
USA / Canada
IMPORTANT SAFETY INSTRUCTIONS
Read these instructions.
Keep these instructions.
Heed all warnings.
Follow all instructions.
Do not use this apparatus near water.
Clean only with a dry cloth.
Do not block any ventilation openings.
Install in accordance with the manufacturer's instructions.
Do not install near any heat sources such as radiators, heat registers, stoves, or other apparatus (including amplifiers) that produce heat.
Do not defeat the safety purpose of the polarized or grounding-type plug. A polarized plug has two blades with one wider than the other. A grounding-type plug has two blades and a third grounding prong. The wide blade or the third prong are provided for your safety. If the provided plug does not fit into your outlet, consult an electrician for the replacement of the obsolete outlet.
Protect the power cord from being walked on or pinched particularly at plugs, convenience receptacles, and the point where they exit from the apparatus.
 Only use attachments/accessories specified by the manufacturer.
Unplug this apparatus during lightning storms or when unused for long periods of time.
Refer all servicing to qualified service personnel. Servicing is required when the apparatus has been damaged in any way, such as power-supply cord or plug is damaged, liquid has been spilled or objects have fallen into the apparatus, the apparatus has been exposed to rain or moisture, does not operate normally, or has been dropped.
"TO COMPLETELY DISCONNECT THIS APPARATUS FROM THE AC MAINS, DISCONNECT THE POWER SUPPLY CORD PLUG FROM THE AC RECEPTACLE".
"WARNING: TO REDUCE THE RISK OF FIRE OR ELECTRIC SHOCK, DO NOT EXPOSE THIS APPARATUS TO RAIN OR MOISTURE, AND OBJECTS FILLED WITH LIQUIDS, SUCH AS VASES, SHOULD NOT BE PLACED ON THIS APPARATUS".

This symbol is intended to alert the user to the presence of important operation and maintenance (servicing) instructions in the literature accompanying the appliance.

This symbol is intended to alert the user to the presence of uninsulated "dangerous voltage" within the product's enclosure that may be of sufficient magnitude to constitute a risk of electric shock to persons.

Warning!
Important safety information!
READ THE FOLLOWING INFORMATION CAREFULLY. SAVE ALL INSTRUCTIONS FOR FUTURE REFERENCE!
Follow all warnings and instructions marked on the product!
Danger! High internal operating voltages.
Do not open the equipment case. There are no user-serviceable parts in this equipment. Refer all servicing to qualified service personnel.Clean only with a dry cloth.Condensation can form on the inside of an amplifier if it is moved from a cold environment to a warmer location. Before switching the unit on, it is recommended that the unit be allowed to reach room temperature.Unauthorized modification of this equipment is expressly forbidden by Blackstar Amplification Ltd.Never push objects of any kind into ventilation slots on the equipment casing.Do not expose this apparatus to rain, liquids or moisture of any type.Avoid placing vessels filled with liquid on top of the amplifier. Do not place this product on an unstable trolley, stand, or table. The product may fall, causing serious damage to the product or to persons!Do not cover or block ventilation slots or openings.
This product should not be placed near a source of heat such as a stove, radiator, or another heat-producing amplifier.Use only the supplied power adaptor which is compatible with the mains voltage supply in your area.The power supply adaptor should always be handled carefully and should be replaced if damaged in any way.Never break off the earth (ground) pin on the power supply adaptor.The power supply adaptor should be unplugged when the unit is to be unused for long periods of time.Before the unit is switched on, the loudspeaker should be connected as described in the handbook using the lead recommended by the manufacturer.Always replace damaged fuses with the correct rating and type.Never disconnect the protective mains earth connection.High loudspeaker levels can cause permanent hearing damage. You should therefore avoid the direct vicinity of loudspeakers operating at high levels. Wear hearing protection if continuously exposed to high levels.If the product does not operate normally when the operating instructions are followed, then refer the product to a qualified service engineer.Only suitable for safe use under non-tropical climate conditions. Maximum ambient temperature for operation: 35°CAlways make sure that the power adaptor is connected to a socket/outlet with an earthed connection.Mains Voltage: 100-240V~ 50/60Hz.This amplifier is only designed and evaluated for safety at a maximum altitude of 2000m.
The U.S. Government´s Occupational Safety and Health Administration (OSHA) has specified the following permissible noise level exposures:
| | |
| --- | --- |
| Duration Per Day In Hours | Sound Level dBA, Slow Response |
| 8 | 90 |
| 6 | 92 |
| 4 | 95 |
| 3 | 97 |
| 2 | 100 |
| 1½ | 102 |
| 1 |  105 |
| ½ |  110 |
| ¼ or less | 115 |
According to OSHA, any exposure in excess of the above permissible limits could result in some hearing loss.
Earplug protectors in the ear canals or over the ears must be worn when operating this amplification system in order to prevent a permanent hearing loss if exposure is in excess of the limits as set forth above. To ensure against potentially dangerous exposure to high sound pressure levels, it is recommended that all persons exposed to equipment capable of producing high sound pressure levels such as this amplification system be protected by hearing protectors while this unit is in operation.

All electrical and electronic products should be disposed of separately from the municipal waste stream via

designated collection facilities appointed by the government or the local authorities.
Introduction
Thank you for purchasing this Blackstar valve effects pedal. Like all our products this pedal is the result of countless hours of painstaking research and Development by our world-class design team.
Dept. 10 is the Blackstar R&D team responsible for blue-sky innovation and design. Based in Northampton (UK), the Blackstar team are all experienced musicians themselves and the sole aim of the development process is to provide guitarists with products that are the ultimate tools for self-expression.
All Blackstar products are subjected to extensive laboratory and road testing to ensure that they are truly uncompromising in terms of reliability, quality, and above all TONE.
If you like what you hear and want to find out more about the Blackstar range of products please visit our website at www.blackstaramps.com.
Thanks!
The Blackstar Team
Features
The DEPT.10 BOOST is the ultimate high voltage valve boost pedal. Combining a Class A gain stage and natural-sounding passive James-Baxandall EQ this class-leading pedal is like adding two extra hot valve stages to your amp to ensure the maximum delivery of precious dynamics and tone. Other features include an all-valve cut and boost tone section and a high-level output specially designed to drive your valve amp hard.
This is an extremely flexible pedal and can be used in a clean amp as a volume boost, an additional valve equalization, or to drive your amplifier into dynamic valve overdrive.
Controls
InputPlug your guitar in here. Always use a good-quality screened guitar lead.
 BoostThe Boost knob controls the amount of gain boost that is applied to the guitar signal. At low levels, a boosted clean sound will be achieved and your amp will sound more dynamic and full. As the Boost control is increased the amplifier will start to overdrive and the resulting distortion will be rich in valve harmonics and compression.
LowThe tone circuit on the DEPT. 10 BOOST is known as a `cut and boosts' circuit. As the name suggests this allows a range of frequencies to be reduced (i.e. cut) or increased (i.e. boosted). Turn the control below the center position to cut the amount of bass, or past the center position to boost the bass. Importantly, when the control is set to 12 o'clock the amount of bass is neither cut nor boosted.
HighSimilarly, the High control adjusts the amount of cut or boost that will be applied to the treble, or high, frequencies of your tone. Turn the control below the center position to cut the amount of treble, or past the center position to increase the amount of treble. Importantly, when the control is set to 12 o'clock' the amount of treble is neither cut nor boosted.
OutputThis output is designed for connection to the input of other pedals or the input of a valve solid-state, digital or hybrid amplifier. The built-in buffer/line driver is perfect for preserving your tone when using long cables, or large pedalboards, even driving low impedance pedals like many wah-wahs. Always use a good quality screened guitar lead.
Valve GuardThrough this guard, you can see the ECC83 valve at the heart of your pedal.WARNING: Do not attempt to remove the fixing screws or guard. No user-serviceable parts inside.
On/Off LED When the LED is on the pedal is on. When the LED is not on the pedal is off.
On/Off SwitchPress this switch to turn the effect on or off.
DC InletFor the input of the 9V DC / 500mA adaptor supplied. Only use the included power supply.
DEPT. 10 BOOSTPower: 9V DCMaximum Current Draw: 500mAValve: 1 x ECC83 / 12AX7Input Impedance: 1MOutput Impedance: < 1KWeight (kg): 0.33Dimensions (mm): 77(W) x 76(H) x 113(D)DC Adaptor: PSU-500 supplied (9VDC 500mA tip negative)
Dept. 10 Boost Top View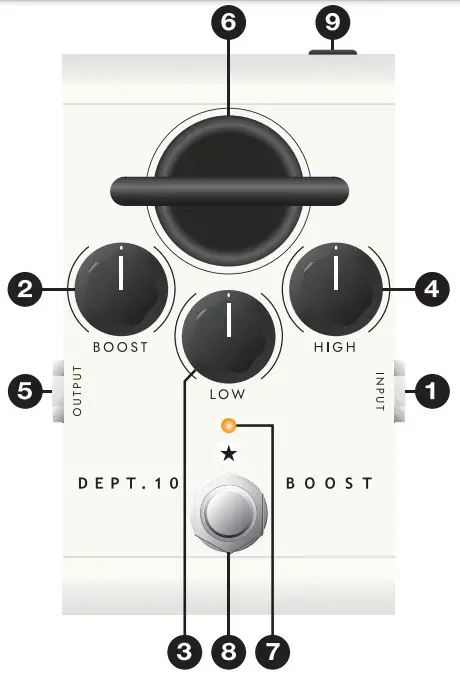 Blackstar Amplification Ltd, Beckett House, 14 Billing Road, Northampton, NN1 5AW, UK
For the latest information go to: www.blackstaramps.comWhilst the information contained herein is correct at the time of publication, due to our policy of constant improvement and development, Blackstar Amplification Ltd reserves the right to alter specifications without prior notice.
195401M-VC-1 10/21

References
[xyz-ips snippet="download-snippet"]