Vuzix Blade Smart Glasses 494

Overview
Box Contents:
Carrying Case
Blade
Microfiber Cleaning Pouch
Micro USB Cable
Anker Battery and Cable
Charging and Power On and Off
Your Blade is shipped with a partial charge. It is recommended that the battery be fully charged for first time use.Power On: press and hold the power button for three seconds.


When starting your Blade for the first time, initial boot can take several seconds.
Power Off
press and hold the power button for three seconds
select Power Off from the menu (one-finger tap on the touchpad)
Basic Gestures
The touchpad allows for interaction with the Vuzix Blade. Taps and swipes are the primary gestures.
Tap (one finger)
turn on display
wake up if in sleep mode
slect an item (app, item or feature)
perform action
Swipe (one finger)
navigate apps
navigate actions
navigate photos/videos
Advanced Gestures


BladeOS
A list of apps is displayed horizontally allowing users to view different product features. One app is displayed at a time. Swipe the touchpad forward or backward to navigate through the app list.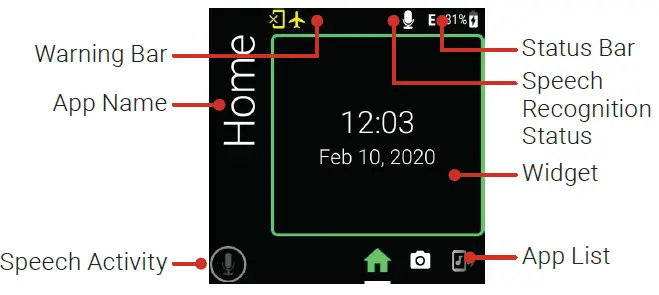 BladeOS has a built-in keyboard for character entry when needed. For in-depth information on this and other BladeOS features, refer to: www.vuzix.com/support/blade-smart-glasses
Companion App
Download and install the Vuzix Blade Companion App from the App Store or Google Play. Once installed, tap Start Setup and follow the instructions on the screen to connect your iOS or Android smart phone with your Blade.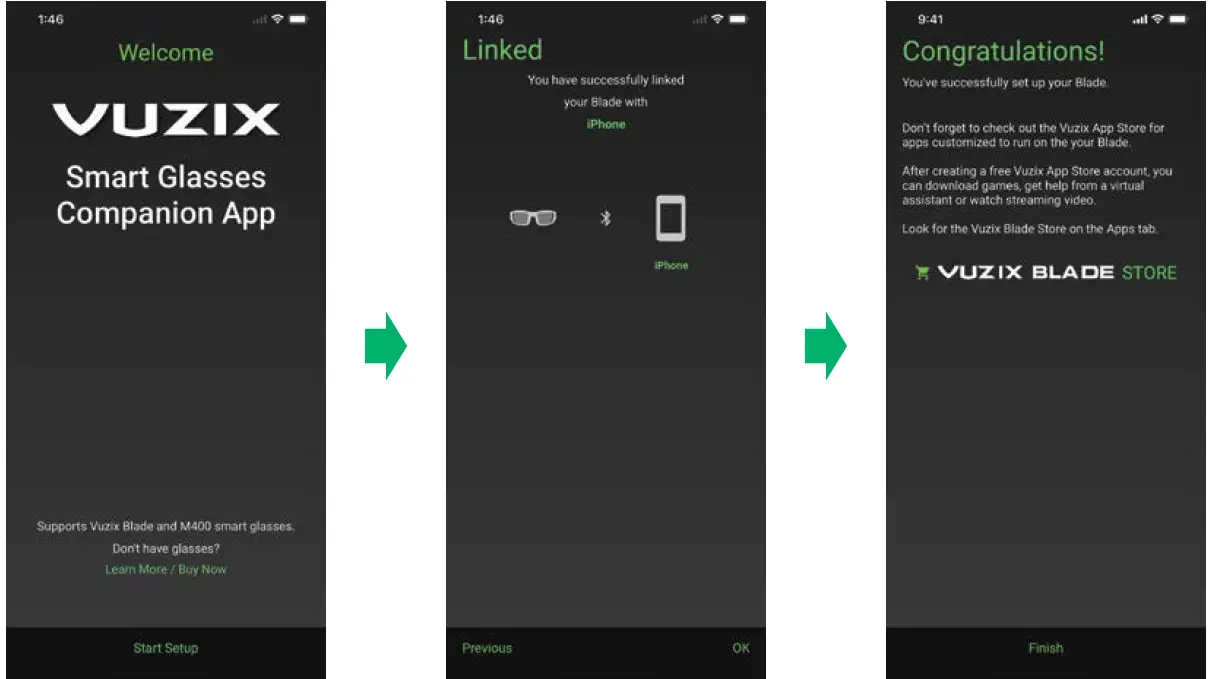 Vuzix App Store
Once linked to your phone, you can install Apps from the Vuzix App Store. Once you login (or create an account if you do not have one) you will be able to install additional apps from the store.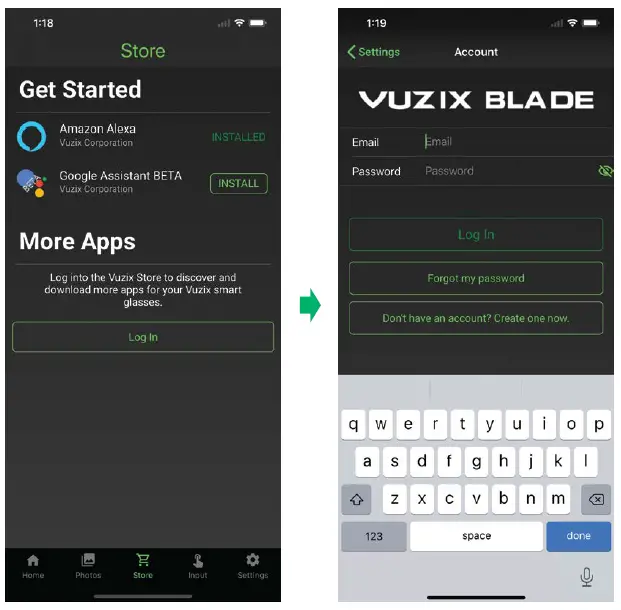 Keeping Vuzix Blade Clean and Safe
Treat your Blade as you would any quality eyewear. It is mostly maintenance free and requires only to be wiped down periodically. Use only the included microfiber pouch or equivalent microfiber cloth.CAUTION:
Do not spray with cleaners. If required, use a microfiber cloth moistened with standard eyeglass cleaner. Avoid drips or spills. Solvents, household cleaners and paper towels should never be used on your Blade.
Do not pack loose objects in the zipper case with the Blade. Loose objects may rattle and cause damage.
Vuzix Blade is not water resistant. Avoid submerging and exposure to moisture. Excessive moisture will damage the Blade.
Applications / Standards
The Blade safety spectacles are designed to protect the user against eye injuries through mechanical impact and flying particles. The Blade safety spectacles will ensure a secure and comfortable fit and protect against common hazards. This product can be used in a wide range of applications including:
Construction
Engineering
General assembly
Inspection work
Light duty maintenance and repair
These safety spectacles do not provide unlimited eye protection. For your own protection read these instructions completely before using this eye protection. This protective eyewear has been shown to meet the basic safety requirements under Directives 2001/95/EC and comply with the requirements of (EU) Regulation 2016/425. This product has been examined at the design stage by DIN CERTCO Gesellschaft für Konformitätsbewertung mbH, Alboinstr. 56, 12103 Berlin, Germany; Notified
Body: 0196. This product was tested, and approved against EN 166:2001 andEN 170:2002 ANSI_ISEA Z87.1:2015. The applicable regulations can be viewed at the EU Declaration of Conformity link: https://www.vuzix.com/support/legal
Eye Protection Marking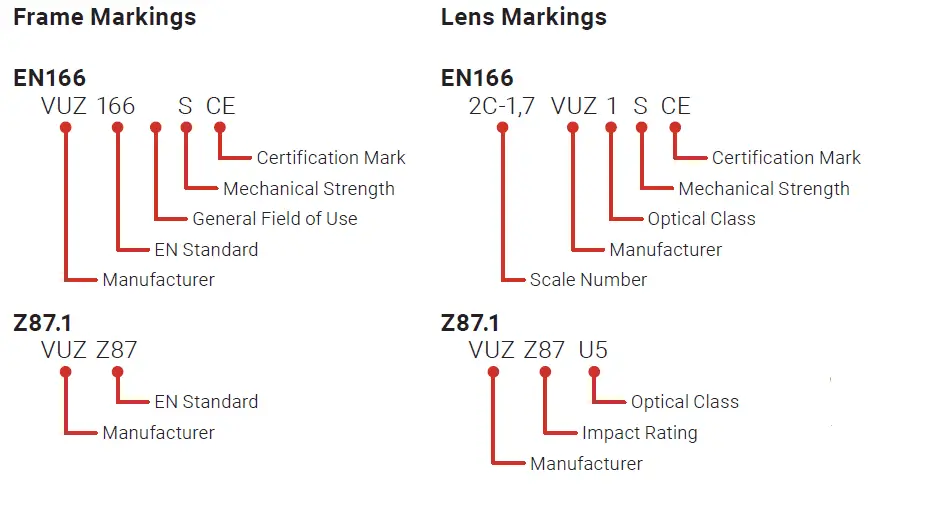 Note: If the symbols of the marking are not common to different parts of the protection equipment, the lower protection level shall be assigned to the complete protection equipment.Note: If the General Field of Use is not a T, then the eye protector shall only be used against high speed particles at room temperature.
Optical Quality and Useful Life / Accessories
The Blade design provides excellent coverage and good field of vision.Optical class 1 lenses are particularly suitable when a high level of visual performance is requiredwhile protecting the human eye against damage that could result in defective vision, even when wornfor prolonged periods of time.EN166 Optical propertiesOptical class         Spherical refractive power         Astigmatic reflective powerClass 1                        ± 0.06 dpt.                                    ± 0.06 dpt.Class 2                        ± 0.12 dpt.                                    ± 0.12 dpt.Class 3                        + 0.12, -0.25 dpt.                          ± 0.25 dpt.When stored correctly at a cool and dry place without use, the maximum lifetime of a safety eyewear product is 6 years. Depending on the intensity of use and wear caused by external influences, the maximum life of a product is 2 years. If protective eyewear has been scratched or otherwise damaged it must be replaced. No spare parts are available for Blade Smart Glasses.
General
WARNING:
Always perform a visual inspection of the Blade Smart Glasses prior to use.
Pitted or scratched lenses reduce vision and seriously reduce protection and should be immediately replaced.
Eye and face protectors that have been subjected to an impact should not be used and should be discarded and replaced.
This product is for eye protection against moderate impact hazards but is not unbreakable.
Do not use this product against hazards other than those specified in this document.
Do not modify or alter the product.
Always check with supervisory personnel to ensure you are being given the proper protection relative to working conditions.
No parts of the safety spectacles which are in contact with wearer are made of materials which are known to cause any skin irritation. The material of the eye-protection, which is directly in contact with skin, will not do any harm to the skin. But to those who are easily allergic, there might be allergic reactions.
Safety spectacles that protect against high speed particles worn over ophthalmic spectacles may transmit impacts, thus creating a hazard to the wearer.
In accordance with EN 166:2001 and EN 170:2002 safety spectacles cannot be tested and approved for use against liquid droplets. Where liquid protection is specified a suitable product should be considered, for example safety goggles.
This product is not suitable for grinding or welding.
This eye protector only protects against physical hazards.
Learning More
Please register your Vuzix Blade AR Smart Glasses on our Vuzix App Store www.vuzix.com/Account/Register. You can also register as a developer in the Developer Center atwww.vuzix.com/developers. As a developer, registration gives you access to Vuzix's suite of developer tools including product documentation, sample code, and more.For information on pairing Bluetooth headphones, connecting to Wi-Fi networks, and other features, please refer to the developer center.Visit www.vuzix.com/contact for technical support and other Vuzix contacts.For safety, warranty and regulatory information, go to the Vuzix legal page at www.vuzix.com/support/legal.Additional information on the Vuzix Blade AR Smart Glasses is available at vuzix.com | vuzix.eu | vuzix.jp© Vuzix 2020. This quick start guide is subject to change. Before using this product please read the online safety instructions at www.vuzix.com/support/safety-warranty-blade. All trademarks belong to the respective owners. 494PB0001 (0001)-QUICK START GUIDE, BLADE, US

References
[xyz-ips snippet="download-snippet"]