CAR MULTIMEDIA ALICE SPRINGS 500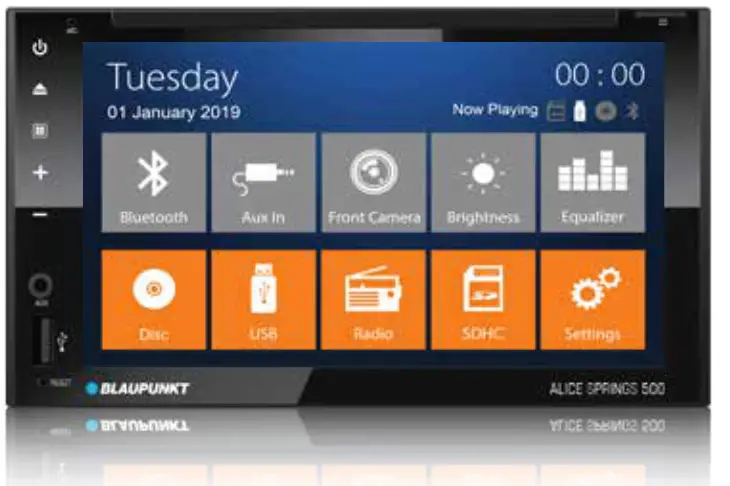 Enjoy it.Operating and Installation Instructions
CAUTIONS
Safety NotesThis car radio has been manufactured according to established safety guidelines. However, dangers may still occur if the safety notes in this manual are not observed. This manual is intended to familiarize the user with the car radio's important functions. Read this carefully, prior to using the car audio. Keep this manual in an easily accessible location. In addition, do observe the instructions  f  he devices used in conjunction with this car radio
Road SafetyAlways observe the following notes  for road safety:
Car radio must be used in a way that compliments the safety of the user when driving the vehicle. It is recommended for the user to park at an appropriate location when operating the car radio.  While driving, the user is not recommended to use applications that can be prone to distraction e.g. streaming to media, etc.
Radios with Navigation: The user is recommended to proceed with proposed driving routes only if it does not violate any traffic regulations. Local traffic signs and regulations always prevail over the routes proposed.
The user is advised to keep the volume of the car radio to a moderate level for the protection of the ears and to increase the ability to hear any emergency warning signals (e.g. police and ambulance irons). Do not increase the car radio volume while the car radio is muted as it is not audible. The car radio volume can be too loud when the car radio is unmuted.
General SafetyNotes: Observe the following for protection against injuries:
This car radio is intended for installation and operation in a vehicle with a 12V vehicle system outage, hence the radio unit must be installed in a DIN slot. Observe the output limits of the car radio. Do not dismantle or modify the car radio. Installation and repairs, if necessary, should be performed by a specialist. We are not liable for any loss or damage caused or resulting from unauthorized disassembly or modification of the product.
This car radio's core components may result to damage when the car is driven on bumpy roads for a prolonged period of time or if it is used to play non-standard or severely damaged discs.
Please do not operate the car radio under extreme temperature conditions (extremely high temperature or extremely low temperature); make sure that the temperature within the car ranges from -20°C to 80°C before you connect the car radio to the power supply.
For abnormalities, please refer to the "Troubleshooting" section. If the problem cannot be resolved, please press the Reset button to recover its factory settings. Otherwise, please contact the respective installer/seller directly for help.
As SD/USB file formats, codecs, bitrate, resolution, and other parameters available in the market are not all the same, there is no guarantee that this car radio can play all media file formats.
Different cars may have different configurations. It is normal that some CAN-Bus functions cannot be enabled because it is not supported by the user's car or this car radio.
Solvents, cleaning and scouring agents as well as dashboard spray and plastics care products maycontain materials that can damage the surface and screen of the car radio. Use only a dry or slightly moistened cloth to clean the car radio surface and screen.This manual may be updated from time to time without any notice
DisclaimerIn no event shall Blaupunkt be liable for any direct, indirect, punitive, incidental, special consequential damages to property or life and whatsoever arising out of or connected with the user issue of our products. USA & CANADA: This product is not intended for sale in the United States and Canada. If purchased in the U.S. or Canada, this product is purchased on an as-is basis. No warranty,  whether expressed or implied is provided in the U.S. or Canada.
CAUTIONS
Disposal Notes

Do not dispose of your old unit in the household trash! Use the return and collection systems available to dispose of the old device.
Radios with Detachable Panel – Damage to the control panel 
Never drop the control panel.
Transport the control panel so that it is protected against impacts and the contacts cannot become dirty.
Do not expose the control panel to direct sunlight or another heat source.
Avoid direct skin contact
Scope of Delivery
Car sound system
Operating / installation instructions
Remote control (include battery)
Connecting cable
KEY FUNCTIONS

Functions
Microphone
Power Button• Press and hold turn on or turn off• Press to mute or unmute
Eject
Home Page
Increase Volume
Decrease Volume
IR
AUX IN
USB
RESET Button
MicroSD Card Slot
REMOTE CONTROL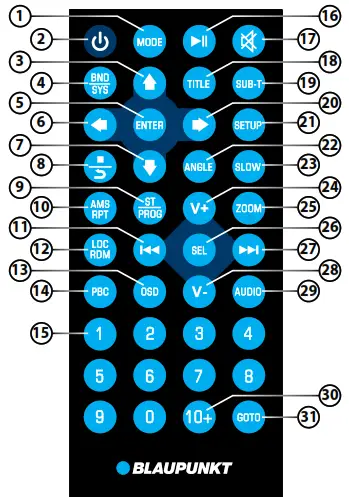 Press to switch between media RADIO-DISC-USBSD-AUXI
Press to turn on or offPress to switch between media RADIO-DISC-USBSD-AUXIN
Up button
Radio mode: Press to select radio band FM1-FM2FM3-AM1-AM2. Press and hold for automatic radio• stations scan and save•Playback mode :– Band: Press to enter manual selection– System: Press to switch the system
Press to Enter to select the preferred option
Left button
Down button
Playback mode :– Replay: Press to repeat the track/ chapter– Stop: Press to stop
Playback mode :– Stereo: Press to switch between mono or stereo mode– Programme: Press to select the program
Playback mode :– Automatic music search: Press and hold to search stations– Repeat: Press to repeat 1/All
Radio mode:•Press to decrease radiofrequency manually. Press and hold to decrease radiofrequency automatically•Playback mode: Press to skip to the previous track/chapter. Press & hold to fast reverse current track.
Playback mode :– Localizer: Switch between Local (reduce receiving sensitivity when searching stations) or Remote (receive weak stations signal) searching.– Random:  Press to turn on or off shuffle play
Press to enter an on-screen display
Playback control mode: Press to go to the main menu (subject to media file's setting)
Digit button
Pause/Play
Mute/ Unmute
Press to go to a title (subject to media file's setting)
Press to select the media's subtitle (subject to media file's setting)
Right button
Press to go to setting
Press to change the viewing angle (subject to media the file's setting)
Press to slow play the track/chapter
Increase volume
Press to adjust the screen ratio
•Press to access to BAS/ TRE/ BAL/ FAD setting•Press to confirm the option
•Radio mode: Press to increase radio frequency manually. Press and hold to increase radio  frequency automatically•Playback mode: Press to skip to the next track/chapter. Press & hold to fast forward current track.
Decrease volume
Press to select an audio soundtrack
Press to skip to the next 10th track/ chapter
Press to fast search track by entering the desired track number
OPERATION
HOME PAGE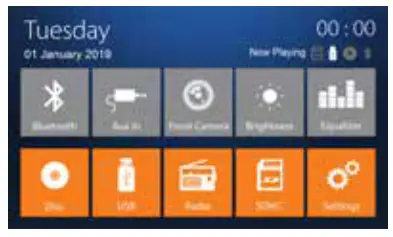 BLUETOOTH
Pre-pair BluetoothEnsure mobile phone supports Bluetooth function before pairing. A different mobile phone will have different emissive power. To get the best connection, the recommended distance range is 3m without any object obstruction.
Pairing•Turn on mobile phone's Bluetooth to set up. (Please refer to the instruction manual of the mobile phone on how to operate Bluetooth) "ALICE SPRINGS 500" should appear on your available Bluetooth scanning list.• Select "ALICE SPRINGS 500" then insert password "0000", if the password is required. Select confirm buttons when pairing prompt message appear. will appear in white color on the Home Page when pairing successful.
PHONELINKAndroid – Support iOS & Android
Pre-pair PhoneLinkiOS: Supported 1 way control•Go to mobile phone's Settings to turn on the personal hotspot.Android: Supported 2 way control•Go to mobile phone's Settings to connect to carradio's Bluetooth (for audio output) and enableUSB debugging (Please refer to the instructionmanual of mobile phone on how to operate USBdebugging and Bluetooth setting).
PairingConnect the unit with the smartphone using the USB cable. The unit will begin to project the smartphone's display when pairing is successful.
GENERAL
Power supply (12V) …………………………… 10V-16VDCCurrent consumption ……………………………. max. 15 AMax. power output…………………………………… 4 x 50WDimension (WxLxH)…………………….. 178 x 164 x 97mmWeight………………………………………………….. 1.52kgOperation temperature …………………. -20°C — 60°CScreen size ………………………………………….  6.2 inchResolution …………………………………  1024 x 600 pixelAspect ratio ………………………………………… 4:3 / 16:9
FM Stereo RadioFrequency range …………………………… 87.5 – 108MHzPreset memory stations ………………………………..  18
AM/MW RadioFrequency range …………………………… 522 – 1620kHzPreset memory stations ………………………………..  12
Audio SpecificationFrequency response ………………………….. 63Hz-16kHz
InputCD/ DVD/VCD/ USB 2.0/ MicroSD…….. Audio: MP3, FLACVideo: AVI, MP4Image: JPG
Aux-in……………………………………………………. RCA
BluetoothProfile 4.2………………………..HFP, PBAP, A2DP, AVRCP, HSP, SPP
TROUBLESHOOTING
If any of the following problems occur, please resort to Troubleshooting for possible solutions. Consult Blaupunkt authorized dealer if the problem persists.
Problems

Possible Causes

Solutions

Unable to startup
The car key is not inserted into the ignition; the ignition is off
Insert the car key and turn on the ignition.
Power Cable is not inserted into the main body.
Insert the power cable.
Burnt power fuse.
Replace it with a new fuse.
Drained car battery.
Charge or replace the car battery.
No sound
Audio cables are not properly connected to the unit.
Ensure proper connection of the audio cables.
The mute setting is on.
Unmute the volume.
Low volume.
Adjust the volume.
No sound from the front, rear, left & right speakers due to Fade-Balance settings.
Select Equalizer from Home Page to adjust the setting.
Dim screen orblack-&-white screen while playing video
Brightness, contrast ratio, and color values are excessively adjusted.
Ensure brightness, color, and contrast ratio values are in the normal range.
Slow in SD card reading
The pixel of the picture file exceeds this system's capacity.
Replace it with a new audio/video SD card with compatible file formats.
SD cards may contain corrupted files or viruses.
No rear-view reverse image
The rear camera is not appropriately connected with the power supply.
Examine the camera's power supply connector.
The camera's signal line is not plugged in.
Insert the camera's signal line into the interface port of this unit.
Unable to searchradio stations
The radio's antenna is not well inserted.
Ensure the radio antenna is properly installed.
WIRING DIAGRAM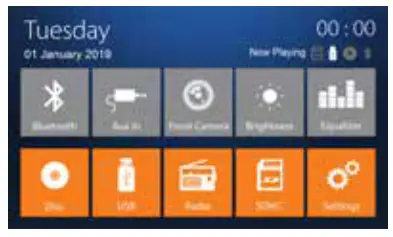 | | | |
| --- | --- | --- |
| NO. | WIRE | A |
| 1 | PURPLE | RR+ |
| 2 | GREY | FR+ |
| 3 | WHITE | FL+ |
| 4 | GREEN | RL+ |
| 5 | PURPLE/BLACK | RR- |
| 6 | GREY/BLACK | FR- |
| 7 | WHITE/BLACK | FL- |
| 8 | GREEN/BLACK | RL- |
| | | |
| --- | --- | --- |
| NO. | WIRE | B |
| 1 | PINK | BRAKING |
| 2 | BROWN | KEY |
| 3 | BLUE | AUTO ANT+ |
| 4 | RED | 12V+ACC |
| 5 | ORANGE/BLACK | REAR CAM |
| 6 | YELLOW | BATTERY+ |
| 7 | ORANGE | ILL |
| 8 | BLACK | GND |
| | | |
| --- | --- | --- |
| NO. | WIRE | C |
| 1 | BROWN | FRONT CAM |
| 2 | GREEN | SUB |
| 3 | BROWN | REAR CAM |
| 4 | YELLOW | AUX-V-IN |
| 5 | WHITE | A-OUT_FL |
| 6 | WHITE | A-OUT_RL |
| 7 | YELLOW | V-OUT2 |
| 8 | WHITE | AUX-A-IN_L |
| 9 | RED | A-OUT_FR |
| 10 | RED | A-OUT_RR |
| 11 | YELLOW | V-OUT1 |
| 12 | RED | AUX-A-IN_R |
| 13 | – | RADIO ANT |
| 14 | – | TV ANT |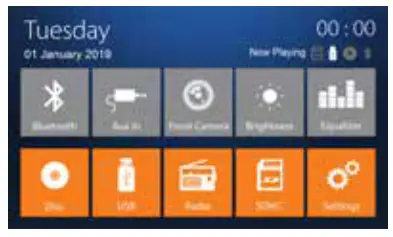 https://www.facebook.com/blaupunkt.asia
Designed and engineered by Blaupunkt Competence Centre1 104 19 022 29 02
[xyz-ips snippet="download-snippet"]