BUFEXAttenuator, Buffer, and Speaker Expander for Self-Amplified Speakers
Features
Can drive up to 150 self-amplified speaker inputs
100V, 70V, 25V, and page port level selectable inputs
Bypass trim control for emergency paging
Continuously variable attenuator
Description
The BUFEX is a continuously variable speaker attenuator that allows the volume of a network of speakers to be remotely controlled. The BUFEX provides output buffering for up to 150 self-amplified speakers. It allows speaker system expansion for existing 100V, 70V, or 25V central amplifier systems.
The unit includes a bypass function for overriding the volume control knob setting when activated by a contact closure or open collector output. A bypass trim control adjusts the volume when in bypass mode with a maximum of 12 dB of attenuation. The BUFEX fits into a single gang electrical box.
Installation
Make all the necessary electrical connections and jumper selection before installing unit.
Mount the unit to the electrical box using the 2 faceplate screws provided.
Package Contents
(1) Installation and Use Manual(1) BUFEX Unit(2) Faceplate Screws
Typical Connections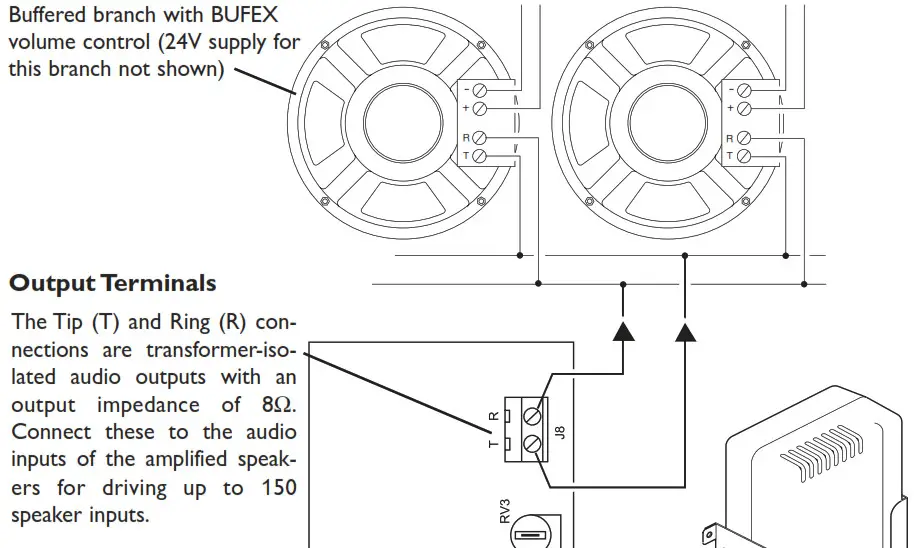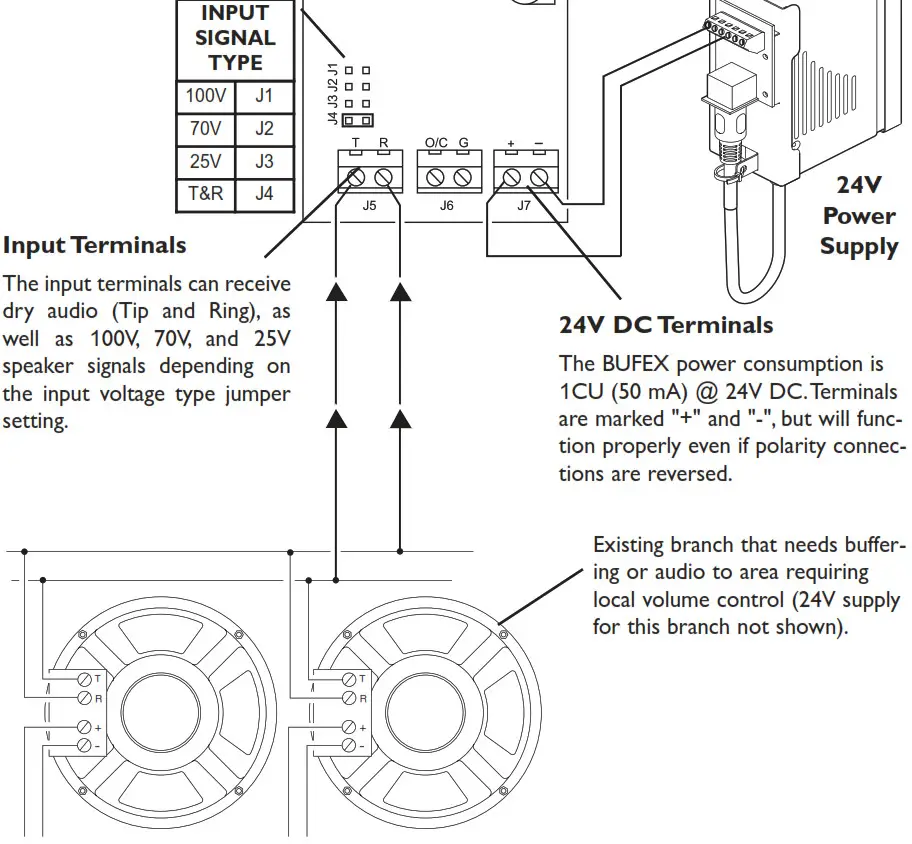 Bypass Connection Examples
In the example below the AUX contacts of the UTI1 are programmed to close when the UTI1's Override (Emergency) input becomes active.The AUX contacts trigger the Bypass feature of the BUFEX allowing a full volume page to be heard regardless of the voume setting of the BUFEX. See previous page for power and output wiring.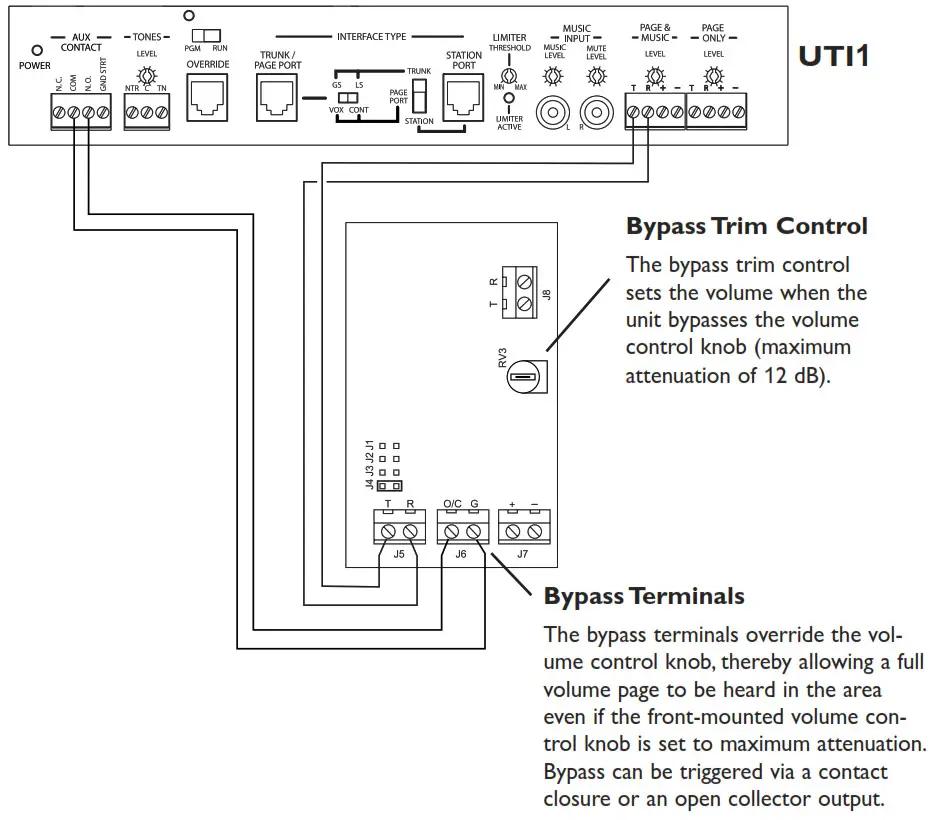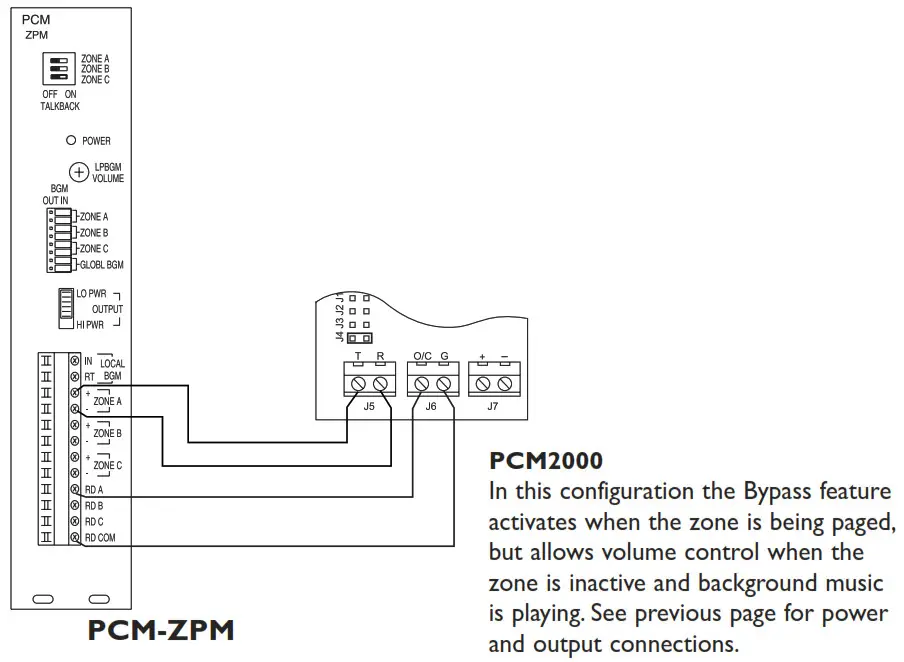 Block Diagram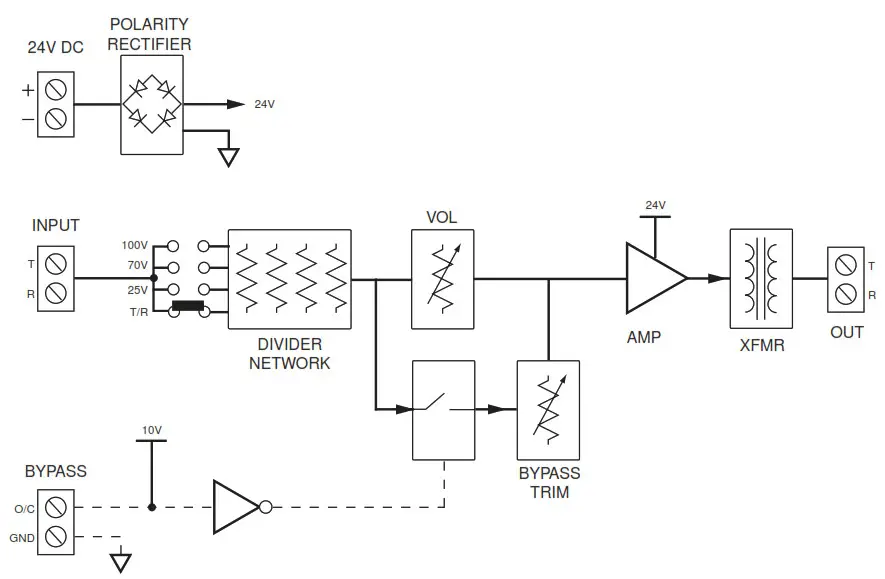 Limited Warranty
The BUFEX is warranted to be free from defects in material or workmanship for two (2) years from the date of sale to the original purchaser. Any part of the product covered by this warranty that, with normal installation and use, becomes defective will be repaired or replaced by Bogen, at our option, provided the product is shipped insured and prepaid to: Bogen Factory Service Department, 50 Spring Street, Ramsey, NJ 07446, USA. The product will be returned to you freight prepaid. This warranty does not extend to any of our products that have been subjected to abuse, misuse, improper storage, neglect, accident, improper installation or have been modified or repaired or altered in any manner whatsoever, or where the serial number or date code has been removed or defaced.
THE FOREGOING LIMITED WARRANTY IS BOGEN'S SOLE AND EXCLUSIVE WARRANTY AND THE PURCHASER'S SOLE AND EXCLUSIVE REMEDY. BOGEN MAKES NO OTHER WARRANTIES OF ANY KIND, EITHER EXPRESS OR IMPLIED, AND ALL IMPLIED WARRANTIES OF MERCHANTABILITY OR FITNESS FOR A PARTICULAR PURPOSE ARE HEREBY DISCLAIMED AND EXCLUDED TO THE MAXIMUM EXTENT ALLOWABLE BY LAW. Bogen's liability arising out of the manufacture, sale or supplying of products or their use or disposition, whether based upon warranty, contract, tort or otherwise, shall be limited to the price of the product. In no event shall Bogen be liable for special, incidental or consequential damages (including, but not limited to, loss of profits, loss of data or loss of use damages) arising out of the manufacture, sale or supplying of products, even if Bogen has been advised of the possibility of such damages or losses. Some States do not allow the exclusion or limitation of incidental or consequential damages, so the above limitation or exclusion may not apply to you. This warranty gives you specific legal rights, and you may also have other rights which vary from State to State.
Products that are out of warranty will also be repaired by the Bogen Factory Service Department — same address as above or call 201-934-8500. The parts and labor involved in these repairs are warranted for 90 days when repaired by the Bogen Factory Service Department. All shipping charges in addition to parts and labor charges will be at the owner's expense. All returns require a Return Authorization number.

References
[xyz-ips snippet="download-snippet"]