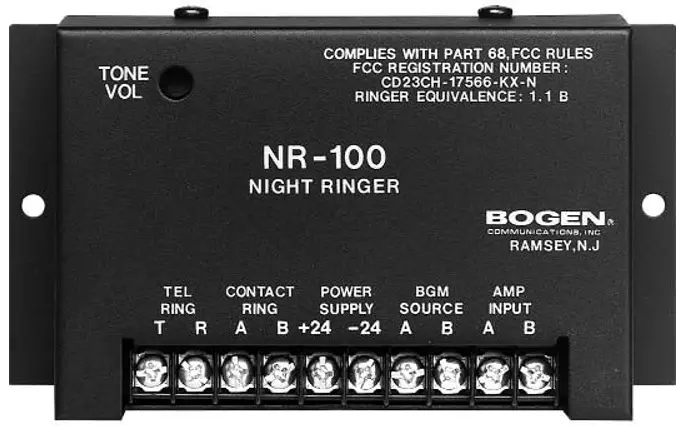 NR100Night RingerInstallation & Use Manual
THE FOLLOWING INFORMATION IS REQUIRED BY PART 68 OF FCC RULES TO BE SUPPLIED TO THEPURCHASER OF REGISTERED EQUIPMENT.This equipment complies with part 68 of FCC rules. The FCC registration number and ringer equivalence number are printed on the front panel of this equipment. You must, upon request, provide this information to your telephone company.If this equipment causes harm to the telephone network, the telephone company may discontinue your service temporarily. If possible, they will notify you in advance. If advance notice is not practical, you will be notified as soon as possible. You will be notified of your right to file a complaint with the FCC.The telephone company may ask that you disconnect this equipment from the network until the problem has been corrected or until you are sure that the equipment is not malfunctioning.The telephone company may make changes in its facilities, equipment, operations, or procedures that could affect the proper functioning of your equipment. If so, you will be notified in advance to give you an opportunity to maintain uninterrupted telephone service.Note that for all applications of this equipment, coin service lines and party lines may not be used.This equipment is typically used as an adjunct device to other registered equipment (i.e.: PABX, 1A2 Key, or Electronic Key System). Such host equipment may be leased. If so, the permission of the owner should be obtained prior to the installation of this equipment.If you experience trouble with this equipment, please contact the Service Department of Bogen Communications Inc. at 50 Spring Street, Ramsey, New Jersey 07446, telephone (201) 934-8500. Information will be provided on how to obtain service or repairs.
The Bogen Model NR100 produces an electronic ringing tone over the loudspeakers ofa paging/background music system. The device may be activated by a ring signal from a single telephone, or from a contact closure supplied by a suitable telephone interface device.The NR100 is generally connected to the background music input of a paging amplifier (and the background music source connected to the NR100).This arrangement permits the muting of the background music source during the ring signal. On amplifiers with paging priority, the night ringer tone has priority over background music and paging has priority over both.The NR100 is ruggedly constructed to be maintenance-free. It operates from a 24-volt DC source (Bogen Model PRS2403 power supply recommended) and includes flanges for wall-mounted installation. Use suitable fasteners when mounting to a wall or backboard.Unpacking:The NR100 was carefully checked before leaving the factory. Inspect it and the shipping container for damage. Report damage to the distributor who supplied the equipment. If the unit was shipped to you, notify the transportation company and file a claim.Installation:For a single-line connection, connect the unit as shown in Figure 1. Use Figure 2 for multi-line connection. Note the following installation precautions:
 Connect either the TEL RING or CONTACT RING terminals to the telephone system as shown in Figures 1 or 2. Note: Do not use both types of ring inputs on the same device.
Connect the background music source to the BGM SOURCE A & B terminals. Connect the shield from the BGM source to the same-letter (A or B) terminal as the shield for the amplifier input to the AMP A & B terminals. (If the amplifier input is balanced, this precaution is not necessary.)
Following installation, test ring the unit and set the TONE volume control to achieve an acceptable level. (This control is screwdriver-adjustable.)
Terminal Connections
| | |
| --- | --- |
| TEL RING T&R | Connects to the telephone line and activates the NR100 upon detection of a telephone ring signal. |
| CONTACT RING A&B | Activates the NR100 when shorted through a normally-open dry contact (requires a suitable multi-line interface). |
| POWER SUPPLY +24 & -24 | Connects to 24V DC supply capable of supplying 25mA.Bogen PRS2403 Power Supply is recommended. Connect power supply only as shown in Figures 1 or 2. Do not ground either of the power supply terminals. Be sure to observe correct polarity. |
| BGM SOURCE A&B | Connects to the background music source. This input is muted upon activation of the NR100. |
| AMP INPUT A&B | Output terminals to the paging system. These terminals are connected to the MUSIC/AUX input. |
Specifications
| | |
| --- | --- |
| Registration No. under Part 68 of FCC Rules:  | CD23CH-17566-KX-N |
| Ringer Equivalency: | 1.1B |
| Power Requirements: | Voltage , 24V DC; Current , 25 mA |
| Inputs: | Terminal Strip: Power Supply +24/-24, TEL RING T/R, CONTACT RING A/B, BGM SOURCE A/B |
| Output: Terminals :  | AMP INPUT A/B Maximum Tone Output Signal : -20dBm (77mV) into 600 ohms |
| Controls: | TONE Volume |
| Ringer Tone:  | Dual-frequency warble |
| Operating Temperature Range:  | 32-122 degrees F; 0-50 degrees C |
| Enclosure: | Steel finished in black enamel |
| Dimensions: | 5-1/4" W x 3" H x 1-1/4" D |
| Weight: | 1lb. |
Service
CAUTION: There are no user-serviceable parts within the NR100. Removal of the cover can void the warranty. All repairs should be performed by the Bogen service department or an authorized repair agency.
Limited Warranty; Exclusion of Certain Damages
The Bogen NR100 Night Ringer is warranted to be free from defects in material and workmanship for two (2) years from the date of sale to the original purchaser. Any part of the product covered by this warranty that, with normal installation and use, becomes defective (as confirmed by Bogen upon inspection) during the applicable warranty period, will be repaired or replaced by Bogen, at Bogen's option, provided the product is shipped insured and prepaid to Bogen Factory Service Department, 50 Spring Street, Ramsey, NJ 07446, USA. Repaired or replacement product will be returned to you freight prepaid. This warranty does not extend to any of our products that have been subjected to abuse, misuse, improper storage, neglect, accident, improper installation, or have been modified or repaired or altered in any manner whatsoever, or where the serial number or date code has been removed or defaced.
THE FOREGOING LIMITED WARRANTY IS BOGEN'S SOLE AND EXCLUSIVE WARRANTY AND THE PURCHASER'S SOLE AND EXCLUSIVE REMEDY. BOGEN MAKES NO OTHER WARRANTIES OF ANY KIND, EITHER EXPRESS OR IMPLIED, AND ALL IMPLIED WARRANTIES OF MERCHANTABILITY OR FITNESS FOR A PARTICULAR PURPOSE ARE HEREBY DISCLAIMED AND EXCLUDED TO THE MAXIMUM EXTENT ALLOWABLE BY LAW. Bogen's liability arising out of the manufacture, sale, or supplying of products or their use or disposition, whether based upon warranty, contract, tort, or otherwise, shall be limited to the price of the product. IN NO EVENT SHALL BOGEN BE LIABLE FOR SPECIAL, INCIDENTAL, OR CONSEQUENTIAL DAMAGES (INCLUDING, BUT NOT LIMITED TO, LOSS OF PROFITS, LOSS OF DATA, OR LOSS OF USE DAMAGES) ARISING OUT OF THE MANUFACTURE, SALE, OR SUPPLYING OF PRODUCTS, EVEN IF BOGEN HAS BEEN ADVISED OF THE POSSIBILITY OF SUCH DAMAGES OR LOSSES. Some states do not allow the exclusion or limitation of incidental or consequential damages, so the above limitation or exclusion may not apply to you. This warranty gives you specific legal rights, and you may also have other rights which vary from State to State.
Products that are out of warranty will also be repaired by the Bogen Factory Service Department — the same address as above or call 201-934-8500. The parts and labor involved in these repairs are warranted for 90 days when repaired by the Bogen Factory Service Department. All shipping charges in addition to parts and labor charges will be at the owner's expense. All returns require a Return Authorization number. For the most efficient warranty or repair service, please include a description of the failure.

COMMUNICATIONS, INC.www.bogen.con© 2009 Bogen Communications, Inc. All rights reserved.Specifications are subject to change without notice.54-5883-02B 091112/2008
References
[xyz-ips snippet="download-snippet"]