BOSS Audio Systems Bluetooth 3″ 76 mm weather rated Speaker amplifier system User Manual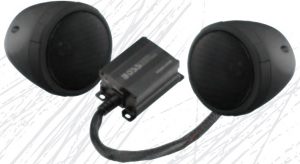 Congratulations on your purchase of a BOSS Audio Systems Off-Road amplified speaker system. It has been designed, engineered and manufactured to bring you the highest level of performance and quality, for years of listening pleasure.
Thank you for making BOSS AUDIO SYSTEMS your choice for entertainment!
Features:
Aux-In (3.5mm)
Speaker Clamp Mounts
Weatherproof Volume Control
High-Impact, High Temp Speaker Enclosures
Weatherproof Speakers
Bluetooth Audio Streaming
Installation
Screw the brackets to the bottom of the speakers.
Find a safe, ideal mounting location and fit the brackets over the chosen mounting bars.
Fasten the mounting screws after you review the safety of the mounting location.
Wiring
Be sure to run the wiring securely and far away from any moving components.
Connecting the power cable to the power source: You will need to connect the 12V red wire to a (fused 7.5A) switched power source.
Use the 3.5mm stereo jack to connect to your entertainment source(MP3 player, etc).
Use your player device and wired remote volume controller to control your level of loudness.
Bluetooth
To pair and connect your Bluetooth device to the MCBK420B Enter Settings > Bluetooth Menu > Search > "Boss Audio MCBK420B"> If Prompted to enter a passcode enter : "0000′
Connections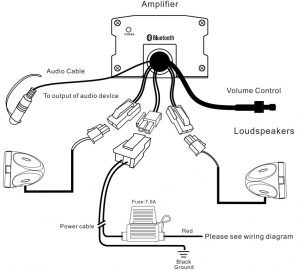 Amplifier
Amplifier and Loudspeaker Mounting Install ReminderThe components and wiring should not be installed around any moving parts, keep away from ignition parts, fuel lines, or any hot exhaust Speakers should not be installed where they might inhibit safety features on the vehicle (i.e. lights, horns, brake levers, etc…)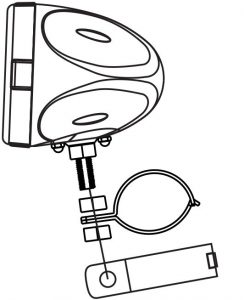 Boss Audio System
12 VDC SPDT Relay(Single Pole Double Throw)Not Included, Sold Separately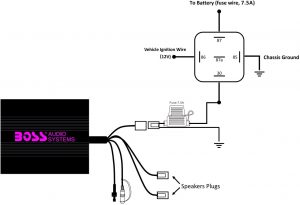 [xyz-ips snippet="download-snippet"]