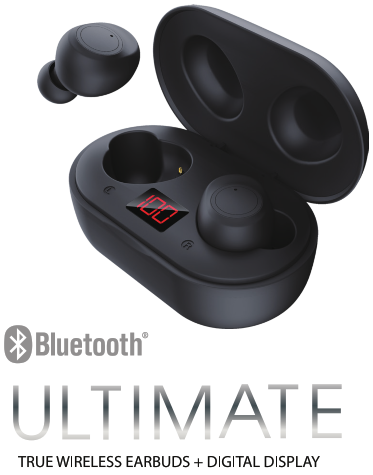 Notice: Please read the user manual carefully and keep it for your records.
Package includes
2-Bluetooth• Earbuds1-Charging Case1-Micro USB Charging Cable1-User Manual
Safety instructions
Do not disassemble. throw away or damage this product. Consult your local waste collection agency for proper disposal or recycling methods. You may also go online at www.call2recycle.org for a battery recycling drop-off location near you.
Do not abuse this product, and do not squeeze it between heavy Objects. Keep them far away from high temperature and humidity away from and other high-frequency transmitter equipment. This will affect the local signal reception, resulting In sound breakup and distortion or disconnection.
Keep the wireless earbuds away from direct sunlight. fire and high voltage equipment. Do not store the wireless earbuds Inside a car during hot weather. Remember, a closed car acts as a greenhouse allowing the Inside temperature to possibly reach over 200 degrees.
Be assured to turn the product completely off when plugging and unplugging Into the outlet.
Damage, shock, and/or Injury can occur if this warning Is not heeded properly.
Charging
Insert the earbuds Into the charging case and connect a USB charger to the Micro USB Port at the back of the charging case. The digital display will flash while charging and will show 100 when fully charged.
If the earbuds batteries become depleted, you can insert them Into the charging case (if the charging case has a full charge).
The LED will glow blue and will begin charging the When charging has been completed the blue LED will turn off.
Pairing
Fully charge your True Wireless Earbuds before first use
Once fully charged open the cover of the charging case
Remove both earbuds from the case. The Indicator lights on both earbuds will flash. Walt until one of them stops
Once only one earbud's indicator light is flashing you may now search for BY-13E-139 on your device's Bluetooth list and pair It.
You can now listen to music or make a call.
Once you have successfully paired your Journey's to your device the first time as described above you only need to remove them from the charging case and they should connect automatically to your phone if your Bluetooth is turned on.
if you encounter any issues you can always unpair them from your device and begin this process again.
Bluetooth®Usage
Phone call:
When connected to a device capable of making and receiving phone calls you can short press either earbud button to answer an incoming call.
Listening to music:
When the earbuds are turned on and connected to the phone or Bluetooth-enabled device you can open the player and listen to music.In the process of listening to music press the button once to pause the current music and again to play the music.
Power off:
Long press the function button to turn the earbuds off.
Each one needs to be powered off Individually.
play/Pause: I Tap touch control
VoI+Nol-: double dick touch control
Pray/Next: Long press touch control
Specifications
input Power: 5V DC 1A
Driver Diameter: 10mm
Frequency Response: 60112-20khz
Fart: Axis Capacity: 40mAh
Power Bank Capacity: 360mAis
Charging Time: Up to 1.6 Hours
Charging interface: Micro 098
Talk/Music Time: Up to 9 Hours (dependent on volume level
Total Play Time: 16 Hours
Hammy Time: Up to 100 Hours
Transmission Range: Up to 33 feet
Operating Temp: 15° to 102° F
FCC Statement FCC ID:
2AHN6-AUBE139Note: This equipment has been tested and found to comply with the limits for a Class B digital device, pursuant to part 15 of the FCC Rules. These limits are designed to provide reasonable protection against harmful interference in o residential installation. This equipment generates, uses, and can radiate radio frequency energy and, if not installed and used in accordance with the instructions, may cause harmful interference to radio communications.However, there is no guarantee that interference will not occur in a particular installation. if this equipment does cause harmful interference to radio or television reception, which can be determined by turning the equipment off and on, the user is encouraged to try to correct the interference by one or more of the following measures:– Reorient or relocate the receiving antenna.– increase the separation between the equipment and receiver.– Connect the equipment into an outlet on a circuit different from that to which the receiver 6 connected.– Caution: Any changes or modifications not expressly approved could void the user's authority to operate the equipment.—Consult the dealer or an experienced radio/TV technician for help.Caution: Any changes or modifications not expressly approved could void the user's authority to operate the equipment.This equipment complies with FCC radiation exposure limits set forth for an uncontrolled environment
BYTECH
Bytech NV INC. warrants this product to be free from defects In materials and workmanship to the original purchaser for o period of 12 months from the original purchase date. Bytech's responsibility with regard to this limited warranty shall be limited solely to repair or replacement as its option, of any product which foils dump normal consumer use.This warranty does not extend to damage or failure which results from misuse. neglect. accident. alteration. abuse. Improper installation or maintenance. At any time dump the 12 month period following the purchase. the product fails due to defects In material or workmanship, return the defective product (with freight prepaid) with proof of purchase. Please include $5.00 for return shipping and handling.
www.bytechintl.comBytech NV Inc.2585 West 13sbeetBrooklyn NY 11223 (718) 449-3703*2021 BYTECH NY INC.
∗All trademarks and copyrights are the property of the respective companies.
[xyz-ips snippet="download-snippet"]