Caframo Sirocco II 7 Fan with 360 Degree Gimbal Instruction Manual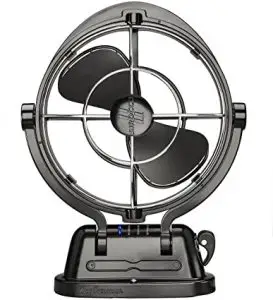 Read and Save these Instructions
Required for Installation
Phillips-head screwdriver
Six #6 fasteners
Accessory Kit Includes
2 x 2.2mm brass nuts
2 x 3.2mm stainless steel nuts
2 Screws
1 Backing Plate
2 Lock Washers
1 Power Cord
1 Double Sided Adhesive PadHardwar Bag Double Sided Tape
Installation
Test the positioning of the fan before starting installation. Place 2 nuts in hex holes on back of backing plate before mounting. Using the double sided tape provided, temporarily attach backing plate to wall. Please note that this is a semi-permanent adhesive.Place nuts in hex holes on back of backing plate before mounting
Secure backing plate to wall using six #6 fasteners.
Wiring

Place wire marked positive onto positive base screw, then negative to negative base screw.
Secure wires following the order illustrated below. Use Pliers to tighten nuts.Do not rely on hand tightening.
Depending on how you are installing your fan, feed wire through notch on either end of base or through corresponding holes on backing plate.
Slide fan base onto firmly secured backing plate. Secure fan to backing plate with two screws provided.

Slide fan onto backing plate
b.Secure with screws
Operation
The fan blade must be clear of any obstructions that would cause the blade to jam. Lock fan arm in position before turning on.
Lock LatchFlip Lock Latch upwards to unlock fan arm. Rotate fan arm to desired direction. Push latch back down to lock fan in position.
SpeedPress Power/Speed button once for low speed, twice for medium, three times for high and four times to turn fan off.
TimerThis fan is equipped with a timer feature that allows you to set a running time of 3, 6, 9 or 12 hours.To set timer, press Timer Button 1, 2, 3 or 4 times. The LED bar will light up beside selected time and fan will shut off when the timer setting expires.To turn the fan off mid timer, press the Timer Button until the LED bars disappear, and then press the Power/Speed button to turn the fan off.
Specifications
Fan Speed
Current Draw Amps
RPM
12 Volt
24 Volt
12 & 24 Volt
Low
0.12
0.06
1100 ±100
Medium
0.22
0.11
1400 ±100
High
35
0.21
1700 ±100
Maximum Airflow: 140 CFM (Cubic Feet Per Minute)238 m³/h (Cubic Meters per Hour)
Care and Maintenance
The Sirocco II requires very little maintenance. By following the instructions within this manual, the fan will operate problem-free for years. Turn power off to clean. A vacuum can be used to clear the fan of any dust build-up and a dry cloth may be used to wipe the surface. Do not use gasoline, thinner or other harsh chemicals to clean fan.
Safety
Reverse polarity protection ensures protection of the fan when the input supply is connected in the reverse way.Overcurrent protection ensures protection against short circuit or damage to the motor.
Warnings
To ensure your safety and the life of the fan, please observe the following:
Do not position the fan too closely to any object or material that may be sucked or drawn into the blade.
Do not allow any object to obstruct or stop the spinning of the blade.Inhibiting the blade's ability to spin may result in a shortened lifespan.
Do not use outdoors.
Do not use on wet surfaces or immerse in water.
Do not allow water, cleaning products or other liquids to be sprayed onto thefan's motor housing or controls.
Do not use if the power supply cord becomes frayed, brittle or damaged.
Do not use gasoline, thinners or other harsh chemicals to clean the fan.
Do not use near fireplaces, furnaces, stoves or mechanical equipment that produce excessive heat.
This fan is not to be used by persons (including children) with reduced physical, sensory or mental capabilities, or lack of experience and knowledge, unless they have been given supervision or instruction.
Children should be supervised to ensure that they do not play with the fan.
Limited Warranty
http://www.caframo.com/warranty
This product has a 2 year limited warranty from the date of purchase.
Limited WarrantyThe product you have purchased has been guaranteed by the manufacturer for the warranty period stated starting on the date of purchase against defects in workmanship and/or materials. This guarantee does not apply if the damage occurs because of accident, improper handling or operation, shipping damage, abuse, misuse, or unauthorized repairs made or attempted. Only parts that prove to be defective during the period of guarantee will be replaced without charge.
When goods are sold in AU or NZ, our goods come with guarantees that cannot be excluded under the Australian Consumer Law. You are entitled to a replacement or refund for a major failure and compensation for any other reasonably foreseeable loss or damage. You are also entitled to have the goods repaired or replaced if the goods fail to be of acceptable quality and the failure does not amount to a major failure.In order to claim the warranty on a purchased product, you may contact us at Customer Service – (Outside U.S/Canada) +1-519-534-1080 / (For U.S/Canada -Toll free) 1-800-567-3556Email – [email protected]
Product Registration
To register online please visit www.caframolifestylesolutions.com/support/product-registration or complete the form below, detach and mail to: Caframo Limited, 501273 Grey Road 1, Georgian Bluffs, ON N0H 2T0, Canada,
Product: Sirocco IIModel Number: 7010
Date Purchased: _________________________Serial Number:__________________________Customer Name: __________________________________________Address: ________________________________________________
City:__________________________________ State/Prov:_____________________________Country: _______________________________
Zip/Postal Code:_________________________Phone: ________________________________ Email:_________________________________
From which store did you purchase this product? ___________________Retailer City and State/Province: _______________________________
Is this the first Caframo product you have purchased
□ Yes □ No □ Don't know
How did you find out about this Caframo product?□ In-Store Display □ Newspaper □ Sales Clerk □ Internet□ Magazine Advertising □ Friend(s) □ Other
Check the main reason you purchased this product.□ Gift □ Office or work relate □ Personal use
For statistical purpose, please fill in the followingThe purchaser of this product listed above was: □ Male □ FemaleThe age group of purchaser was:□ 19 and under □ 20 to 25 □ 26 to 34 □ 35 to 44□ 45 to 54 □ 55 to 64 □ 65 to 74 □ 75+Approximate Family Income of the purchaser:□ Under $19,999 □ $20,000 to $39,999 □ $40,000 to $59,999□ $60,000 to $79,999 □ $80,000+
Occupation of the purchaser of this product:□ Homemaker □ Upper Management □ Sales/Marketing□ Student □ Professional/Technical □ Retired□ Middle Management □ Unemployed □ Farmer□ Tradesmen/Machine Operator/Labourer □ Other
501273 Grey Road 1, Georgian Bluffs, Ontario N0H 2T0, CanadaToll Free: 1-800-567-3556Phone: 519-534-1080Email: [email protected]www.caframo.com
References
[xyz-ips snippet="download-snippet"]