Chambers Wall Mount Hood Fan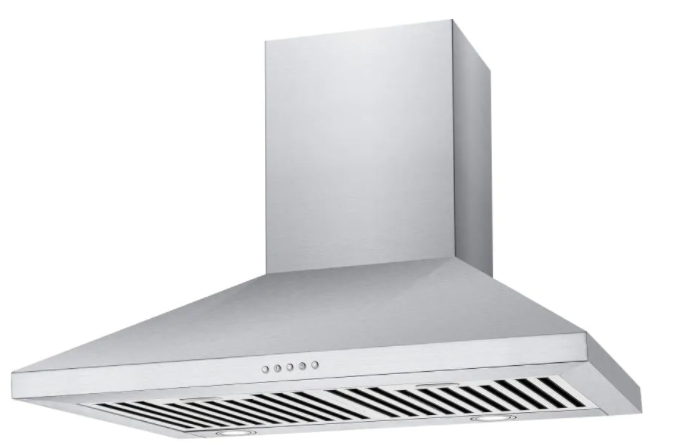 INTRODUCTION
Thank you for choosing this cooker hood.This instruction manual is designed to provide you with all required instructions related to the installation, use, maintenance, and warranty of the appliance. Please read this instruction manual carefully before installation and operating your range hood. This range hood is made from high quality materials and has a streamlined design. Equipped with a powerful electric motor and centrifugal fan, your range hood will provide excellent ventilation and low noise operation.
IMPORTANT SAFETY INFORMATION
Intended for Domestic Kitchen Use OnlyWarning:TO REDUCE THE RISK OF FIRE, ELECTRICAL SHOCK OR PERSONAL INJURY, PLEASE OBSERVE THE FOLLOWING:
Installation and electrical work must be done by a qualified TECHNICIAN in accordance with all applicable codes and standards.
If the supply cord is damaged, it must be replaced by the manufacturer, its service agent or a similarly qualified person to avoid a hazard. Any modifications that may be required to the home's electrical system for the installation of the range hood must only be made by qualified electricians.
Before servicing or cleaning unit, switch power off at the service panel. Lock panel to prevent power from being switched on accidentally.
Use this unit only in the manner intended by the manufacturer.
Sufficient air is needed for combustion and exhausting of gases through the chimney of fuel burning equipment to prevent back drafting. Follow the heating equipment manufacturer's guidelines and safety standards such as those published by the National Fire Protection Association (NFPA), and the American Society for Heating, Refrigeration and Air Conditioning Engineers (ASHRAE), and the local code authorities.
When cutting or drilling into wall or ceiling, be careful NOT to Damage existing electrical wiring and other hidden utilities.
Ducted fans must always be vented to the outdoors.
To reduce the risk of fire, use only metal ductwork.
This unit must be grounded.
TO REDUCE THE RISK OF A RANGE TOP GREASE FIRE:
Never leave surface units unattended at high settings. Boil overs cause smoking and greasy spillovers that may ignite. Heat oils slowly on low or medium settings.
Always turn hood ON when cooking at high heat or when flambéing food (i.e. Crepes Suzette, Cherries Jubilee, Peppercorn Beef Flambé').
Clean ventilating fans frequently. Grease should not be allowed to accumulate on fan or filter.
Use proper pan size. Always use cookware appropriate for the size of the surface element.
TO REDUCE THE RISK OF INJURY TO PERSONS IN THE EVENT OF A RANGE TOP GREASE FIRE, OBSERVE THE FOLLOWING:
SMOTHER FLAMES with a close-fitting lid, cookie sheet or metal tray, and then turn off the burner. If the flames do not go out immediately, evacuate and call the fire department.
NEVER PICK UP A FLAMING PAN. – You may be burned.
DO NOT USE WATER, including wet dishcloths or towels – a violent steam explosion may result.
ONLY USE AN EXTINGUISHER IF:

You know you have a Class ABC extinguisher and you already know how to operate it.
The fire is small and contained in the area where it started.
The fire department is being called.
You can fight the fire with your back to an exit.
TOOLS AND PARTS REQUIREMENTS
Electrical drill or ratchet driver
1/2" drill bit for drilling pilot holes
1 ¼" drill bit for drilling electrical wiring access hole.
Screwdrivers: Philips & Straight blade
Pliers
Tape measure or ruler and pencil
Electrical supplies for wiring
Aluminum foils tape and/or duct tape
Hammer
Jigsaw or saber saw
Stud finder
Part
QTY
Photo
Bracket for body
1pcs
 

 

Bracket for upper chimney
1pcs
 
Bracket for lower chimney
1pcs
 
Screw: ST4*8
4pcs
Screw: ST4.0*30
9pcs
Wall anchor:
9pcs
Parts Supplied
Body 1 pcs
Body bracket 1 pcs
Chimney 2 pcs
Chimney mounting bracket 2 pcs
Installation manual 1 Set
Air outlet (In bag or on body) 1 Set
Exhaust pipe 1 Pcs
Installation manual 1 Pcs
Screw bag 1 bag
Disclaimer: Screws many vary from model to model.
LOCATION REQUIREMENTS
IMPORTANT: Observe all governing codes and ordinances. Have a qualified technician install the range hood. It is the installer's responsibility to comply with installation clearances specified on the model/serial rating plate.Canopy hood's location should be away from strong draft areas, such as windows, doors, and strong heating vents.Cabinet opening dimensions that are shown must be used. Given dimensions provide minimum clearance.
INSTALLATION (Before You Start…)
Read this manual carefully and completely.
Chambers® range hoods conform to ETL/CSA standards. Check your local building codes for any additional requirements.
The appliance has been manufactured as Class I, therefore a ground connection is necessary. A 110/120V power cord with plug is provided. The range hood must be installed so that the plug is easily accessible.
This appliance has been designed for use in both ducted and recirculating modes, follow the appropriate installation method. (For recirculation mode a kit is required – not included. Contact Chambers® to determine if a kit is available for your hood.)
Your cooker hood can be connected as below by means of an extraction duct (enamel, aluminum, flexible pipe or inflammable material with an interior diameter of 6".)
Before installation, turn the unit off and unplug it from the outlet.
The cooker hood should be placed at a distance of 2-3ft (Fig C.) above the cooking surface for best effect. Check your building code for min and max installation heights.
INSTALLATION (EXTERIOR VENTILATION):
When the range hood is in operation, the negative pressure in the room must not exceed 4 Pa (4×10-5 Bar)
 Drill 3 x 8mm holes to accommodate the bracket. Screw and tighten the bracket onto the wall with the screws and screw plugs provided. Ensure that you affix the bracket to a wall stud or mounting plate.
Lift the cooker hood and hang it onto the wall bracket hooks.
After hanging the hood on the bracket, remove the filters, mark 2 holes inside the hood for safety screws. After marking, remove the hood and drill two holes. Insert 2 pcs of Wall Plugs and finally fix the safety screws with 2 screws ST4x30mm
Fix the one-way-valve to the air outlet of the cooker hood. Then, attach the exhaust pipe to the one-way-valve as shown below.
CHIMNEY INSTALLATION
Place the upper chimney into the lower chimney.
Use 2 pcs ST4x8mm screws to attach lower and upper chimney together. Before attaching the bracket to the chimney, decide the location of lower chimney bracket fixing holes for fixing the lower chimney bracket in the later steps.
Do not over tighten the screws
Make sure the upper chimney can be telescopically adjusted after assembly.
Drill 2 holes to accommodate plate II. Screw and tighten plate II onto the wall with two screws and wall plugs provided. Slide the upper chimney up to the correct height and affix the upper chimney with plate II via 2 x ST4x8mm screws.
Fix the lower chimney with the hood with 2 screws ST4x8mm
INSTALLATION (RECIRCULATING)
If you do not have exterior access, an exhaust pipe is not required. A recirculating kit can be used to clean the air and trap odors.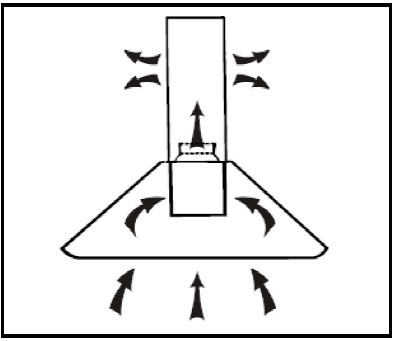 To install the activated carbon filter, the grease filters should be removed first. Press down the locking tab to remove the filters.
Attach the activated carbon filter to the air intake and turn it in clockwise direction. Repeat the same on the other side.
NOTE: Make sure the filter is securely locked. Otherwise, it may become loose and cause damage to the range hood.
OPERATION

On/Off button
Low Speed button: It's used for Ventilation on the kitchen. It is suitable for simmering and cooking which do not make much steam.
Medium Speed button: Airflow speed is ideally for ventilation in standard cooking operation.
High Speed button When high density of smoke or steam produced, press high-speed button for highest effective ventilation.
Light button
MAINTENANCE
Before cleaning, switch the unit off and disconnect the electrical supply.
Regular CleaningUse a soft cloth moistened with hand-warm mildly soapy water or household cleaning detergent. Never use metal pads, chemical, abrasive material or stiff brush to clean the unit.
Monthly Cleaning for Grease Filter ESSENTIAL: Cleaning the filters every month can prevent risk of fire.The filters collect grease, smoke and dust. If they are not cleaned regularly, the grease residue (potentially flammable) will saturate the filter and cause a reduction in airflow. Clean it with household cleaning detergent.
Annual Cleaning for Activated Carbon FilterThis applies SOLELY to units that have been installed with a recirculating kit (no exterior ventilation.) This filter traps odors and must be replaced at least once a year depending on how frequently the cooker hood used.
Bulb Replacement

 Switch the unit off and unplug the appliance.
Remove the filter
Push the lamp from inside until it is pops out of the frame.
Release the connector on the cable
Replace the lamp and plug in the connector
Push the lamp from outside until it attaches to the frame.
TROUBLESHOOTING
Fault
Cause
Solution
 

Light on, but fan does not work

The fan blade is jammed.
 

Turn off unit. Repair by qualified service personnel only.

The motor is damaged.
 

Both light and fan do not work

Light bulb is burnt out.
Replace the bulb.
Power cord is loose.
Plug in to the power supply again.
 

 

 

 

Serious Vibration of the unit

 

The fan blade is damaged.

Turn off unit. Repair by qualified service

personnel only.

The fan motor is not fixed tightly.
Turn off unit. Repair by qualified service personnel only.
The unit is not hung properly on the bracket.
Take the unit down and check whether the bracket is mounted correctly.
Suction performance not
Distance from the unit to the cooking plane is too far.
 

Re-adjust the distance to 2-3ft.
ENVIRONMENTAL PROTECTION
Waste electrical products should not be disposed of with household waste. Please recycle where facilities exist. Check with your Local Authority or retailer for recycling advice.By ensuring this product is disposed of correctly, you will help prevent potential negative consequences for the environment and human health, which could otherwise be caused by inappropriate waste handling of this product.The symbol on the product indicates that this product may not be treated as household waste. Instead it shall be handed over to the applicable collection point for the recycling of electrical and electronic equipmentDisposal must be carried out in accordance with local environmental regulations for waste disposal.For more detailed information about treatment, recovery and recycling of this product, please contact your local city office, your household waste disposal service or the shop where you purchased the product.
LIMITED WARRANTY
This warranty applies only to the original purchaser and may not be transferred. This warranty is applicable within North America only, to hoods installed for normal, non-commercial use in PRIVATESINGLE FAMILY HOUSEHOLDS.Chambers® warrants this product to be free from defects in material or workmanship for a period of ONE YEAR from the date of original purchase. During the warranty period, Chambers® will, at its option, repair or replace, without charges, any product or part which is found to be defective under normal use and service. This warranty covers parts and labor from a Chambers® authorized company, up to a maximum of one (1) hour. Proof of payment to the service company is required.THERE ARE NO OTHER WARRANTIES, EXPRESS OR IMPLIED, INCLUDING BUT NOT LIMITED TO, IMPLIED WARRANTIES OR MERCHANT ABILITY OR FITNESS FOR A PARTICULAR PURPOSE. Proof of purchase/original invoice and serial number is required for warranty claims. Keep a photocopy easily accessible.This warranty will be void if the serial plate has been removed or disfigured.
EXCLUSIONS – This Chambers® Warranty does not cover:
Aluminum filters, lights or glass canopies, blower wheel damage
Regular maintenance and service (except by an authorized Chambers® repair center)
Damage resulting from accident, alteration, misuse, abuse, fire, flood, acts of God, improper installation, installation not in accordance with electrical codes, or use of consumables or cleaning products not approved by Chambers®
Repair of an appliance used in other than a normal, single-family household, or in a manner that is contrary to the operation or installation instructions.
Cosmetic damage or freight damage caused by a 3rd party freight company.
Service to product that is not easily accessible due to unusual, exceptional, or difficult installation
Service calls to instruct how to use the appliance
Expenses for travel and transportation if your appliance is in a remote area where service by an authorized Chambers® servicer is not available.
The cost of repair or replacement under these exclusions shall be borne by the customer and agreed to before a servicer is dispatched.CHAMBERS® SHALL NOT BE LIABLE FOR INCIDENTAL, CONSEQUENTIAL OR SPECIAL DAMAGES ARISING OUT OD OR IN CONNECTION WITH PRODUCT USE OR PERFORMANCE.For a Chambers® authorized repair center please contact us at:1-844-455-3474 ext. 2 or [email protected]We do the utmost to ensure that the provided information is complete and accurate, however, images and specifications are subject to change without notice. Visit our website at www.chambers-appliances.com for the latest version of this manual.

References
[xyz-ips snippet="download-snippet"]