Approvals & Disclaimer

The information contained herein is offered in good faith and is believed to be accurate. However, because conditions and methods of use of our products are beyond our control, this information should not be used in substitution for customer's tests to ensure that Chroma-Q products are safe, effective, and fully satisfactory for the intended end-use. Suggestions of use shall not be taken as inducements to infringe any patent. Chroma-Q sole warranty is that the product will meet the Chroma-Q sales specifications in effect at the time of shipment. Your exclusive remedy for breach of such warranty is limited to refund of purchase price or replacement of any productshown to be other than as warranted.Chroma-Q reserves the right to change or make alterations to devices and their functionality without notice due to ongoing research and development.The Chroma-Q Inspire Mini range has been designed specifically for the lighting industry. Regular maintenance should be performed to ensure that the products perform well in the entertainment environment.If you experience any difficulties with any Chroma-Q products please contact your selling dealer. If your selling dealer is unable to help please contact If the selling dealer is unable to satisfy your servicing needs, please contact the following for full factory service:
For further information please visit the Chroma-Q website at www.chroma-q.com.  Chroma-Q and Inspire Mini are trademarks, for more information on this visit www.chroma-q.com/trademarks.  The rights and ownership of all trademarks are recognized.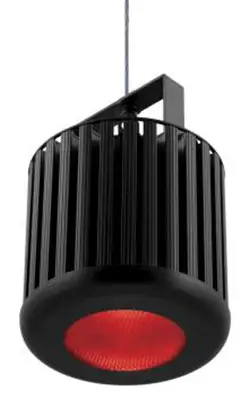 Quick Start Guide Chroma-Q ®  Inspire Mini™
OverviewThe new Chroma-Q® Inspire Mini LED house light features 30 high-powered LEDs (combination of white, red, green, and blue) and a fully homogenized optic. The Inspire Mini is equipped with a built-in power supply, operates as a standalone unit, or can be controlled remotely through the ANSI E1.11 USITT DMX 512-A protocol.
Safety1. This product is for professional use only. It is NOT intended for domestic or outdoor use.2. The bright flash of light during power-up & continuous strobe may cause an epileptic seizure.3. This product must be used with a safety cable.
CablingPowerCon connectors are used for power input. XLR 5-pin connectors are used for data signals from an external DMX control console. The chassis is ground bonded.
MountingA mounting bracket is built into the enclosure for overhead applications. Secure the fixture with a safety bond. A fixing hold is built into the enclosure
Optional Inspire Ceiling Installation KitThe Inspire Mini can be mounted onto the ceiling with the optional Inspire Ceiling Installation Kit. (See manual for details.)
OpticsThe Inspire Mini is built with a Wide lens with a beam angle of approximately ~65°.
ControlThe control functions are accessed through the LCD display at the rear of the fixture with 4 push buttons:Power-Up Display:On power-up, the display shows the Main Menu. The Main Menu shows the model name, software version, DMX start address, set control mode, number of channels assigned.Display Mode:The LCD display is backlit when you access the menu and turns off when left undisturbed for 5 seconds.Control MenuTo navigate the Control Menu options from the Main Menu,
Use the Up and Down arrows to navigate the control menu options
Press the Back arrow (Enter) to select a control menu option
Press and hold the Back arrow (Enter) to save the setting
Press Exit to return to the Main Menu Main MenuDMX AddressFrom the Main Menu, press Enter to adjust the DMX start addressControl Mode

No.

Display
Ch

Description

1
fxHSI
7
4 x channels for Effects (Colour speed, range, step, intensity effects)   + Hue, Saturation, Intensity
2
sRGBW
5
1 x Intensity Effects Channel + Red, Green, Blue, White
3
HSI
3
Hue, Saturation & Intensity
4
RGBW
4
Red, Green, Blue, White
11
Look sel
1
Look Select (Effects engine, programmable presets and user programmed Looks)
12
Mastr StndAlon
Assigns the unit as Master in standalone operation
13
Slave StndAlon
Assigns the unit as Slave in standalone operation

When DMX is LostIf DMX is not detected, various output options can be selected:
| | |
| --- | --- |
| OFF | Fixture has no light output |
| HOLD | Fixture holds the last valid DMX state |
| LOOK 01 – 31 | Fixture snaps to the selected Look |

Look Store31 internal preset FX Looks are available for stand-alone operation, 1-23 are pre-programmed.To replay a Look in stand-alone operation, press Up/Down to select Look Store, press Enter, press  Up/Down to select the desired Look & press Enter for 2 seconds to save settings.  To replay a Look with a DMX console, press Up/Down to Control Mode11& press Enter for 2 seconds. Use the DMX console with the assigned channel to playback the various looks stored. (1-31 looks in 1 single channel) Note: DMX has priority over internal Looks.  Looks can be recorded in the internal flash memory by users & will be preserved on power down. Looks will e returned to default settings upon reset. There are two ways to record a look: Simple, with DMX console & Advanced, stand-alone. (DMX is unplugged): refer to the user manual for control details.

TechnicalIn this menu, the frequency setting of the fixture can be changed. The Inspire fixture has four frequency settings available – 1200, 2400, 4800, 9600. This allows for the LED scan rate to be synchronised with the video camera and avoid a flickering effect.

Reset to DefaultIn this menu, all control menu commands are reset to factory defaults:
| | |
| --- | --- |
| DMX address | 001 |
| Control Mode | RGBW |
| When DMX is Lost | HOLD |
| Look Store | 01 |
| Frequency | 1200 |
Further Information
Please refer to the Chroma-Q Inspire Mini manual for more detailed information. A copy of the manual can be found at the Chroma-Q website – www.chroma-q.com – under Support.
Inspire Mini ™Quick Start Guide V2.2 Model: 632-0705 Inspire Mini ™ Quick Start Guide V2.2  Model: 632-0705
References
[xyz-ips snippet="download-snippet"]