Cisco Residential Wireless Gateway Model DPC3848/DPC3848V/DPC3848VM 
Looking for a multifaceted, high-performance home and small office gateway that combines a cable modem, router, and wireless access points in a single device? You've found it in the Cisco® Residential Wireless Gateway Model DPC3848.  This cost-effective networking solution provides a faster connection to the Internet by incorporating 24 bonded downstream channels along with eight bonded upstream channels. Bonded channels can deliver downstream data rates of up to 900 Mbps and upstream data rates up to 170 Mbps. That's up to 24 times faster downloads than conventional single-channel DOCSIS® 2.0 cable modems.
The Cisco Residential Wireless Gateway Model DPC3848 (Figure 1) is designed to meet DOCSIS 3.0 specifications and provide backward compatibility for operation in DOCSIS 2.0, 1.1, and 1.0 networks.
Figure 1. Cisco Residential Wireless Gateway Model DPC3848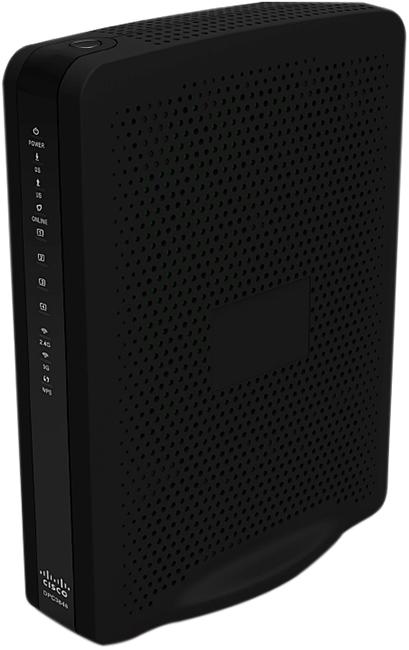 This Cisco integrated router features a Dynamic Host Configuration Protocol (DHCP) server, Network Address Translation (NAT) and Network Address and  Port Translation (NAPT), and a Stateful Packet Inspection (SPI) firewall. These features provide a single high-speed public Internet connection and allow users to share files and folders between devices in the home network by attaching multiple wired and wireless devices in the active home or office to the wireless residential gateway.
Consumer-friendly features like Wireless Protected Setup (WPS) and user-configured Parental Control can protect the home network from unwelcome intruders and family members from access to undesirable websites.
Features
DOCSIS
Compliant with DOCSIS 3.0, 2.0, 1.1, and 1.0 standards to deliver high-end performance and reliability
Connections
Four 10/100/1000BASE-T Ethernet ports to provide wired connectivity
High-performance broadband Internet connectivity to enhance your online experience
One USB 2.0 Type 2 connection
Dual-band concurrent 802.11ac Wireless Access Point (WAP) with eight Service Set Identifiers (SSIDs) backward compatible with 802.11b/g/n
Including a pushbutton switch to activate WPS for simplified and highly secure wireless setup
Configurations with MoCA 2.0 available for in-home networking using existing coaxial cable
Design and Function
Attractive, compact design and versatile orientation to stand vertically on the desktop or shelf, or mount easily on a wall
Dual-color LED status indicators on the front panel provide an informative and easy-to-understand display that indicates the cable modem operational status
TR-068 compliant color-coded interface ports and corresponding cables simplify installation and setup
Management
User-configurable Parental Control blocks access to undesirable Internet sites
Advanced firewall technology deters hackers and protects the home network from unauthorized access
Residential gateway allows automatic software upgrades by your service provider
Documentation
User guide can be downloaded from Cisco.com.
Table 1. Front Panel Features

Back Panel FeaturesFigure 2 shows the back panel, and Table 2 lists back panel features.
Figure 2. Cisco Residential Wireless Gateway Model DPC3848 Back Panel

Table 2. Back Panel Features

Product SpecificationsTable 3 lists product specifications for the Cisco Residential Wireless Gateway Model DPC3848.Table 3. Product Specifications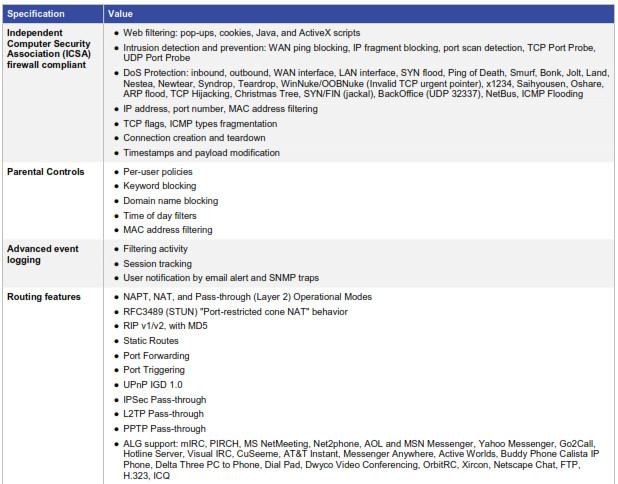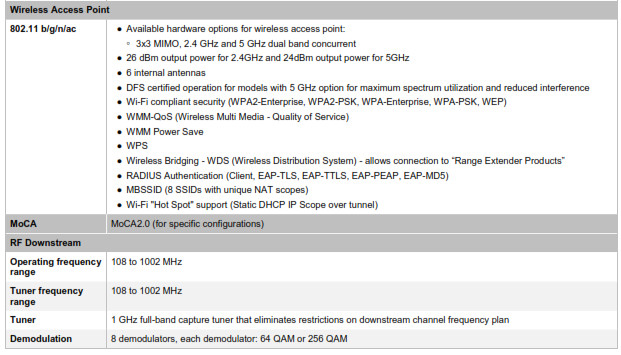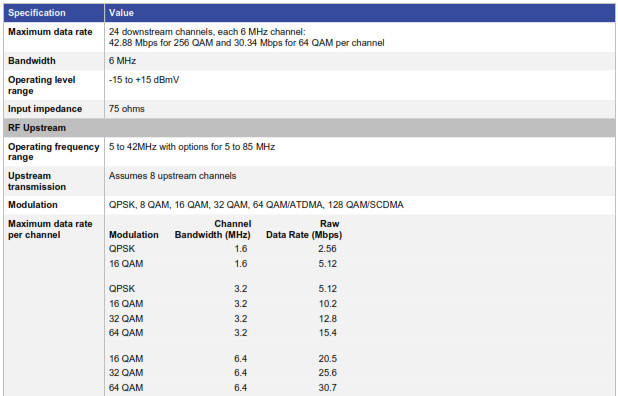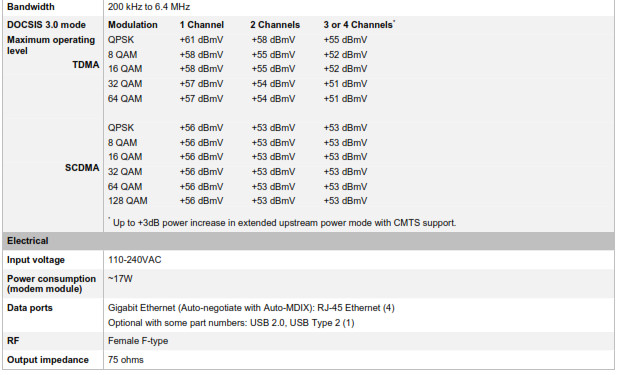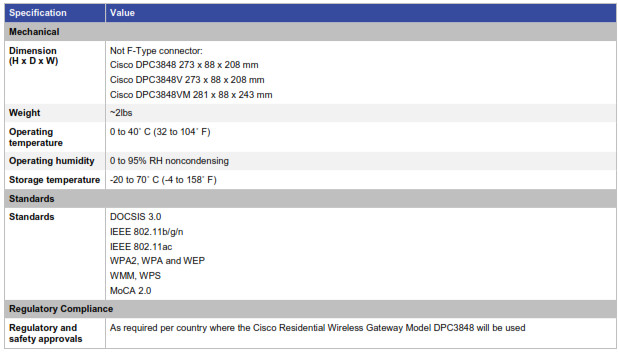 Ordering InformationTable 4. Ordering Information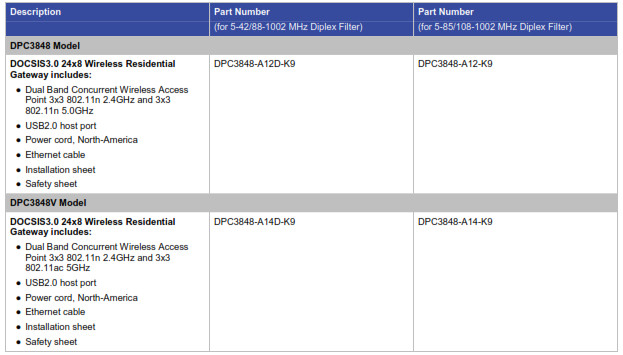 Americas HeadquartersCisco Systems. IncSan Jose. CA
Asia Pacific HeadquartersCisco Systems (USA) Pte. Ltd.Singapore
Europe HeadquartersCisco Systems International EiV Amsterdam.The Netherlands
Cisco has more than 200 offices worldwide. Addresses. phone numbers and fax numbers are listed on the Cisco Website at www.cisco.comlgo/offices
Cisco and the Cisco logo are trademarks or registered trademarks of Cisco and/or its affiliates in the U.S. and other countries To view a list of Cisco trademarks. my go-to this (AL: vCisco Trademarks Third-party trademarks mentioned are the property of their respective owners The use of the word partner does not imply a partnership relationship between Cisco and any other company (1110R)
Cisco Residential Wireless Gateway DPC3848/DPC3848V/DPC3848VM User Manual – Cisco Residential Wireless Gateway DPC3848/DPC3848V/DPC3848VM User Manual –