CLEYVER NW30UC Wireless Communication Headset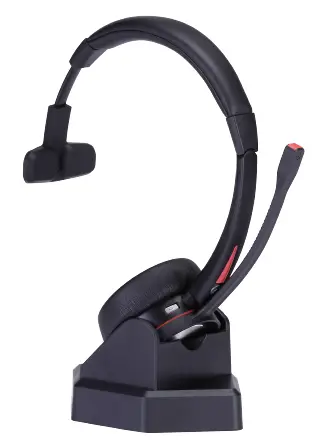 Pairing Name: ODNW3xUCx
Bluetooth Speification: CSR-V5.0, dual mode, downward compatible
Frequency Range: 2.4GHz-2.480GHz
Support Protocols: A2DP, AVRCP, HFP, AAC, etc
Two Bluetooth devices can be connected at the same time Transmission Distance: up to 30 meters (Transmission distance depends on the environment and Bluetooth device)
Maximum Talk Time: 20 hours
Standby Time: 200 hours
Working Temperature: 0℃ to 45℃
Speaker: 
Frequency: 20Hz-20KHz, Hi-fi
Distortion: ≤1%
Sound Channel:
Binaural: Stereo
Monaural: Mono
Microphone:
Microphone: Directional noise reduction microphone
Acoustic Noise Canceling Structure
Crystal clear sound and voice (DSP)
Headset Battery:
Type: Lithium-ion polymer
Battery Capacity: 320mAh
Charging Voltage: 5V DC
Life Time: Minimum recharging 1000 times
Operating Temperature: -10℃ to +60℃
Charging Time: 2 hours
Charging Interface: Micro USB
Charging Base:Net Weight: 115g
Headset Net Weight:
ODNW30UC/ ODNW30UCB Mono 70g
ODNW35UC/ ODNW35UCB Duo 95g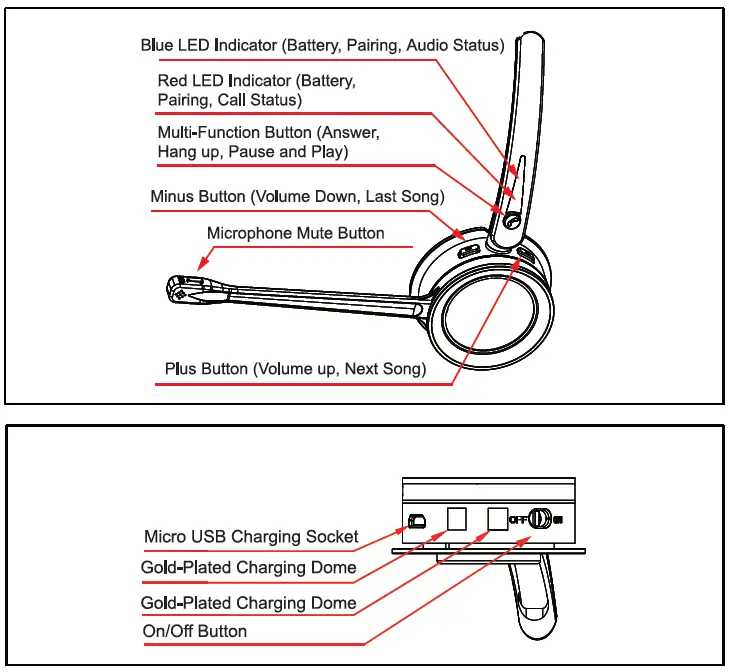 Prompt Tone Introduction

Headset LED Indicator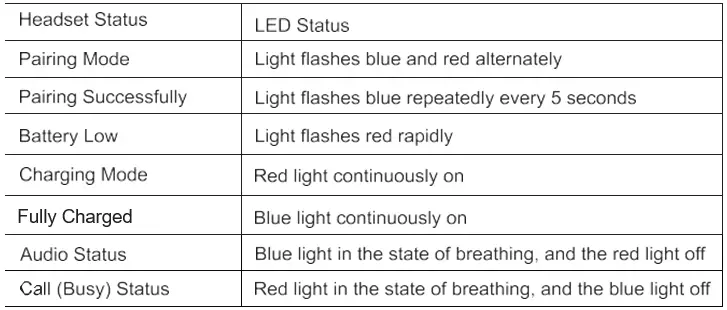 Pairing with Bluetooth Device:
Be sure that your smart phone, laptop or desk phone has Bluetooth function.
Activate the Bluetooth function on your smart phone, laptop or desk phone.
Turn on your headset (slide switch to "ON"), you can hear prompt tone "power on". The Led indicator will flash red and blue alternately, which indicates the headset is in pairing mode.
(If pairing fails, the headset will power off automatically after indicator flashes 5mins, with prompt tone "power off" heard.)
Pair headset to your smart phone, laptop or desk phone.

Search Bluetooth device on your smart phone, laptop or desk phone.
Open "Bluetooth" menu and press "discover" or "add" to search ODNW3xUCx on your smart phone, laptop or desk phone.
When ODNW3xUCx shows on your Bluetooth devices list, please click it to start pairing. Prompt tone "connected" will be heard when pairing is successful, and the LED indicator will repeatedly flash blue every 5 seconds.
This headset can store devices ever paired in memory. When powered on, the headset will automatically connect to the first two devices in memory.
Function Introduction
Pair with 2 devices simultaneouslyODNW3xUCx can pair with 2 devices simultaneously.1) Connect the first device with ODNW3xUCx2) Turn off the Bluetooth function of the first device3) Connect the second device with ODNW3xUCx4) Turn on the first device's Bluetooth function, then ODNW3xUCx is paired with both devices.
Redial functionQuick press the multi-function button twice to redial the last call.
One-touch play functionPress the multi-function button once, the default music player of the mobile phone will play automatically (some mobile phones cannot implement this function).
Automatic re-connection functionBluetooth connection can be automatically re-connected even if disconnected within 5 minutes in the effective distance. If reconnectfails, please turn off the headset and turn it on again to reconnect.
Mic mute functionPress the Mute button to activate mic mute during a call, repress the mute button to cancel mic mute. The tone "toot" will be heard every 3 seconds during mic mute status.
Cautions
Most mobile phones have headset power on screen display. When headset battery is low, the headset will beep once in 5 minutes and the indicator will turn red. Please charge it in time.
Do not connect the full-charged headset to the charging circuit for a long time. Overcharging will shorten battery life.
Please keep the headset battery safe. Do not put the battery or the headset into fire or water to avoid explosion.
Do not use headset with high volume for extra long time, which may cause hearing loss. Always listen at a moderate level.
Don't charge with high voltage device, which may cause damage to the headset.
Make sure that the headset is fully charged before using it if unused for a long time.
Lifetime of the battery will be significantly reduced if your device is left uncharged for a long time. We therefore recommend that you recharge your device at least once a year.
Product Warranty Card
Customer Name
 
Product Model No.
 
Date of Purchase
 
Tel No./E-mail:
 
Problem Description:
 
Microphone
Speaker
Battery
Buttons
 
 
 
 
Warranty:

Failure of headset buttons, speaker or microphone; charge unavailable. Out of Warranty:

1. Ear cushions broken.

2.  Fail to follow the user manual or disassemble the headset.

3.  Incorrect connection with high voltage device for charging which causes earphone damage.

4.  Artificial damage caused by impact, falling, water, pulling.

OQC CHECKING
 

 
[xyz-ips snippet="download-snippet"]