CORSAIR K100 RGB Mechanical Gaming Keyboard
GETTING TO KNOW YOUR KEYBOARD
A — SIX PROGRAMMABLE MACRO G-KEYSB — PROFILE SWITCH KEYC — iCUE CONTROL WHEELD — WHEEL KEYE — WINDOWS LOCK KEYF — MACRO, MUTE, and WIN LOCK INDICATORSG — NUM, CAPS, and SCROLL LOCK INDICATORESH — PBT DOUBLE-SHOT KEYCAP SETI — MUTE KEYJ — VOLUME ROLLERK — DEDICATED MULTIMEDIA KEYSL — MAGNETIC DETACHABLE CUSHIONED LEATHERETTE PALM RESTM — 11-ZONE RIGHT LIGHTEDGEN — 22-ZONE REAR LIGHTEDGEO — USB 2.0 PASS-THROUGH PORTP — 11-ZONE LEFT LIGHTEDGEQ — FPS AND MOBA KEYCAP SETSR — KEYCAP PULLERS — USB KEYBOARD CONNECTORT — USB PASS-THROUGH CONNECTOR
SETTING UP YOUR KEYBOARD
Connect both keyboard USB connectors (S, T) to available USB 3.0 or better Type-A ports on your Windows® PC, Apple Mac®, or Microsoft Xbox One®.* www.corsair.com/xbox-one-support
SOFTWARE MODE
When iCUE is running the keyboard operates in software mode and is controlled by iCUE. Install iCUE on a Windows® PC to connect all of your CORSAIR iCUE compatible products together in a single interface, giving you complete control of everything from lighting to powerful macros. Download iCUE from www.corsair.com/downloads. Additionally, install the Stream Deck software to program the macro keys (A) to take command of your stream through powerful integrations with OBS Studio, Twitch™, Twitter, and more. Download Stream Deck from www.elgato.com/gaming/downloads.
HARDWARE MODE
When iCUE is not running or the keyboard is connected to a device that does not support iCUE, the keyboard operates in hardware mode which uses profiles and settings saved to the onboard storage. With iCUE and the new dynamic profile system, you can create as many custom profiles as you want that fit onto the 8MB of onboard storage. Each profile can store backlighting effects (up to 20 layers), actions & macros, settings, and wheel modes.* *The number of lighting effects layers per profile and number of profiles that can be saved to onboard storage and will vary based on complexity.
FACTORY RESET
To clear the onboard memory, hold the ESC key while plugging in the USB keyboard connector (S then T), then release the ESC key after two seconds. The keyboard will then power on normally and be reset to factory defaults.
iCUE CONTROL WHEEL
Pressing the wheel key (D) cycles through available wheel modes with the color changing to indicate the current mode. After selecting a mode, rotate the wheel (C) left and right to adjust mode settings.The following modes are available in hardware mode:
WHEEL MODE
COLOR
ROTATE WHEEL LEFT
ROTATE WHEEL RIGHT
Brightness
Cyan
Decrease Brightness
Increase Brightness
Track Jogging*
Green
Rewind
Fast Forward
Track Selector
White
Last Track
Next Track
Macro Recording
Red
See macro recording section below
Track jogging works in Spotify®, Apple iTunes®, and select other media players when the application window is in focus. With iCUE you can enable additional wheel modes or create your own with commands for games, applications, other media players, and more, then save them to onboard storage.
MACRO RECORDING
Macros can be recorded at any time via onboard commands. In hardware mode macros are recorded to the onboard storage profile and in software mode macros are recorded to your iCUE profile.
To record a macro:
Go to the Macro Record wheel mode
Hold the wheel key (D) until the macro indicator (F) lights up
Press the macro G-key to be programmed
Press the keys you wish to record (recording starts after the first key press)
Press the same macro G-key again from step 3 to save (or hold the wheel key to cancel) When macro recording is completed or cancelled, the macro indicator will turn off.
With iCUE you can edit the macros you've recorded onboard or create more complex macros with additional actions and functions, then save them to onboard storage.
ONBOARD LIGHTING
Keyboard lighting effects can be controlled via the below onboard shortcuts without iCUE.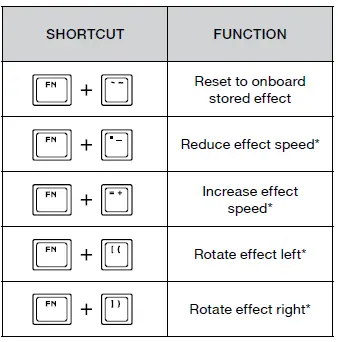 *Functions supported on select effects. With iCUE you can program vivid and dynamic custom lighting effects, then save them to onboard storage.
References
[xyz-ips snippet="download-snippet"]