CORTEX FID-10 Multi Adjustable Bench Owner's Manual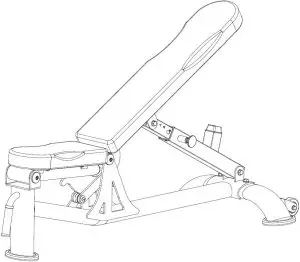 Product may vary slightly from the item pictured due to model upgrades
Read all instructions carefully before using this product. Retain this owner's manual for future reference.
NOTE: This manual may be subject to updates or changes. Up to date manuals are available through our website at www.lifespanfitness.com.au
1. IMPORTANT SAFETY INSTRUCTIONS
WARNING – Read all instructions before using this product.
Please keep this manual with you at all times
It is important to read this entire manual before assembling and using the equipment. Safe and effective use can only be achieved if the equipment is assembled, maintained and used properly.
Please note: It is your responsibility to ensure that all users of the equipment are informed of all warnings and precautions.
Before starting any exercise program you should consult your doctor to determine if you have any medical or physical conditions that could put your health and safety at risk, or prevent you from using the equipment properly. Your doctor's advice is essential if you are taking medication that affects your heart rate, blood pressure or cholesterol level.
Be aware of your body's signals. Incorrect or excessive exercise can damage your health. Stop exercising if you experience any of the following symptoms: pain, tightness in your chest, irregular heartbeat, and extreme shortness of breath, lightheadedness, dizziness or feelings of nausea. If you do experience any of these symptoms, you should consult your doctor before continuing with your exercise program.
Keep children and pets away from the equipment. This equipment is designed for adult use only.
Use the equipment on a solid, flat level surface with a protective cover for your floor or carpet. To ensure safety, the equipment should have at least 2 meters of free space around it.
Before using the equipment, check that the nuts and bolts are securely tightened. If you hear any unusual noises coming from the equipment during use and assembly, stop immediately. Do not use the equipment until the problem has been rectified.
Wear suitable clothing while using the equipment. Avoid wearing loose clothing that may get caught in the equipment or that may restrict or prevent movement.
This equipment is designed for indoor and family use only
Care must be taken when lifting or moving the equipment so as not to injure your back.
Always keep this instruction manual and assembly tools at hand for reference.
The equipment is not suitable for therapeutic use.
2. CARE INSTRUCTIONS
Lubricate moving joints with grease after periods of usage
Be careful not to damage plastic or metal parts of the machine with heavy or sharp objects
The machine can be kept clean by wiping it down using dry cloth
3. PARTS LIST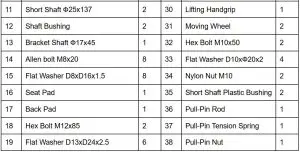 NOTE:Most of the listed hardware has been packaged separately, but some of them have been preinstalled in the identified assembly parts. In these instances, simply remove and reinstall the hardware as assembly is required.
Please refer the individual steps for the installation and pay attention to the preinstalled hardware.
Personal Safety During Assembly
Before beginning assembly, please take the time to read the instructions thoroughly.Read each step in the assembly instructions and follow the steps in sequence. Do not skip ahead. If you skip ahead, you may learn later that you have to disassemble components and that you may have damaged the equipment.
Assemble and operate the equipment on a solid, level surface. Locate the unit a few feet from the walls or furniture to provide easy access.
The machine is designed for your enjoyment. By following these precautions and using common sense, you will have many safe and pleasurable hours of healthful exercise with your equipment.
After assembly, you should check all functions to ensure correct operation. If you experience problems, first recheck the assembly instructions to locate any possible errors made during assembly. If you are unable to correct the problem, call the dealer from whom you purchased the machine or call the dealer nearest you.
Obtaining ServicePlease use this Owner's Manual to make sure that all parts have been included in your shipment.Retain this Owner's Manual for future reference.
4. PREPARATION
Thank you for purchasing this equipment. This machine is part of our line of quality strength training machines, which lets you target specific muscle groups to achieve better muscle tone and overall body conditioning. To maximize your use of the equipment please study this Owner's Manual thoroughly.
INSTALLATION RequirementsFollow these installation requirements when assembling:Set up the machine on a solid, flat surface. A smooth, flat surface under the machine helps keep it level. A level machine has fewer malfunctions.
Provide ample space around the machine. Open space around the machine allows for easier access.
Insert all bolts in the same direction. For aesthetic purposes, insert all bolts in the same direction unless specified (in text or illustrations) to do otherwise.
Leave room for adjustments. Tighten fasteners such as bolts, nuts, and screws so the unit is stable, but leave room for adjustments. Do not fully tighten fasteners until instructed in the assembly steps to do so.
ASSEMBLY TipsRead all "Notes" on each page before beginning each step.While you may be able to assemble the machine using the illustrations only, important safety notes and other tips are included in the text.
Some pieces may have extra holes that you will not use. Use only those holes indicated in the instructions and illustrations.
NOTE: With so many assembled parts, proper alignment and adjustment is critical. While tightening the nuts and bolts, be sure to leave room for adjustments.NOTE: The bottles that are marked "Poison" is your touch up paint. Keep away from children.CAUTION: Obtain assistance! If you feel like you can't assemble the machine by yourself then do not attempt to do so as this could result in injury. Review the installation requirements before proceeding with the following steps.
5. ASSEMBLY INSTRUCTION
NOTE: It is well suggested that two or more people to assemble this machine to avoid any possible injury. Remove all the security tape and wrapping before the installation.
Step 1A. Lock the Rear Bottom Tube (7) to the Main Frame (1) with the Hex Bolts (21) and Flat Washers (19) as shown.B. Attach the Seat Pad (16) and Back Pad (17) onto the Seat Bracket (3) and Backrest Bracket (4) respectively, secured with the Allen Bolts (14) and Flat Washers (15) as shown.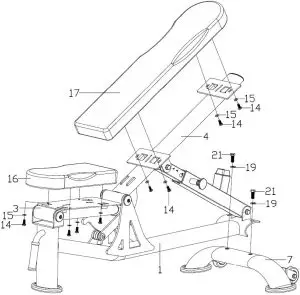 6. EXPLODED DRAWING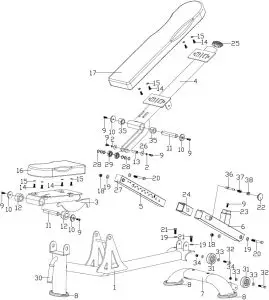 7. WARRANTY
AUSTRALIAN CONSUMER LAWMany of our products come with a guarantee or warranty from the manufacturer. In addition, they come with guarantees that cannot be excluded under the Australian Consumer Law. You are entitled to a replacement or refund for a major failure and compensation for any other reasonably foreseeable loss or damage.
You are entitled to have the goods repaired or replaced if the goods fail to be of acceptable quality and the failure does not amount to a major failure. Full details of your consumer rights may be found at www.consumerlaw.gov.auPlease visit our website to view our full warranty terms and conditions:http://www.lifespanfitness.com.au/warranty-repairs
Warranty and Support:Please email us at [email protected] for all warranty or support issues.For all warranty or support related enquiries an email must be sent before contacting us via any other means.
8. Warning, Safety & Maintenance
Be sure that all users carefully read and understand all warning, safety and maintenance info on this Owner's Manual or labels on the machine before each use. Failure to do so may result in death or serious injury.
It is imperative that you retain this Owner's Manual and be sure all warning labels are legible and intact.
If you have any questions about the operation, set up or maintenance of this machine please contact the local distributors or sales agents.
THERE IS A RISK ASSUMED BY INDIVIDUALS WHO USE THIS TYPE OF EQUIPMENT. TO MINIMIZE RISK, YOU MUST FOLLOW THESE RULES:
Inspect equipment before each workout. Check thatall nuts, bolts, screws and pop pins are in place and fullytightened. Replace all worn parts immediately. Neveruse machine if any parts are damaged or missing. FAILURE TO FOLLOW THESE RULES MAY RESULTIN SERIOUS INJURY.
Keep clear of the cables and all moving parts whenthe machine is in use.
Exercise with care. Perform your exercises at asmooth moderate pace; never perform jerky oruncoordinated movements that may cause injury.
It is recommended that you should workout with atraining partner.
Do not allow children or minors to play on or aroundthis equipment.
If unsure of proper use of equipment, call your localdistributor or agent.
WARNING: Consult your physician before startingyour exercise program. For your own safety, do not beginany exercise program without proper instruction.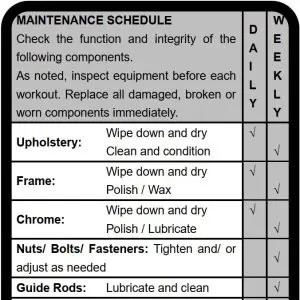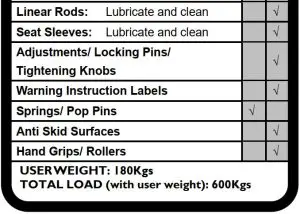 References
[xyz-ips snippet="download-snippet"]