Cricket Alcatel APPRISE User Guide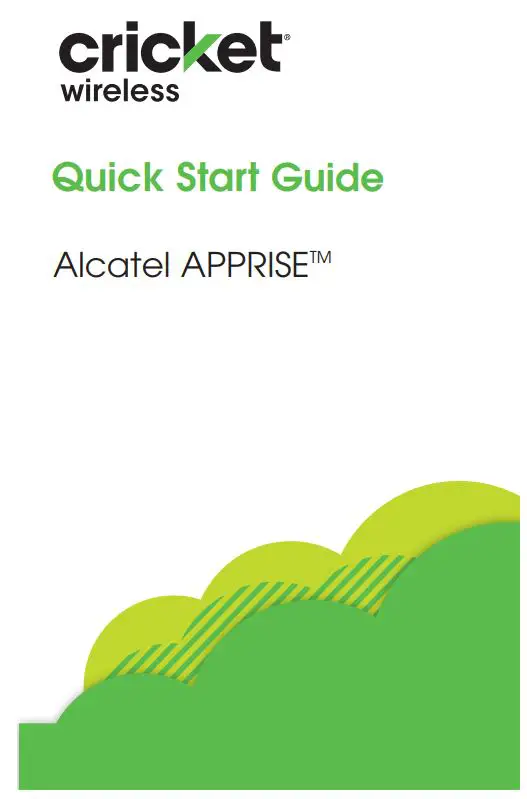 Getting to Know your Alcatel APPRISE™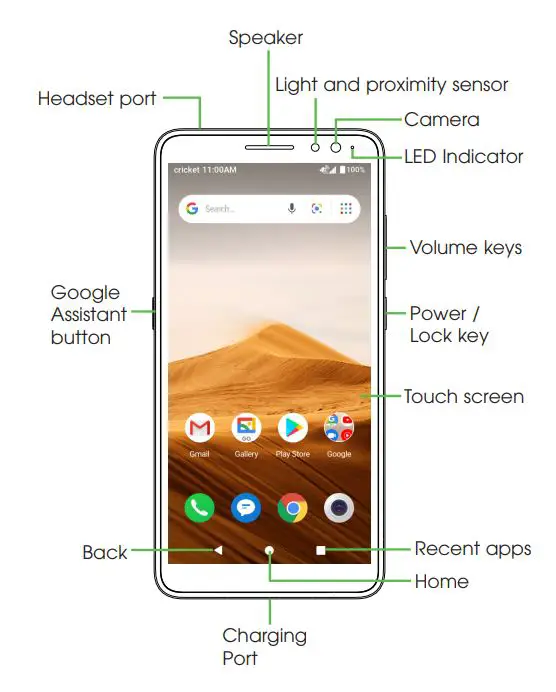 Phone Setup
Remove back cover by gently pulling up on the indentation on the bottom left of the cover.

Insert the Nano SIM card and microSD™ card* with gold contacts facing down.

Ensure that Nano SIM and microSD™ cards have been properly secured.

Put the back cover on.
* microSD™ card sold separatelyWARNING: To avoid damage to the phone, only use the standard NANO SIM card provided by your service provider.
Touch screen
Navigating your phone
Use your fingertip to tap the screen.
Use quick flicks of your finger on the touch screen to swipe up, down, left, or right.
Tap ◀ Back to return to the previous screen.
Tap● Home at any time to return to the home screen.
Tap■ Recent apps to access recently viewed apps.
Swipe up to access applications on your phone.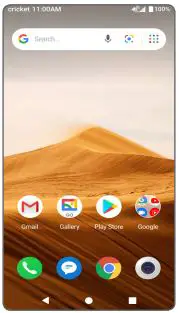 Notification panelTo access alerts, including new messages, emails, and software updates:
From the top of the home screen, drag your finger down to view the notification panel.
Swipe right or left to clear individual notifications or tap CLEAR ALL to clear all.
With the notification panel open, tap the top of the screen again and drag down to see the Quick Settings menu.
Tap to access the complete Settings menu.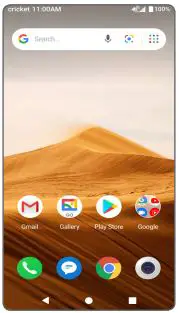 Personalize
Set wallpaper
To change your home or lock screen wallpaper, touch and hold a blank part of the home screen and tap WALLPAPERS.
Select a wallpaper and tap Set wallpaper to set the image and then select whether you want it to appear on the lock screen, home screen, or both. You can also tap My photos for additional options.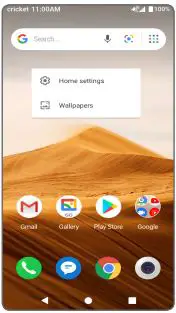 Add to home screen
To add app shortcuts, swipe up to access applications, press and hold the desired app, and drag it to the home screen.
Organize home screens
To move an app shortcut, press and hold it and then drag it to a new location. To delete it, drag it on top of X Remove at the top of the screen.
To create a folder, press and hold an app shortcut and drag it on top of another, then release.
To rename a folder, press the folder title to type a new name.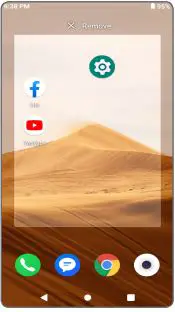 Convenient Services & Features
Cricket ServicesThese services make using Cricket even better and easier.

my Cricket: Check account balance, make a quick payment, view usage and access support from the palm of your hand.

Visual Voicemail: Quickly view, access and play back your voicemail messages. Easily save important numbers to your Favorites list and respond to messages by calling back or texting.
Additional Features

Face Unlock: Enable an unlock method to keep your phone secure. Select Swipe, Pattern, PIN, Password, or Face Unlock*. Face Unlock will unlock your phone by using the front camera to register your face.
Warranty: TCT Mobile Inc., offers a 2 year limited warranty on the Alcatel APPRISE™ (5002R) smart phone that is found to be defective in materials or workmanship. For more information, please go to https://us.alcatelmobile.com/warranty/2year/.
* Facial Recognition may not be as secure as Pattern, PIN, or Password locks. We may use Facial Recognition methods only for the purpose to unlock the phone. The data collected from you through such methods will be stored in your device and will not be disclosed to any third-party. You may delete your data anytime by visiting the Security menu in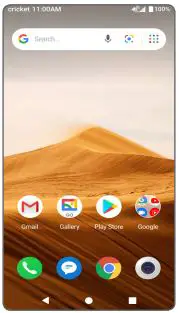 Settings.
More information
On the webDetailed support information including device specifications and a full user's manual are available at www.cricketwireless.com/support/devices.
On the phone
Call Customer Care at 1-855-246-2461 or
Dial 611 from your cell phone.
Accessories
For more information about accessories, please visit your local Cricket store or go to www.cricketwireless.com/shop/accessories.

Note: Store and online inventories may vary.Product meets FCC Radio Frequency Exposure Guidelines–FCC ID 2ACCJH124. This device complies with Part 15 of the FCC Rules. Operation is subject to the following two conditions: (1) this device may not cause harmful interference, and (2) this device must accept any interference received, including interference that may cause undesired operation.
© 2020 Cricket Wireless LLC. All rights reserved. Cricket and the Cricket logo are registered trademarks under license to Cricket Wireless LLC. Other marks are the property of their respective owners. microSD logo is a trademark of SD-3C, LLC.Alcatel is a trademark of Nokia used under license by TCL Communication Technology Holdings Limited. APPRISETM is a trademark of TCL Communication Technology Holdings Limited. © 2020 TCT Mobile Limited. All rights reserved. TCL Communication Technology Holdings Limited reserves the right to alter material or technical specification without prior notice.
All "Signature" ringtones embedded in this phone have been composed, arranged and mixed by NU TROPIC (Amar Kabocha).
Calls and Voicemail
Make a call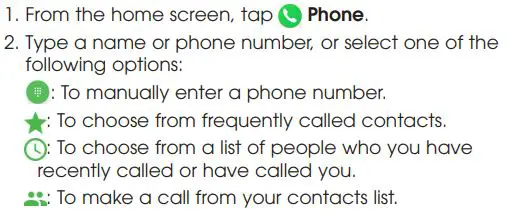 Check voicemail
From the home screen, tapPhone, then tap
Press and hold the 1 key.
Call waitingCall waiting allows you to answer a second call while putting your existing call on hold. While on a call, you will hear a tone if another call comes in.

Text and picture messaging
Send a text message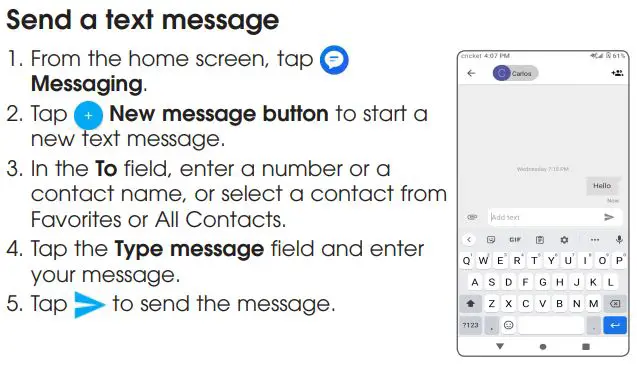 Send a picture message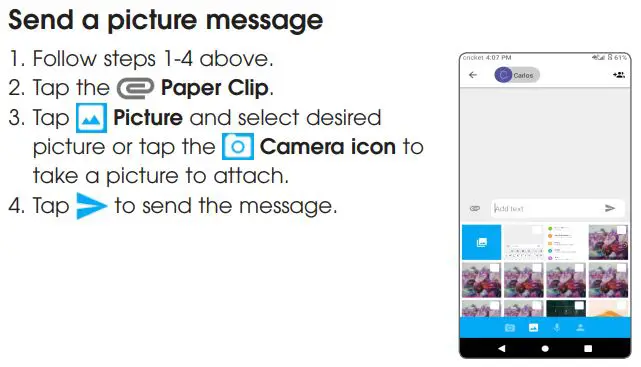 Email
From the home screen, tapGoogle, then tap Gmail
Enter your email address and tap NEXT and enter your password and then tap NEXT again.
Confirm email account settings and tap NEXT.
Enter your name which will be displayed on outgoing mails, and then tap NEXT.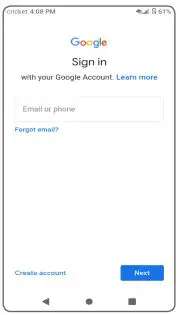 Create and send an email message
From the home screen, tap Google, then tap Gmail.
To compose a new message, tap .
Tap the To field and enter email address or name.
Enter a subject and email message.
To attach files to the email message, tap thePaper Clip icon and make your selection.
TapSend icon to send the message.

Camera and video
Take a picture or make a video
From the home screen, tap Camera .
Zoom in and out by pinching with your fingers.
Tap the Shutter or press the Volume Key to take a photo.
In Video mode, tap Record to start recording. Tap it again to stop recording.
Take a photo while in Video mode by tapping Shutter .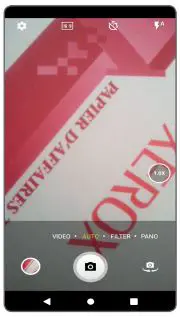 Modes and settingsSlide left or right on the camera screen to switch between modes.
Filter Tap Filter to apply real-time filters to your photos.
Pino
Tap Pino to capture a panoramic photo. Tap the shutter button and move the phone steadily along in the direction indicated on the screen. The photo will be saved when all the slots are filled, or when pressing the shutter button again.
Google apps are preinstalled on your phone to improve work efficiency and help you enjoy life.Access Google applications
From the home screen, tap

Google.
Google GoGoogle Go is a web browser you can use to surf the Internet.
YouTubeYouTube is an online video-sharing application where users can upload, view, and share videos. Available content includes video clips, TV clips, music videos, and other content
AssistantPress your phone's dedicated Google Assistant button to quickly ask for help, check the news, make a phone call, and more.
MapsGoogle Maps offers satellite imagery, street maps, 360° panoramic views of streets, real-time traffic conditions, and route planning.
Google PayGoogle Pay is a simple and fast secure payment service that provides the necessary functions for checkout, allowing you to settle your bills online and in stores with ease.
CJB2FJ1RKAAA BCPrinted in China
References
[xyz-ips snippet="download-snippet"]