Delphin DIVER 9V User Guide
The set of electronic bite alarms with a receiver
TECHNICAL PARAMETERS
Frequency band: 433.92 MHzRF power: 4.42 dBm
RECEIVER / functions
5 levels of volume
4 colourful signalisation LED lights
Vibration mode
Memory for your settings
Indication of low battery (vibration alert)
Power supplu8. 3×1.5V batteries (AAA type)
10 seconds of illuminating light after the bite
Range up to 150m according to conditions
BITE ALARM / functions
Waterproof
8 different tunes of signalisation (T button)
6 levels of volume + mute mode (V button)
6 levels of sensitivity (S button)
Memory for your settings
Power supply: x9V battery
20 seconds of illuminating light after the bite
Input for 2.5mm jack
Range up to 150m according to conditions
SCHEME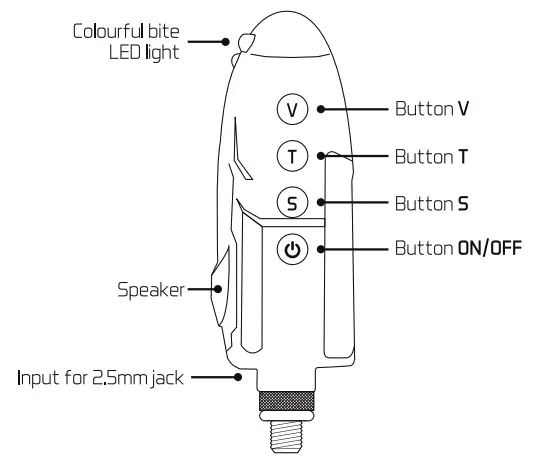 MANUAL
Before turning it on: Before you open the back cover of the receiver, remove the belt buckle by sliding it down. Afterwards, open the cover by sliding it up. Place 3pts of AAA type batteries in according to the correct polarity (+ and -) shown on the inner side of the receiver. The bite alarm can be opened by sliding the back cover down. Put 1 piece of 9V battery inside the bite alarm. Place both covers back and secure them, Turning ON/OFF of the receiver can be done by holding ON/OFF button which is accompanied by sound/light signalisation.
To pair the bite alarm and receiver: Make sure that receiver and bite alarm are turned on. Hold + and – buttons on the receiver and after a short sound, make a bite by a piece of paper. The bite alarm should automatically connect with the receiver and show a bite on a relevant LED light.
To delete set pair: To pair the bite alarm and receiver: Hold + and – buttons on the receiver until you hear three short beeps. The whole process lasts for 6 seconds. Afterwards, all pairs are deleted from the memory.
WARNING: In case you don't use it, or you transport it, please remove batteries out of both receiver and bite alarm and keep them safely separated, so that there won't be any short circuit. Before putting the batteries in, please check them carefully so that they are not leaking or damaged.
The company MOSS.SK, sro. declares that this device is in compliance with the essential requirements and other relevant provisions of Directive No. 2014/53/EU. The full text of the declaration of conformity is available at www.delphin.sk.
Distributor: MOSS.SK, s.r,o. M.R.Stefánika 297/11, 050 01 Revúca, Slovakiawww.delphin.sk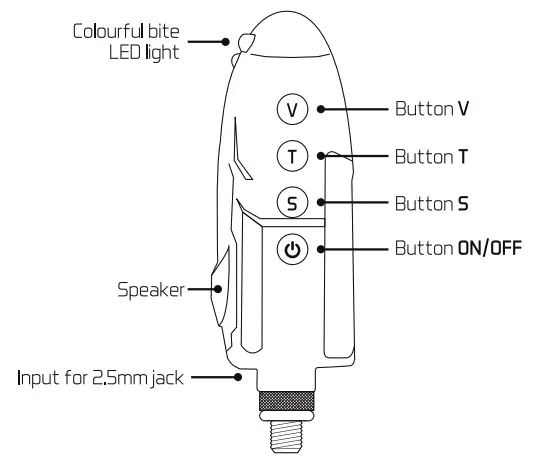 [xyz-ips snippet="download-snippet"]