UNIVERSAL CTSWRIST BRACE &UNIVERSAL ELASTICWRIST BRACE
POLSIERA CTS UNIVERSALE E POLSIERA ELASTICA UNIVERSALE
BEFORE USING THE DEVICE, PLEASE READ THE FOLLOWING INSTRUCTIONS COMPLETELY AND CAREFULLY. CORRECT APPLICATION IS VITAL TO THE PROPER FUNCTIONING OF THE DEVICE.
INTENDED USER PROFILE:The intended user should be a licensed medical professional, the patient, or the patient's caregiver. The user should be able to read, understand and be physically capable of performing the directions, warnings, and cautions in the information for use.INTENDED USE/INDICATIONS: Carpal Tunnel Syndrome • Immobilization of the wrist.CONTRAINDICATIONS: None
WARNINGS AND PRECAUTIONS:
If you have skin disorders/ injuries in the relevant part of the body, the product should be fitted and worn only after consultation with a medical professional.
If you experience any pain, swelling, sensation changes, or any unusual reactions while using this product, consult your medical professional immediately.
Do not use this device if it was damaged and/or packaging has been opened.
APPLICATION INFORMATION:A. The brace is shipped in the right wrist configuration.B. Place the hand in the brace with the stay on the palmar surface.C. Secure the tab closures to a snug but comfortable fit.D. To change to a left wrist configuration, first remove the stay from the vinyl sheath. Place the stay in the loop sheath. With the stay sheath down, apply as in steps B – C.

CLEANING INSTRUCTIONS:
Hand wash in warm water with mild detergent and air dry. Do not machine dry.
The aluminum stay is malleable and can be molded for specific requirements.
WARRANTY: DJO, LLC will repair or replace all or part of the unit and its accessories for material or workmanship defects for a period of six months from the date of sale.FOR SINGLE PATIENT USE ONLY.
NOTICE: WHILE EVERY EFFORT HAS BEEN MADE IN STATE-OF-THE-ART TECHNIQUES TO OBTAIN THE MAXIMUM COMPATIBILITY OF FUNCTION, STRENGTH, DURABILITY, AND COMFORT, THERE IS NO GUARANTEE THAT INJURY WILL BE PREVENTED THROUGH THE USE OF THIS PRODUCT.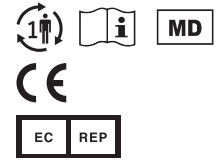 MDSS GmbHSchiffgraben 4130175 Hannover, Germany©2021 DJO, LLC

DJO, LLC1430 Decision StreetVista, CA 92081-8553 • USA13-1356-0-00000 REV D – 2021-02-24
[xyz-ips snippet="download-snippet"]