DYNEX DX-MB5K22K Portable Battery User Guide
PACKAGE CONTENTS
Portable battery
Micro USB charging / sync cable
Quick Setup Guide
Before using your new product, please read these instructions to prevent any damage.
SAFETY INFORMATION/CAUTION
Do not expose your portable battery to heat, fire, or water.
Do not modify, disassemble, open, drop, crush, puncture, or shred the internal battery.
This is not a toy. Young children should be supervised to make sure that they do not play with the portable battery.
Do not charge devices while the portable battery is recharging.
Recharge the portable battery if it has not been used for more than 90 days.
Risk of fires and burns. Do not open, crush, heat above 140°F (60°C), or incinerate. Follow the manufacturer's instructions.
Operation environment temperatures: 32~104°F (0~40°C)
This product is safe for regular use under normal conditions. As with any device using electrical power, some situations may be unsafe and injuries or damages could result. To minimize or avoid unsafe conditions, read and follow the instructions before using.
WARNING
When using this product, basic precautions should always be followed, including the following:
a) Read all the instructions before using the product.
b) To reduce the risk of injury, close supervision is necessary when the product is used by children.
c) Do not put fingers or hands into the product.
d) Do not expose the power bank to rain or snow.
e) Do not use the power bank in excess of its output rating. Overload outputs above this rating may result in a risk of fire or injury to persons.
f) Do not use a power bank that is damaged or modified. Damaged or modified batteries may exhibit unpredictable behavior resulting in fire, explosion, or risk of injury.
g) Do not disassemble the power bank. Take it to a qualified service person when service or repair required. Incorrect reassembly may result in a risk of injury to persons.
h) Do not expose a power pack to fire or excessive temperature. Exposure to fire or temperature above 212°F (100°C) may cause explosion.
i) Have servicing performed by a qualified repair person using only identical replacement parts. This will ensure that the safety of the product is maintained.
j) Turn off the power bank when not in use.
COMPATIBILITY
Compatible with most mobile devices, including iPhones.
If your device requires a different connector, use the cable that came with your device.
FEATURES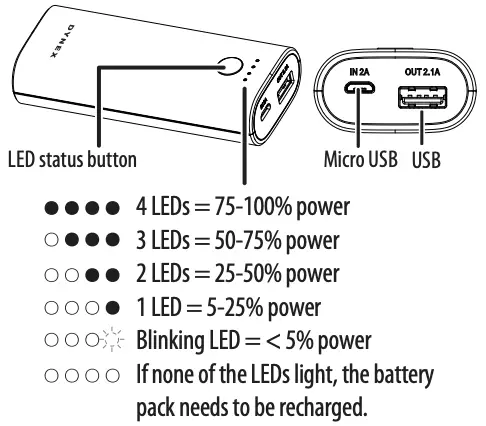 CHARGING YOUR PORTABLE BATTERY
Fully charge your portable battery before using it for the first time. This will take about four hours.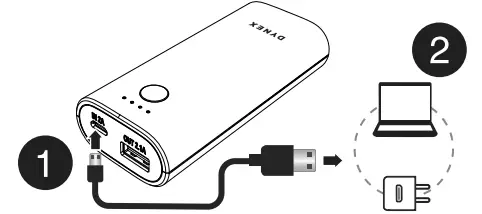 Plug the small end of the included USB cable into the portable battery's micro USB port.
Plug the other end into a standard USB port on your computer, car charger, or wall charger (not included). The portable battery automatically begins charging and the LED turns on.Note: All four LEDs turn on when the portable battery is fully charged.
CHARGING YOUR DEVICES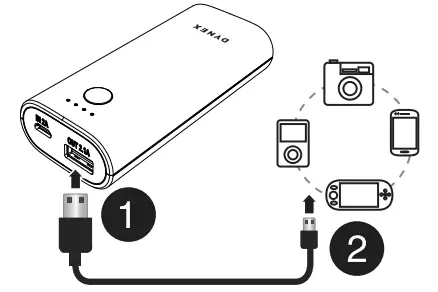 Plug the large end of the included USB cable into the portable battery's USB port.
Plug the other end into your device. The portable battery automatically begins charging your device.Note: If your device requires a different connector than the one provided, use the cable that came with your device.
SPECIFICATIONS
Dimensions (H × W × D): 1.75 × 0.91 × 3.9 in. (44.45 × 23.2 × 100 mm)
Cable length: 11.8 in. (300 mm)
Input: 5 V / 2 A
Output: 5 V / 2.1 A
Power Bank Capacity: 2,900 mAh (5 V / 2.1 A)
Built-in Cell Capacity: 5,000 mAh / 3.7 V (18.5 Wh)
Power bank capacity will be less than built-in cell capacity.Performance will vary based on settings and environmental conditions, and will decrease over time and with use.
LEGAL NOTICES
Declaration of Conformity:
Brand name / model number: DYNEX DX-MB5K22KThis device complies with Part15 of the FCC Rules. Operation is subject to the following two conditions:
this device may not cause harmful interference, and
this device must accept any interference received, including interference that may cause undesired operation.
Suppliers Name: Best BuyPurchasing, LLC. Suppliers Address(USA): 7601 Penn Ave South, Richfield, MN55423 U.S.A.Suppliers phone number: 1-877-467-4289.
FCC Caution:
Changes or modifications not expressly approved by the party responsible for compliance could void the user's authority to operate the equipment.
FCC Statement:
Note: This equipment has been tested and found to comply with the limits for a Class B digital device, pursuant to Part 15 of the FCC Rules. These limits are designed to provide reasonable protection against harmful interference in a residential installation. This equipment generates, uses, and can radiate radio frequency energy and, if not installed and used in accordance with the instructions, may cause harmful interference to radio communications. However, there is no guarantee that interference will not occur in a particular installation. If this equipment does cause harmful interference to radio or television reception, which can be determined by turning the equipment off and on, the user is encouraged to try and correct the interference by one or more of the following measures:
Reorient or relocate the receiving antenna.
Increase the separation between the equipment and receiver.
Connect the equipment into an outlet on a circuit different from that to which the receiver is connected.
Consult the dealer or an experienced radio/TV technician for help.
ICES Statement
CAN ICES-3(B)/NMB-3(B)
THREE-MONTH LIMITED WARRANTY
Visit www.dynexproducts.com for details.
CONTACT DYNEX
For customer service, call 800-305-2204www.dynexproducts.com
iPhone is a trademark of Apple Inc., registered in the U.S. and other countries.DYNEX is a trademark of Best Buy and its affiliated companies.Distributed by Best Buy Purchasing, LLC,7601 Penn Ave South, Richfield, MN 55423 U.S.A.©2020 Best Buy. All rights reserved.
References
[xyz-ips snippet="download-snippet"]