User Manual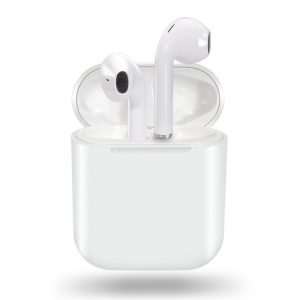 Imperii ELECTRONICS Wireless Headphones With Purex Charging Base
True wireless stereo (TWS), real no wires design, individual left and right channel, HIFI sound, both the left and right earbud are Bluetooth enabled, could be used separately, or used as one pair.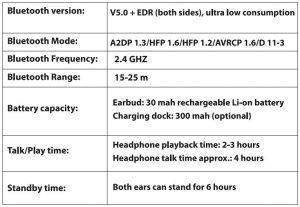 Headphone use steps and special instructions
Turn on the charging box switch
Open the top cover of the charging box and take out the earphones. (Important note: Turn on the charging box switch before opening the charging box, which is the premise of the headset automatically turninig on).
Pair with other devices: Open the phone or othe device Bluetooth settings, search for the Bluetooth name "Airplus", click to connect to Bluetooth.
The headset is placed in the charging box to enter the charging mode, and the headset is automatically turned off.
"Airplus" TWS wireless headphones can be connected separately and separately to other Bluetooth devices.
"Airplus" TWS wireless headset will automatically shut down if it is not connected to the Bluetooth device for 5 minutes.
Headphone touch function description
The left ear and right ear touch the position, touch 1 to answer the call, the left earphone touches 2 times and the volume decreases, the right earphone touches 2 times, the left ear presses 3 next, and the right clicks 3 times. Last song, long press 3 seconds siri function.
After turningoff the phone, the headset will automatically connect back to the phone.
The whole machine has voice prompts.
The earphones have sounds for the left and right ears of the two-channel conversation.
Headphone music playback time is about 2-3 hours, talk time is about 4 hours, and stanby time is about 6 hours.
The charging battery capacity is 300AH, and the headphone battery capacity is 35mAh.
Charging time is 70 minutes.
Charging box charging voltage 5V.
The charging box takes 1 hour, the charging box has a capacity of 300 mAh, and the charging red flashes constantly.
The charging box can the earphone for about 4 times.
Warnings: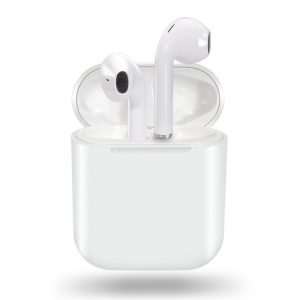 Please do not overuse this earphone or put it under heavy pressure, keep away from wet and heat.
Keep away from WIFI, router or other high frequency transmiting equipment interruption of signal receiving.
Please use this earphone under its working range (10-25m), and the effect would be better if there is not obstacle between the connected devices.
Use this Bluetooth earphone to connect any device with Bluetooth function.
Summary
Headphone dust screen
Multi-function touch button
MIC
Charging port
Charging box charging port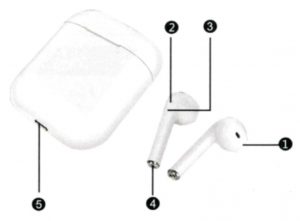 TECHNICAL SERVICE:
http://www.imperiielectronics.com/contactenos
Importado por:
B85947513                                                                                                                      www.imperiielectronics.com                                                                                                         Pol. Ind. Neisa Sur Avd. Marconi, Bloque 1, Nave 13                                                                     28021 Madrid Made in PRC

imperii ELECTRONICS Wireless Headphones With Purex Charging Base User Manual – imperii ELECTRONICS Wireless Headphones With Purex Charging Base User Manual –
Questions about your Manual? Post in the comments!
[xyz-ips snippet="download-snippet"]