B900 SeriesApplicable models:B921 / B922 / B923 / B924 / B951 / B952 / B953 / B954Class B AIS TransceiverQUICK-START GUIDE

For full instructions on how to install and use your B900 SeriesClass B AIS Transceiver please refer to the User Manual.
What's in the box?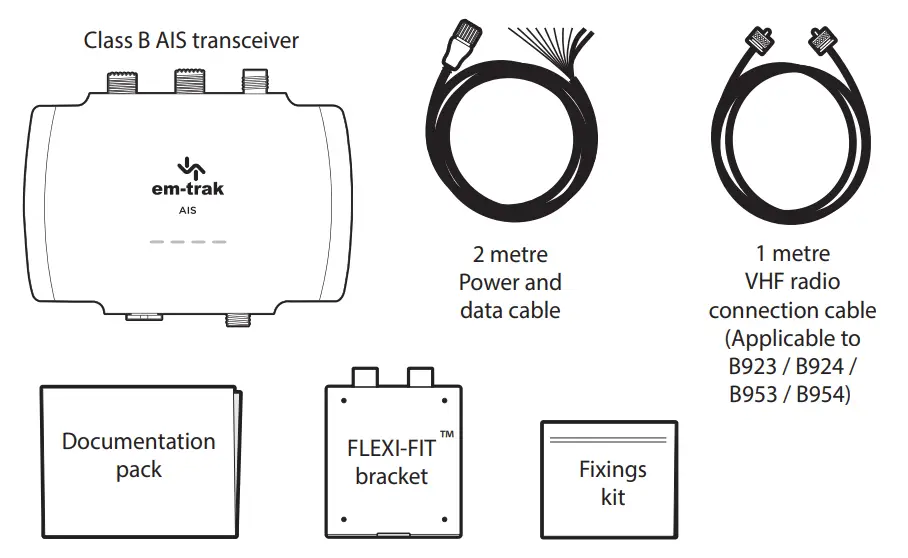 Overview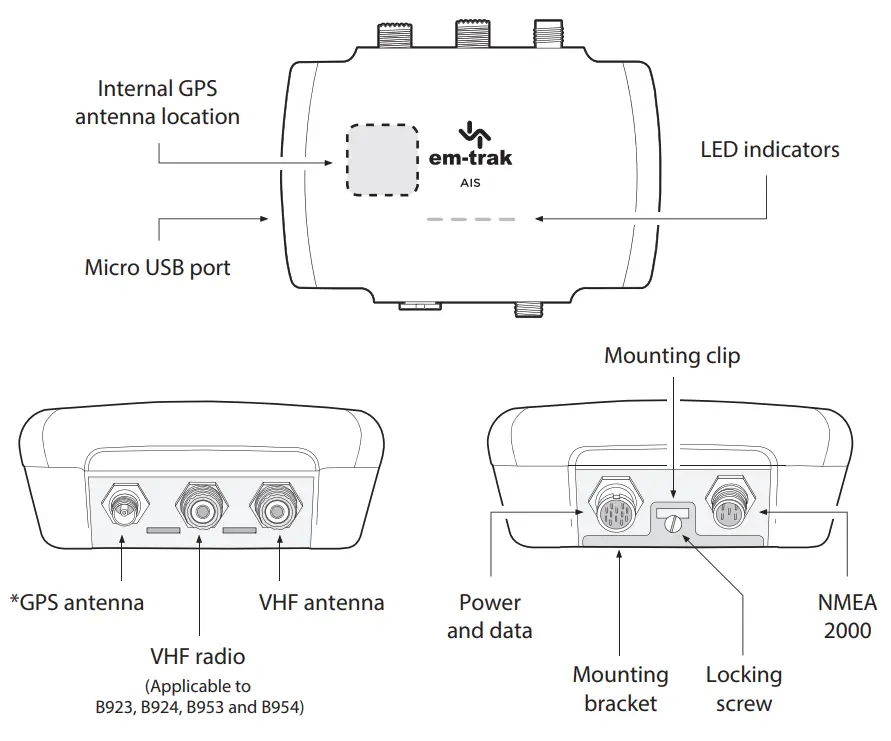 * GPS receiver & antenna supports: GPS, GLONASS, Galileo and BeiDou
Dimensions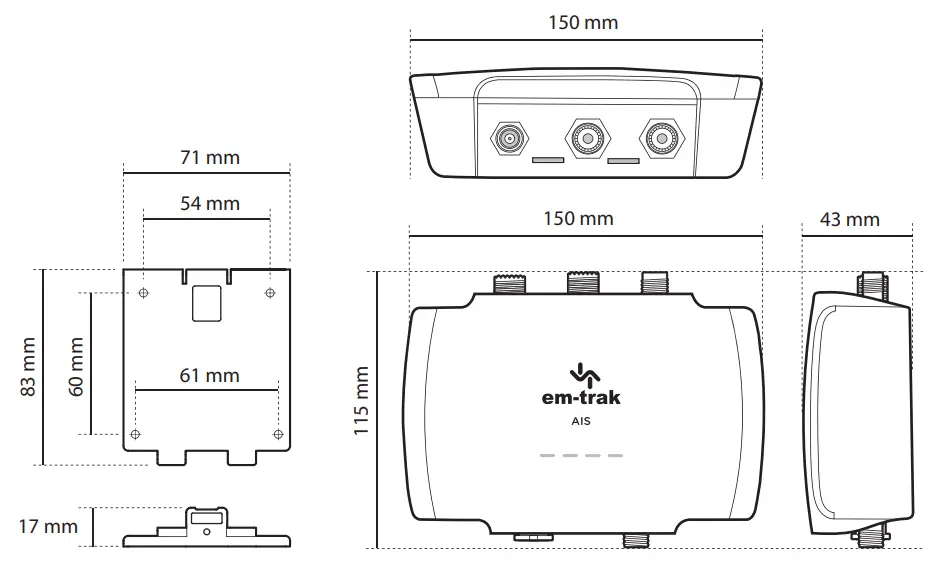 Mounting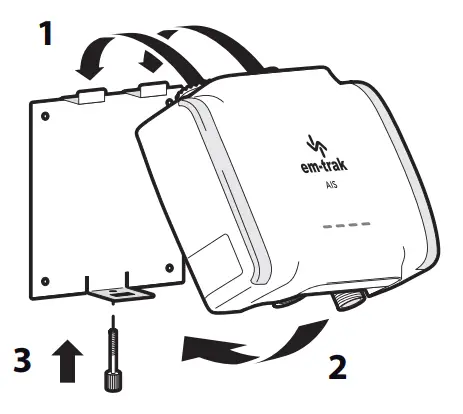 Locate and fix mounting bracket
Clip transceiver onto the bracket
If required, tighten the security screw
Removal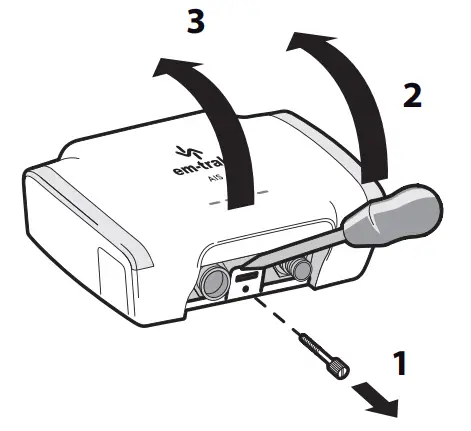 Loosen locking screw
Release mounting clip with a screwdriver
Lift transceiver from bracket
Installation configuration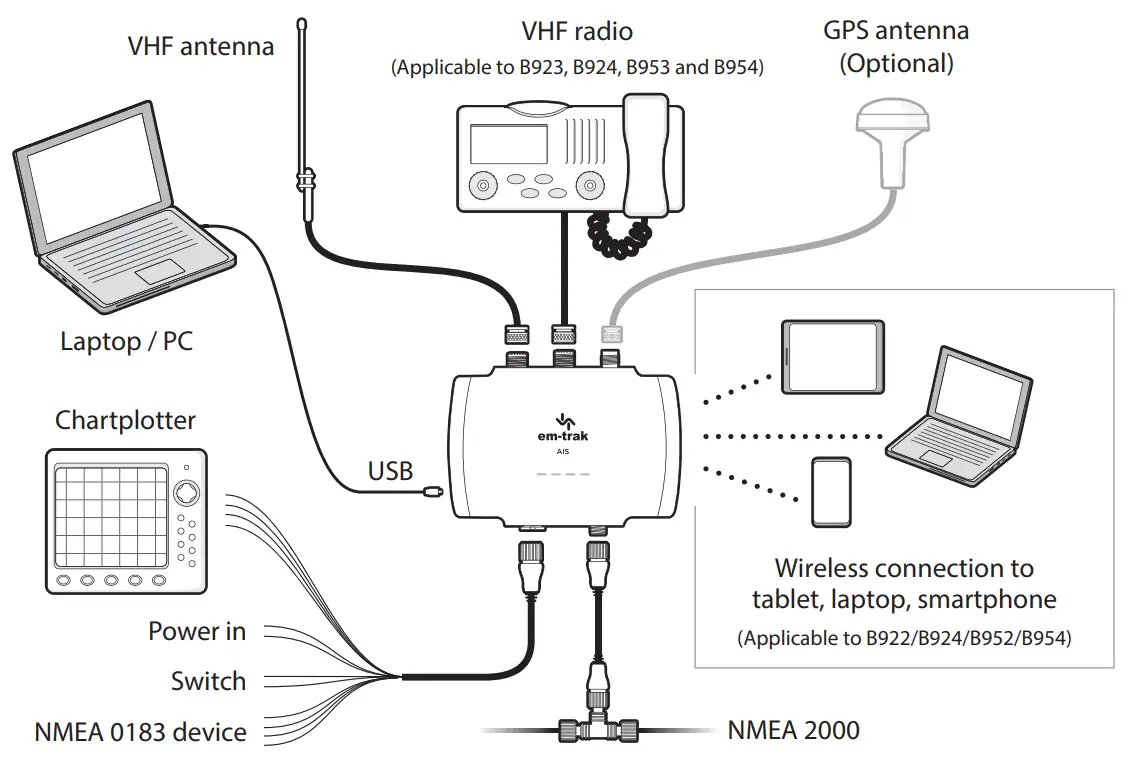 Installing your VHF antenna


Ensure your antenna is mounted as high as possible and covers 159MHz
Installing your GPS antenna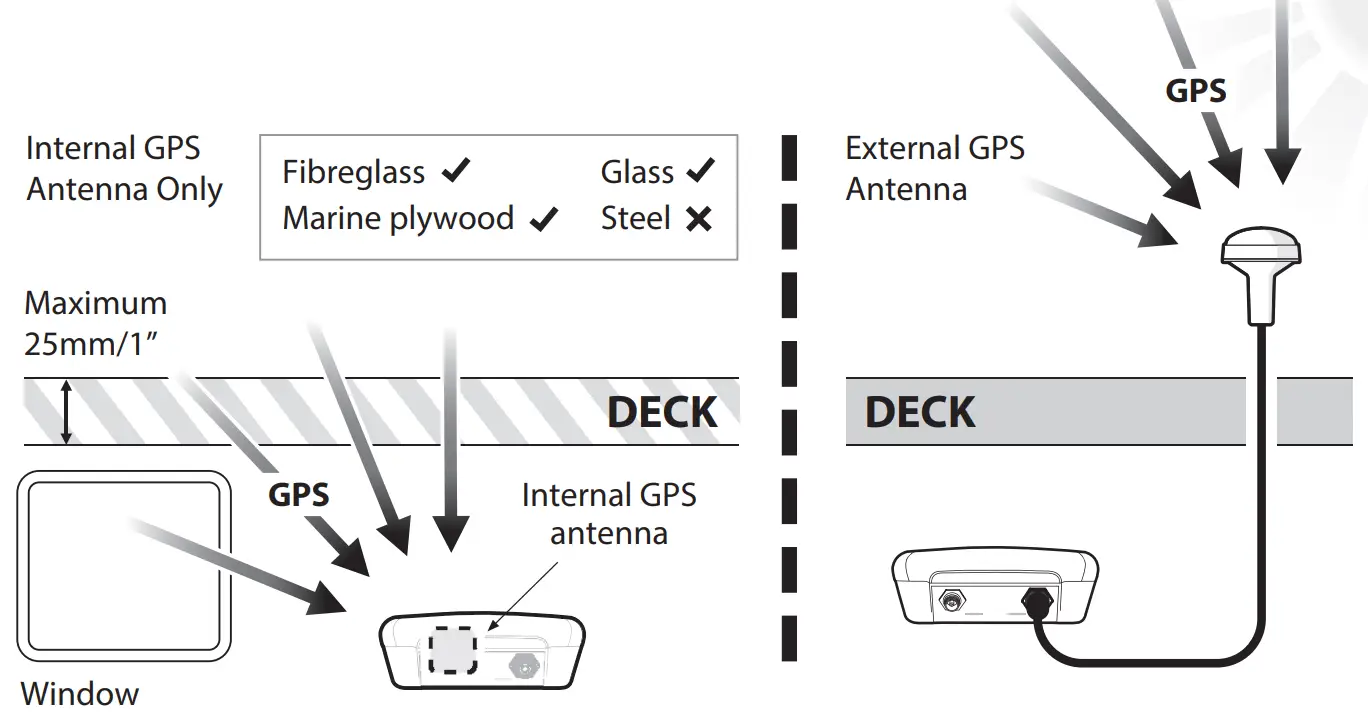 Connecting to your power supply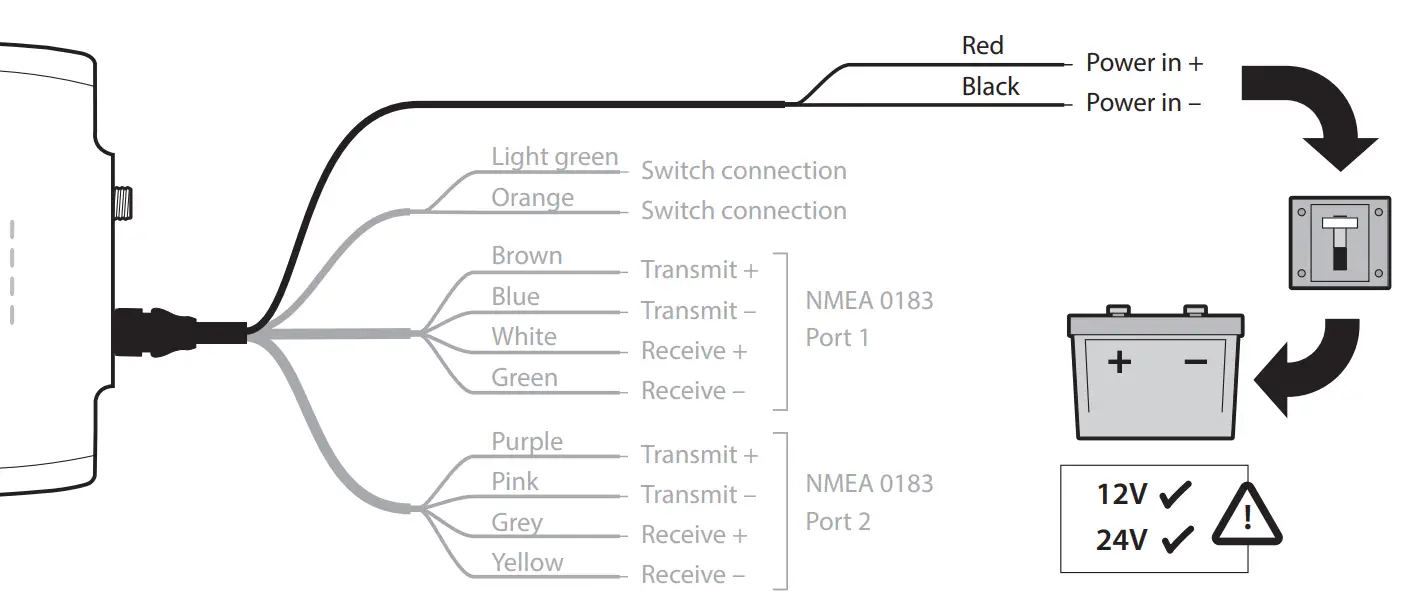 Configuring your transceiver

proAIS2 can be downloaded from https://em-trak.com/installation/External power is not required for USB configuration.
Connecting to your PC

Connecting to your NMEA 2000 network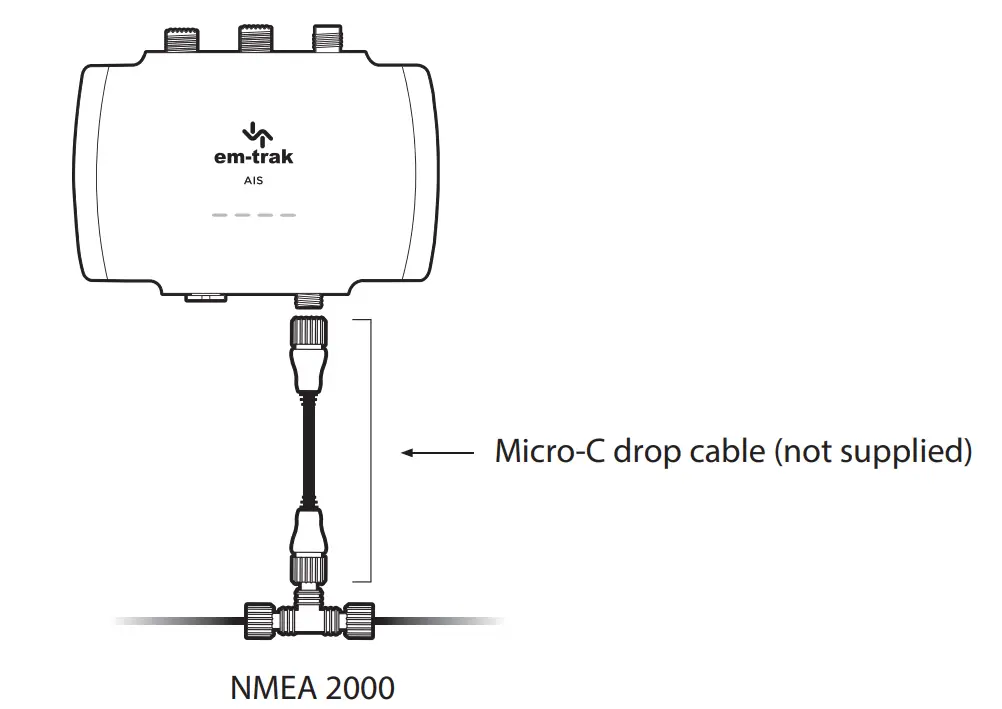 Connecting to your Chartplotter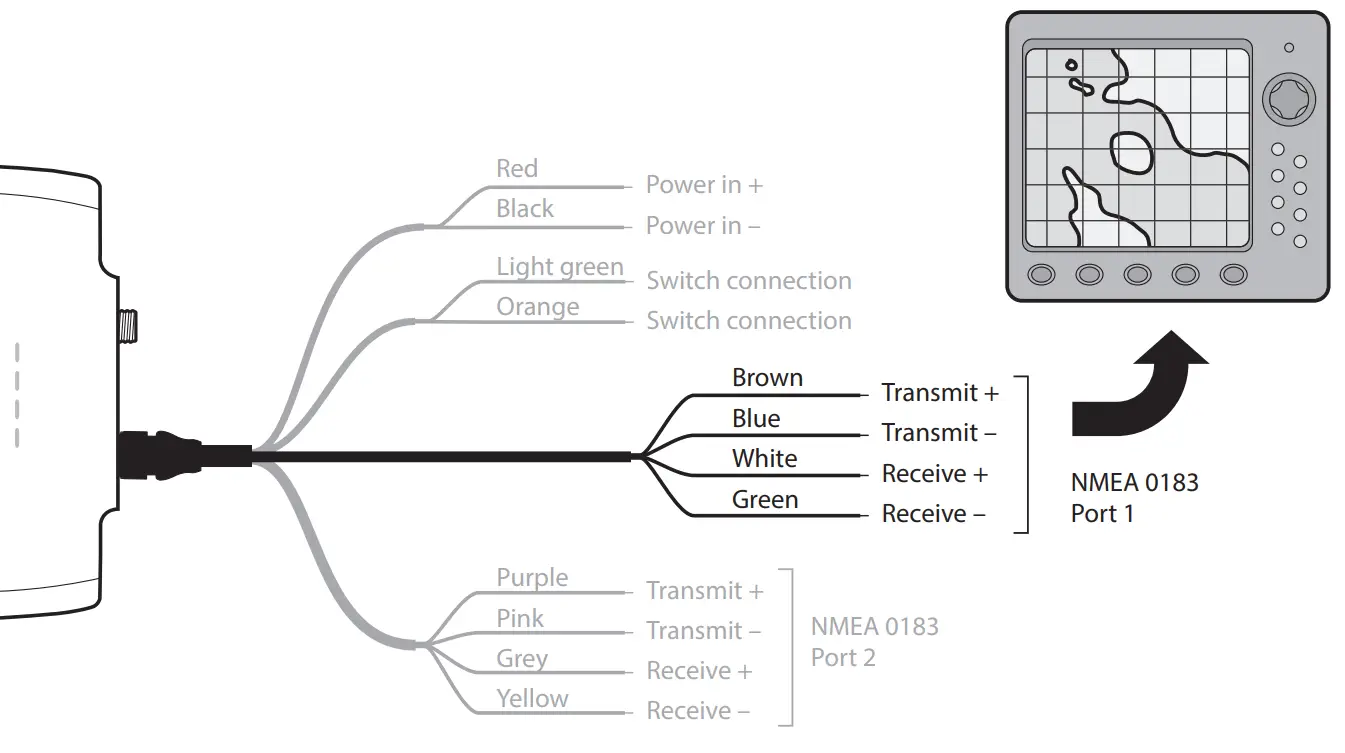 Connecting to your NMEA 0183 sensor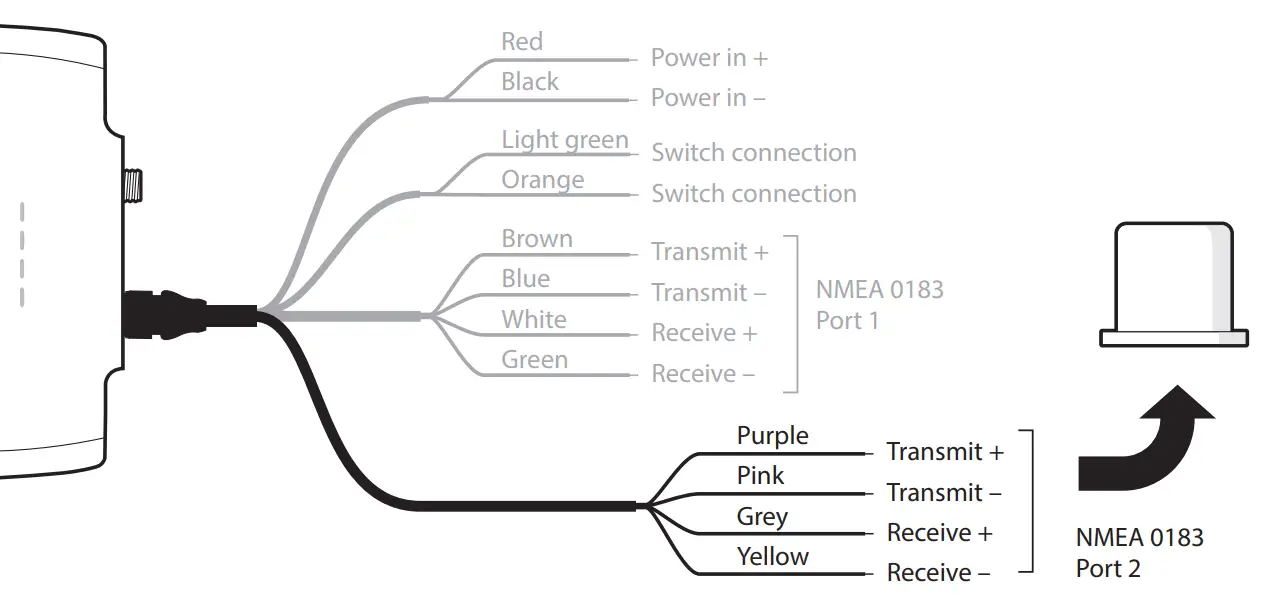 Connecting your mobile device
Data can be streamed to two WiFi and seven Bluetooth devices simultaneously.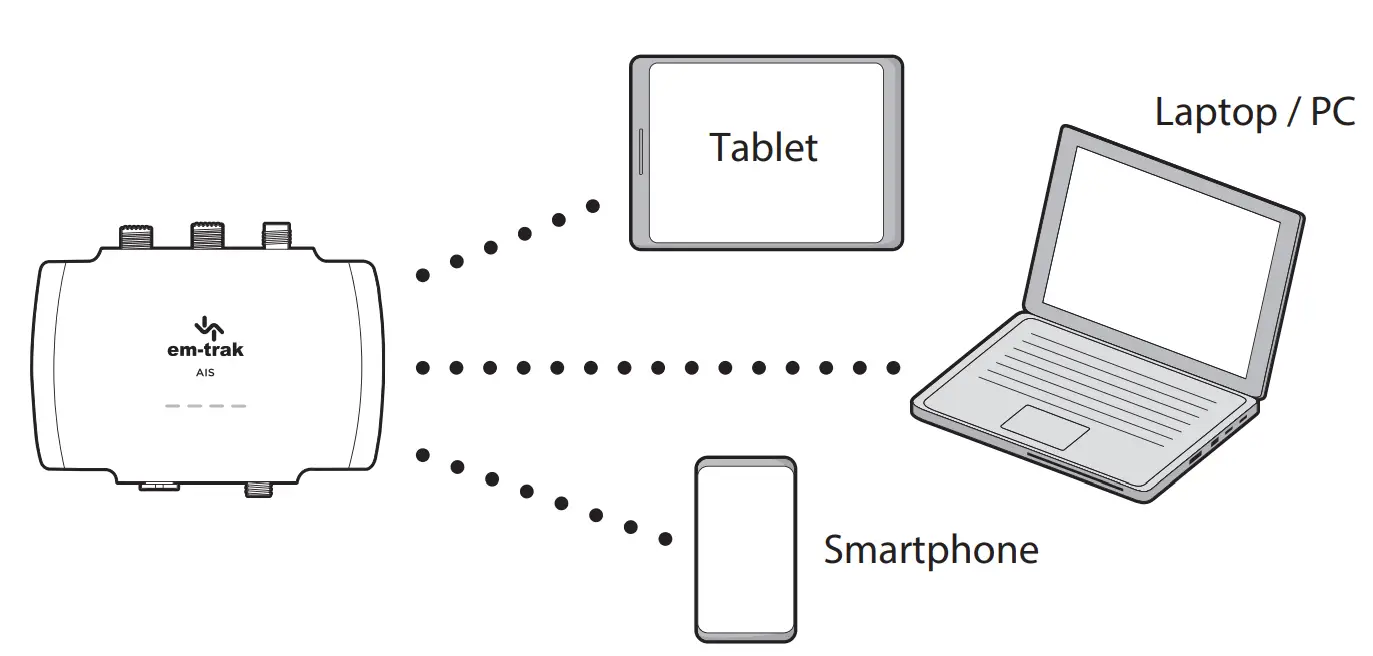 Connecting a silent mode switch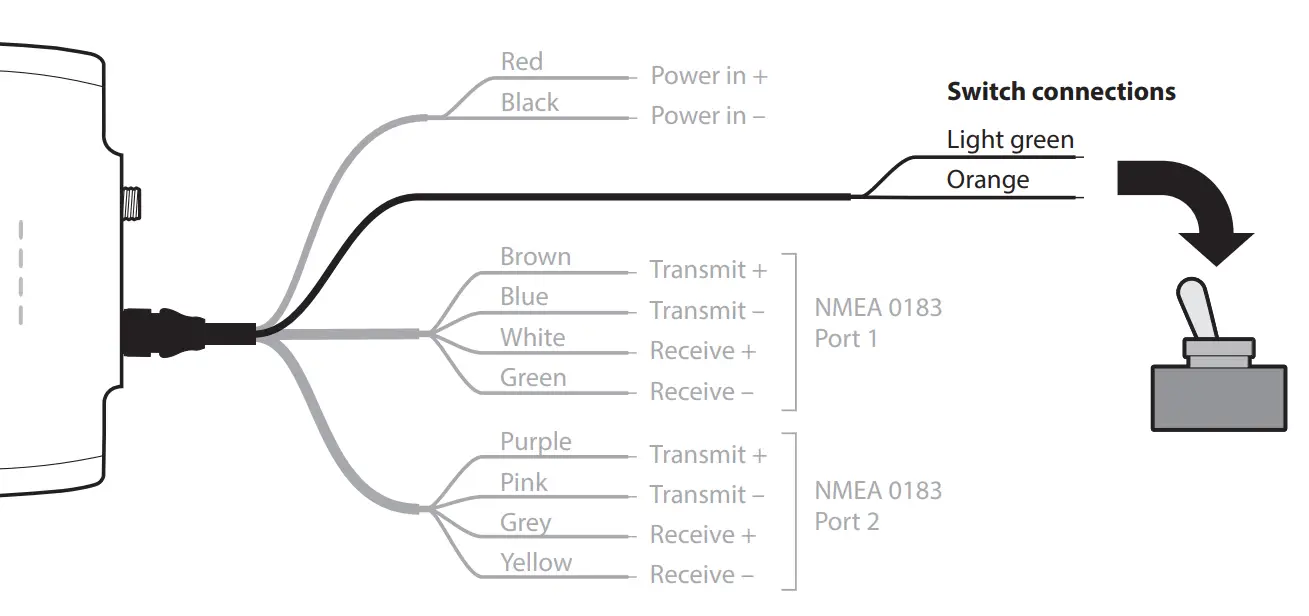 LED indicator functions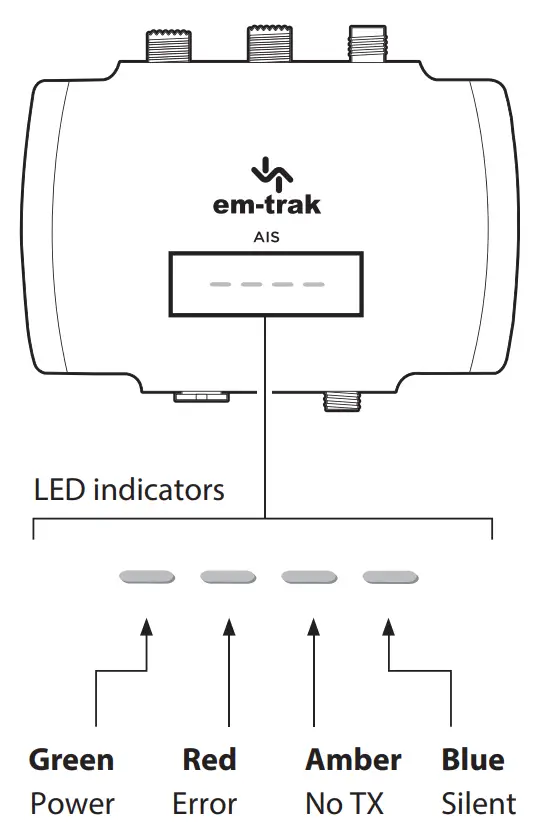 Green LED indicatorThis indicates that the AIS transceiver is configured, powered up, and operating normally.Red LED indicatorIndicates that the AIS transceiver has detected a system error. The likely causes of this are detailed in the troubleshooting guide in the 8900 Series user manual. Alarms displayed in the Diagnostics tab of the em-trak configuration tools will also assist with troubleshooting.Amber LED indicatorThis indicates that the AIS transceiver is not transmitting. This can be for a number of reasons:
The AIS radio channels are exceptionally busy so there are currently no available slots for transmission.
The unit has been in silent mode and after deactivating silent mode this amber LED indicator will illuminate until the first AIS message has been sent.
The AIS transceiver has been commanded by the local authority (via an AIS base station) to cease transmissions.
Blue LED indicatorIndicates that silent mode is enabled. Silent mode is a feature of the 8900 Series that ceases the transmissions from your own vessel, whilst the reception of other vessel position reports continues. You can activate this using the configuration tools or by activating the toggle switch as detailed in the B900 Series user manual.
US customers only
In the USA it is illegal for end-user to configure their own AIS with their vessel data. To do so is a violation of the rules of the United States Coast Guard (USCG). This must be done by a competent installer, such as an em-trak, an em-trak dealer, or competent marine electronics professional. If your transceiver has not been pre-configured for you please refer to your dealer or contact [email protected] for advice on how to have the transceiver configured legally. If purchasing direct from em-trak online we can configure it for you and dispatch it pre-configured at no extra cost, if you are purchasing from one of our dealers, then they will do it for you.
Head Office:em-trak Marine Electronics LtdWireless House, Westfield Industrial Estate, Midsomer Norton,Bath, BA3 4BS, UKE:

[email protected]

T: +44 (0) 1761 409 559,F: +44 (0) 1761 410 093
Regional Office:em-trak Marine Electronics Ltd 470 Atlantic Avenue,4th Floor, Boston, MA 02210, USAE:

[email protected]

T: +1 617 273 8395,F: +1 617 273 8001
201-0953:1
References
[xyz-ips snippet="download-snippet"]