ETEKCITY Electric Air Pump User Manual
Thank You.
Thank you for purchasing the EAP1 Electric Air Pump by Etekcity. We are dedicated to providing our customers with quality products for building a better living. Should you have any questions or concerns about using your new product, feel free to reach out to our helpful customer support team at (855) 686-3835 or by email at We hope you enjoy your new product!
Package Contents
1 x Air pump1 x Adapter set1 x User manual
Specifications
Voltage: 120V / 60HzRated Power: 130W
Table of Contents
Safety Information            4Function Diagram             6Operation                          7Warranty                            8Customer Support            10
SAFETY INFORMATION
IMPORTANT: Please read and comply with all of the instructions and warnings provided in this manual before using the product. Failure to comply with the instructions and warnings provided herein may result in inaccurate results and/or damage to the product itself.
To reduce the risk of burns, fire, electric shock, or injury: ONLY use this air pump indoors.
The rated voltage for this air pump is 120V.
DO NOT leave the air pump on for more than 10 minutes at a time; doing so may cause the pump to overheat.
DO NOT attempt to alter the air pump in any way as this will void your warranty.
DO NOT operate or place the pump on or near hot surfaces such as ovens, heaters, or active fires.
DO NOT operate the air pump in wet environments or immerse the pump in any liquid.
DO NOT cover any of the ventilation openings with items such as newspapers, table-cloths, curtains, etc.
DO NOT place hands, fingers, or foreign objects into the inflation or deflation ports at any time.
DO NOT look directly into the inflation port with your eyes while the pump is operating.
Keep this air pump out of reach from children.
Close supervision is necessary when this product is used by or near children, or
those with disabilities.
DO NOT use the air pump with solid state speed controls.
Always unplug the air pump when putting on or taking off parts.
Turn off the air pump when it is not being used.
DO NOT attempt to repair or replace the power cord.
DO NOT route the cord underneath carpets, rugs, furniture or appliances. Arrange the cord away from high-traffic areas and where it will not be tripped over.
CAUTION: To reduce the risk of electric shock damage to the product:
DO NOT operate the air pump for more than 10 minutes at a time.
ONLY store this product indoors.
To disconnect the air pump, set the power switch to the 'OFF' position, then unplug the power cord.
This air pump and its adapters are not designed to work with needle valves (i.e. basketballs or footballs) nor stem valves (i.e. presta or schrader valves) found on bicycles. DO NOT attempt to use the air pump with these air valves.
Note for the Plug:
This appliance has a polarized plug (one blade is wider than the other). To reduce the risk of electric shock, this plug is intended to fit in a polarized outlet only one way. If the plug does not fully fit inside the outlet, reverse the plug. If it still does not fit, contact a qualified electrician. Do not attempt to alter this safety feature.
SAVE THESE INSTRUCTIONS
Household Use Only
FUNCTION DIAGRAM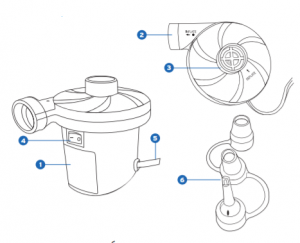 Pump
Inflation port
Deflation port
Power switch
Power cord
Adapters
OPERATION
NOTE: The inflation and deflation ports will fit directly onto larger items such as inflatable rafts or air mattresses. Use the appropriate-sized nozzle on smaller inflation valves.Inflation
Attach the inflation port to the item being inflated. If necessary, connect one of the adapters to the inflation port.
Plug the power cord into a powered electrical outlet.
Press "I" on the power switch to turn on the air pump. Press "0" to turn off the pump.
Deflation
Attach the deflation port to the item being deflated. If necessary, connect one of the adapters to the deflation port.
Plug the power cord into a powered electrical outlet.
Press "I" on the power switch to turn on the air pump. Press "0" to turn off the pump.
Maintenance
When finished using the air pump, turn it off, then unplug it from the electrical outlet.
Allow the air pump to cool for at least 30 minutes before storing.
If necessary, use a damp cloth soaked in mild detergent to remove any tough stains on the air pump. Dry immediately with a clean cloth. DO NOT immerse the air pump in water or other liquids.
Store the air pump in a cool, dry place. Make sure it is not placed in an area with direct sunlight or chemical substances.
This air pump does not contain any user serviceable parts.
WARRANTY
TERMS & POLICY
Etekcity warrants all products to be of the highest quality in material, craftsmanship and service for a minimum of 1 year, effective from the date of purchase. Warranty lengths may vary between product categories. For specific warranty terms, please refer to your product's listing page or operation manual.
Under the limited warranty, Etekcity will replace or refund any product found to be defective due to manufacturer flaws based on eligibility. This warranty extends only to personal use and does not extend to any product that has been used for commercial use, rental use, or any other use in which the product is not intended for. There are no warranties other than the warranties expressly set forth with each product.This warranty is non-transferrable. Etekcity is not responsible in any way for any damages, losses orinconveniences caused by equipment failure or by user negligence, abuse, or use noncompliant with the user manual or any additional safety, use, or warnings included in the product packaging and manual.Etekcity and its subsidiaries assume no liability for damage caused by the use of the product other than for its intended use or as instructed above and in the user manual. Some states do not allow this exclusion or limitation of incidental or consequential losses so the foregoing disclaimer may not apply to you. This warranty gives you specific legal rights and you may also have other rights which may vary from state to state.ALL EXPRESS AND IMPLIED WARRANTIES, INCLUDING THE WARRANTY OF MERCHANTABILITY, ARE LIMITED TO THE PERIOD OF THE LIMITED WARRANTYShould your product prove defective within the specified warranty period, please return the defective unit in its original packaging with (1) an original copy of the invoice, (2) your order confirmation number, (3) and your warranty ID number.
EXCEPTIONS AND EXCLUSIONS
Damage due to abuse, accident, alteration, misuse, tampering or vandalism.
Improper or inadequate maintenance.
Damage in return transit.
Unsupervised use by children under 18 years of age.
To receive a valid warranty ID number, sign into your Etekcity customer account at www.etekcity.com (If you ordered your product through Amazon, Ebay or Walmart, create an account at www.etekcity.com in order to retrieve your warranty ID). At the top of the warranty page, type in your order number located in your order invoice to retrieve your warranty ID number. Your warranty ID number will then be sent to your email for your records. If deemed defective, your product will be replaced or refunded at no charge to you.
Date of PurchasePlace of PurchaseOrder NumberWarranty ID
CUSTOMER SUPPORT
Should you encounter any issues or have any questions regarding your new product, feel free to contact our helpful Customer Support Team. Your satisfaction is ours!
Customer Support
Etekcity Corporation1202 N. Miller St. Suite AAnaheim, CA 92806Toll-Free: (855) 686-3835Fax: (657) 202-1693Local: (657) 500-1872Email:
Support Hours
Monday – Friday:9:00 am – 5:00 pm PST*Please have your order confirmation number ready before contacting customer support.

Scan here to join the community! www.etekcity.com
Read More About This Manual & Download PDF:
References
[xyz-ips snippet="download-snippet"]