ITEM # LEDR6XT/RGBW/CA/AG
IMPORTANT SAFETYINSTRUCTIONS AND INSTALLATION GUIDE

Thank you for your purchase. Questions, comments or feedback?We'd love to hear from you.Visit feit.com/help for support.
READ BEFORE INSTALLATION
SAVE THESE INSTRUCTIONSPlease read and understand this entire manual before attempting to assemble, operate or install this product. This product must be installed in accordance with any applicable installation code(s) by a qualified electrician or person familiar with the construction and operation of the product and the hazards involved.
WARNING: RISK OF SHOCK. House electric current can cause painful shock or serious injury unless handled properly. For your safety, always remember to:A. Tum off the power supply at the fuse or circuit breaker box before you install the fixture.B. Ground the fixture to avoid potential electric shocks and to ensure reliable starting.C. Double-check all connections to be sure they are tight and correct.D. Wear rubber-soled shoes and work on a sturdy ladder.
This fixture is designed for use in a circuit protected by a fuse or circuit breaker. It is also designed to be installed in accordance with local electrical codes. If you are unsure about your wiring, consult a qualified electrician or a local electrical inspector and check your local electrical code.
WARNING: RISK OF CUTS. Some metal parts in the fixture may have sharp edges. To prevent cuts and scrapes, wear gloves when handling the parts.
Account for small parts and destroy packing material, as these may be hazardous to children.

CAUTION: Tum off the main power at the circuit breaker before installing the fixture In order to prevent possible shock.
NOTICE:
All electrical connections must be in accordance with local and National Electrical Code (N.E.C) standards. If you are unfamiliar with proper electrical wiring connections, obtain the services of a qualified electrician.
Remove the fixture and the mounting package from the box to make sure that no parts are missing by referencing the illustrations on the installation instructions.
Supplier's Declaration of Conformity:47 CFR § 2.1077 Compliance InformationResponsible Party:Feit Electric Company4901 Gregg Road,Pico Rivera, CA 90660, USA562-463-2852Unique Identifier:FEIT ITEM # LEDR6XT/RGBWICA/AG
This device complies with part 15 of the FCC Rules. Operation is subject to the following two conditions: (1) This device may not cause harmful interference, and (2) this device must accept any interference received, including interference that may cause undesired operation. Note: This equipment has been tested and found to comply with the limits for a Class B digital device, pursuant to part 15 of the FCC Rules. These limits are designed to provide reasonable protection against harmful interference in a residential installation. This equipment generates, uses and can radiate radio frequency energy and, if not installed and used in accordance with the instructions, may cause harmful interference to radio communications. However, there is no guarantee that interference will not occur in a particular installation. If this equipment does cause harmful interference to radio or television reception, which can be determined by turning the equipment off and on, the user is encouraged to try to correct the interference by one or more of the following measures: Reorient or relocate the receiving antenna. Increase the separation between the equipment and receiver. Connect the equipment into an outlet on a circuit different from that to which the receiver is connected. Consult the dealer or an experienced radio/TV technician for help. Any changes or modifications not expressly approved by the manufacturer could void the user's authority to operate the equipment.
LIMITED WARRANTY
This product is warrantied to be free from defects in workmanship and materials for up to 5 years from date of purchase. If the product fails within the warranty period, please visit feit.com/help for instructions on replacement/refund or call 866.326.BULB. REPLACEMENT OR REFUND IS YOUR SOLE REMEDY. EXCEPT TO THE EXTENT PROHIBITED BY APPLICABLE LAW, ANY IMPLIED WARRANTIES ARE LIMITED IN DURATION TO THE DURATION OF THIS WARRANTY. LIABILITY FOR INCIDENTAL OR CONSEQUENTIAL DAMAGES IS HEREBY EXPRESSLY EXCLUDED. Some states and provinces do not allow the exclusion of incidental or consequential damages, so the above limitation or exclusion may not apply to you. This warranty gives you specific legal rights, and you may also have other rights which vary from state to state or province to province
PACKAGE CONTENTS
Before beginning installation of this product, make sure all parts are present. Compare parts with package contents list and diagram. If any part is missing or damaged, do not attempt to assemble, install or operate this product.
Tools Required– Screw driver– Recessed lighting hole saw (recommended)– ScissorsPackage Components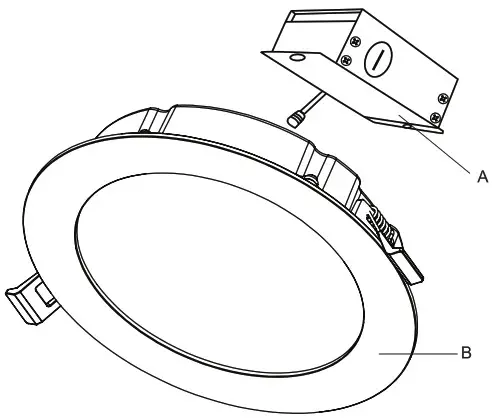 COMPONENTS INCLUDED
A
(1) POWER SUPPLY BOX
B
(1) RECESSED DOWNLIGHT
C
(2) SCREWS (M4*25mm)
D
(1) CUT OUT TEMPLATE
E
(3) TERMINAL BLOCK CONNECTORS
F
(1) INSTRUCTION MANUAL
PRODUCT ELECTRICAL RATINGS
120 V / 60 Hz, XX mA, 15 W
SUITABLE FOR WET LOCATIONS.The foam insert between the trim and ceiling of this panel will create an air tight seal and is required for the ASTM Air Tight Certification. Suitable for Type IC. Continuous dimming between 5% – 100% with most dimmers. http://www.feit.com/smart-energy-consumption
LIGHTING DISTRIBUTIONPRE-INSTALLATION REVIEW
Turn the power OFF from the breaker panel before starting installation.
Locate a suitable location for the fixture and cut the correctly sized hole in the drywall or ceiling tile (for a suspended T-Bar type ceiling) — refer to Hole Cut Out Template for appropriate size.
Know the location of your joist before making any cuts.
Run electrical wire from the switch (power supply) through the mounting hole; use NM cable or Flexible Metal Conduit Cable.
INSTALLATION INSTRUCTIONS FOR RECESSED HOUSING
Ensure the space above the installed fixture is at least 3 in.
Cut a 6 1/2 in. hole in the ceiling as round as possible using the template provided and a recessed lighting hole saw.NOTE: Before cutting, ensure that the hole does not impinge on joists, pipe work, cable or other building services.
Carefully remove the knock-out with a screw driver or punch.
Open the power supply box cover. Feed the Qi supply wire into the knockout hole using a 1/2 in. clamp connector (not included) and make all the connections inside the power supply box using terminal block connectors. Connect the 120V line (black) wire to the black wire. Connect the neutral (white) wire to the white wire. Connect the ground (green) wire to the green wire. This power supply box needs to be grounded.
After connecting the wires correctly, place the wires inside the power supply box and close the box properly.
Hold the spring clips against the fixture and gently guide into the ceiling until the clips snap into place. The fixture should be flush with the ceiling. NOTE: Ceiling thickness must be 1/2 in. to 3/4 in.
Rostore the power at the breaker panel.
CUT OUT TEMPLATE- For a 6 1/2 inch hole.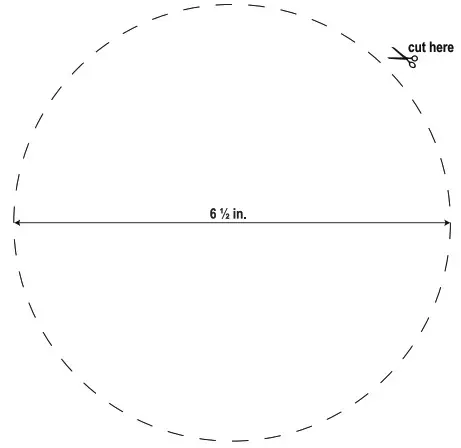 QUICK INSTALL GUIDE
Getting Started:
Download the Feit Electric app on your smart device.
After hardwiring to the power supply, turn on your Smart Wi-Fi Downlight. The downlight must be blinking rapidly to connect. If not already blinking, turn the downlight OFF-ON-OFF-ON-OFF-ONWARNING: These products may represent a possible shock or fire hazard  if improperly installed or attached in any way. Products should be installed in accordance with this install guide, current electrical codes and/or the current National Electric Code (NEC).
Launch and use the Feit Electric app to complete the set upTap Add Device or the + sign, then select Lighting device and confirm. You will be prompted to enter your Wi-Fi network and password.Be sure to connect toa 2.4 GHz Wi-Fi network that covers your installation location.
(Optional) Connect to Google Assistant or Alexa using the in App guideTap the context menu (…) and choose Alexa or Google Assistant

Need Help?Thank you for your purchase. Questions, comments or feedback? We'd love to hear from you.Visit feit.comvhelp for support.
TROUBLESHOOTING TIPS
If you are having difficulty connecting:
Make sure the Wi-Fi network is a 2.4 GHz network.Smart Wi-Fi Downlight will not connect to a 5 GHz network.
Test your Wi-Fi network with other devices such as your phone to make sure it is operating properly.
The Wi-Fi connection may not have good coverage during set up. Try moving the Smart Wi-FiDownlight closer to your Wi-Fi router.
Your Wi-Fi network password is case sensitive, make sure you are entering correctly.The Smart Wi-Fi Downlight must be ON in order to be controlled via the mobile app.Please also check the App User Guide for more information
FOR DETAILED INSTRUCTIONS ON SMART FEATURES SEE THE APP USER GUIDE.
[xyz-ips snippet="download-snippet"]