ForDig Nail Dryer User Manual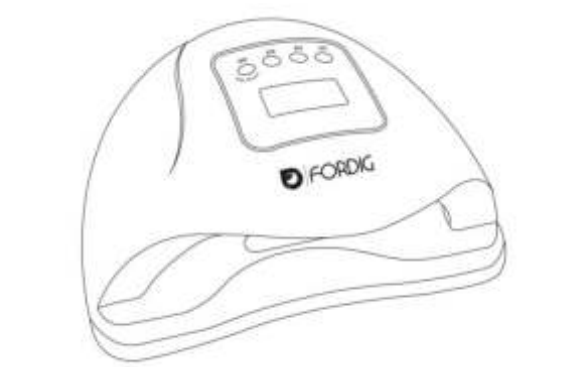 About
Thank you for choosing a ForDig product. To ensure proper and safe use of the product, please read the user manual carefully before use. Always follow the instructions to prevent damage or harm.
Our product complies with the statutory national and European requirements.

If you have any questions, remarks, or problems using the product please contact us by email: [email protected].
We hope you enjoy your order!

Keep this manual for future reference.
Make this product only available to third parties together with its user manual.
Intended use
The ForDig Nail Dryer has been designed for drying different types (builder gel, shellac, hard gel) of nail polish. It has no other uses.
The device is only intended for the purpose described in these instructions for use. ForDig is not liable for damage resulting from improper or careless use.
Package contents
Nail Dryer 1 piecePower adapter 1 pieceUser manual 1 piece
Unpacking
Compare the parts with the package contents. If you are missing a part, please contact us at [email protected].
Do not leave packaging material lying around carelessly. It may become dangerous playing material for children. Do not dispose of the packing materials until the Nail Dryer is installed and working.


 WARNING: 
To avoid danger of suffocation, keep plastic bags away from babies and children!
Device overview
Infrared sensor
LCD display
10 second timer
30 second timer
60 second timer
99 second timer (low heat)
DC power input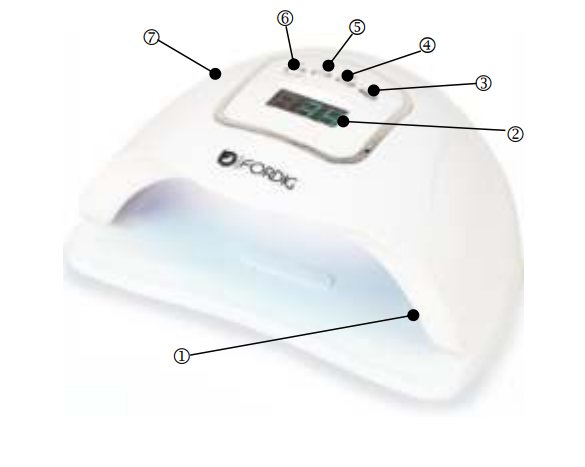 User instructions
Attach the plug of the adapter to the Nail Dryer and then plug the adapter into the wall socket.
Select a timer. The timer has a 10s/30s/60s and 99s function. The 99s function is a low heat mode. The lamp will start at low power (low heat) and slowly get warmer.
You can also put your hand directly into the lamp. This will activate the infrared sensor and you will see the time counting down from 120 seconds to 0. You can now decide how long you want to dry your nails.
If you choose a fixed timer time, you can then put your hand in the lamp. The timer will stop automatically.
If you use the timer, it will also stop when you take your hand out of the dryer.
The 99s timer function has a low-heat mode. When you choose this, the wattage will slowly increase. This prevents heat peaks that can occur with builder gels.

Do not use the lamp for more than 600s (10 minutes) at a time.
A longer use may shorten the life span of the lamp.

NEVER look into the UV light directly.

Excessive exposure to UV light can age and damage the skin, increase the risk of melanoma and damage the eyes.
Safety

Read the user instructions carefully and especially observe the safety information. If you do not follow the safety instructions and information on proper handling in this manual, we assume no liability for any resulting personal injury or damage to property. Such cases will invalidate the warranty.
If you have questions that remain unanswered by these warnings & safety instructions, contact us at [email protected].
General
Do not use the device for any other purpose other than its intended use.
The Nail Dryer is designed and intended for private, noncommercial use only.
Do not leave the lamp on unsupervised.
Protect the device from extreme temperatures, direct sunlight, strong jolts, high humidity, moisture, flammable gases, vapors, and solvents.
Please handle the device carefully. Jolts, impacts, or a fall even from a low height can damage the device.
Do not place the device under any mechanical stress.
If it is no longer possible to operate the device safely, take it out of operation and protect it from any accidental use. A safe operation can no longer be guaranteed if the device:

is visibly damaged,
is no longer working properly,
has been stored for extended periods in poor ambient conditions or
has been subjected to any serious transport-related stresses.

This device is intended for indoor use only. Do not use it outdoors.
Always place the Nail Dryer on a hard, flat, horizontal surface.
Persons – use 
The device is not a toy. Keep and store it out of the reach of small children and pets. Children and non-users should not be present during the device operation.
This device is not suited for animals.
This device may be used by children under 18 and by people with reduced physical, sensory or mental skills or a lack of experience or knowledge, provided that they are supervised or have been instructed on how to use the device safely, and are fully aware of the consequent risks of use.
Do not use the Nail Dryer on other parts of your body than your nails. Remove all cosmetic products from the skin, such as moisturizer and sunscreen, before use.
Do not use the Nail Dryer if you:

are pregnant;
have swellings, burns, inflammation, peeling skin, wounds, or sensitive skin on or around your hands/feet;
have fungal nail infections;
have ingested substances that reduce your reaction time (such as painkiller medications or alcohol);
are affected by or are prone to circulation disorders, varicose veins, open wounds, bruising, broken skin, inflammation of the veins, or thrombosis;
have skin coloration or (atypical) live spots;
suffer from or previously suffered from skin cancer or predisposed to skin cancer;
suffer from sunburns quickly;
are suffering from sunburn or have suffered from severe sunburn;
have melanoma, are prone to having melanoma, or have a family member that has (had) melanoma;
are sensitive to light;
have had an allergic reaction to UV light.

Make sure that sensitive skin, skin with scars or tattoos, does not come into contact with UV light.
Exposure to UV light should be limited to a maximum of 6 treatments to each hand in any one day (Each treatment lasting 3 minutes).
As with the sun or all UV appliances, over-exposure to ultraviolet (UV) radiation can cause skin or eye damage (including sunburn) that may be irreversible. Excessive and repeated exposure to ultraviolet light may lead to premature aging of the skin as well as increased risk of development of skin tumors. Always seek medical advice if persistent lumps or sores appear on the skin, or if there are changes in pigmented moles. Exposure to UV light when young increases the risk of skin damage later in life.
Physician
Consult your physician if you:

Are fitted with a pacemaker, artificial joints, or electronic implants.
Take medication that increases sensitivity to UV light.
Have inexplicable pain, are undergoing medical treatment, or use medical equipment.
Electronics – Cable
Do not reconstruct, repair or disassemble the Nail Dryer. This can damage the device.
Maintenance, modifications, and repairs are to be performed exclusively by an expert or at a qualified shop.
Do not use any other plug or power adapter for this device. This can cause failure and/or damage.
Make sure your outlet supplies the correct power voltage to avoid damage to the device.
The mains outlet must be located near to the device and be easily accessible.
Make sure that you do not trip over the cable. The cable should not be kinked, trapped, or twisted.
Never pull the mains plug from the socket by pulling at the cable. Always pull it from the mains socket using the intended grips.
Unplug the mains plug from the mains socket if you do not use the device for an extended period.
For safety reasons, always unplug the device in case of a thunderstorm.
If the power fails during the operation, turn off the device immediately and pull the plug from the socket
Make sure that the mains cable is not squeezed, bent, damaged by sharp edges, or put under mechanical stress. Avoid excessive thermal stress on the mains cable from extreme heat or cold.
Do not modify the mains cable.
Do not touch the mains cable if it is damaged. A damaged mains cable can cause a deadly electric shock. First, power down the respective mains socket (e.g. via the respective circuit breaker) and then carefully pull the mains plug from the mains socket. Never use the device if the mains cable is damaged.
To prevent risks, damaged power cables may only be replaced by the manufacturer, a professional workshop appointed by the manufacturer, or a similarly qualified person.
Water
Never use the device immediately after it has been brought from a cold room into a warm one. The condensation generated could destroy the device. Allow the device to reach room temperature before connecting and using it. This may take several hours.
Never plug in or unplug the mains plug when your hands are damp or wet.
Never operate the device when your hands are damp or wet.
Do not use the Nail Dryer in or near a bath, shower, swimming pool, or basin filled with water.
Do not use in wet environments and do not submerge in liquid. Never pour liquids above or near the device. There is a risk of electric shock! If a liquid does get inside the casing, turn the Nail Dryer off immediately.
Heat – Fire
Let the device cool down before putting it away.
The device heats up during use. Do not use the device if you are sensitive to heat.
Never place any objects on the device. Do not cover the device while it is in operation. This poses a risk of fire, electric shock, or injury.
Keep the device away from heat and in or close to areas where the surrounding temperature is relatively hot (e.g. stoves or other sources of heat). Never use the device near open flames or on hot surfaces.
Eyes
Do not look directly into the UV light during use!
Excessive exposure to UV light can age and damage the skin, increase the risk of melanoma and damage the eyes.
Cleaning and care
Disconnect the device from the power supply before cleaning.
Clean the device with a dry cloth.
Under no circumstances use aggressive cleanings agents, cleaning alcohol, or other chemical solutions since these can penetrate the housing or impair functionality.
The device does not require any maintenance, do not disassemble it.
Cleaning must not be performed by children unless supervised.
Storage
Store the Nail Dryer in a place not exposed to sunlight, humidity, and dust-free.
Do not store the device in extremely high or extremely low temperatures.
We advise cleaning the device before storage.
Disposal – Recycling
Device disposal

The Waste of Electrical and Electronic Equipment (WEEE) Directive (2012/19/EU) has been put in place to recycle products using best available recovery and recycling techniques to minimize the impact on the environment, treat any hazardous substances and avoid the increasing landfill. This product is classed as Electrical or Electronic equipment so please ensure that at the end of the life of this product it is disposed of in the correct manner in accordance with local authority requirements. It must not be disposed of with household waste.
Packaging material disposal 
Ensure that plastic bags, packaging, etc. are properly disposed of. Do not just dispose of these materials with your normal household waste, but make sure they are collected for recycling.
Please follow the notes and markings on the packaging.
Technical data
Lights: 45 LED lights (365nm + 405nm)
Nominal Power: 80W – 150W max.
Adapter Input: 100-240V, 50/60Hz
Adapter Output: DC 24V
Nail Dryer Input: DC 24V
Approvals: CE, RoHS
[xyz-ips snippet="download-snippet"]