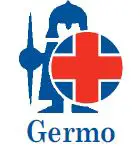 GERMOCID Spray Instructions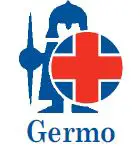 LOCAL DISINFECTANT WITH HIGH BACTERICIDAL POWER MEDICAL SURGICAL EQUIPMENT



LOCAL DISINFECTANT WITH HIGH BACTERICIDAL POWER
DOES NOT STING PLEASANTLY SCENTED
To disinfect closed locals, outpatient clinics, dentist surgeries, sanitary fittings and surfaces leaving a pleasant scent.
INSTRUCTION FOR USAGE: For the disinfection of standard size premises do not spray for more than 3 or 4 seconds. Repeat the treatment only when necessary and directing the jet upwards. Before the treatment, clean thoroughly all the surfaces, then spray the product evenly and let the product work for at least 10 minutes.
CAUTIONS:Do not inhale directly the jet and do not spray in the directions of eyes. The product must not contaminate food, beverages or containers. Keep the product away from children and pets. Container under pressure. Keep away from the sun light and do not expose to a temperature higher than 50°C. Do not pierce or burn even after usage. Do not spray on flames or burning objects. Do not smoke during usage. Do not use in too great quantities. Do not use along with other products.
Do not use on injured skin or mucous. DOES NOT STAIN – DOES NOT CONTAIN PROPELLERS HARMFUL FOR THE OZONE.
COMPOSITION: 100 g. contain: O-phenilphenol mg.20, alkyl-benzyl-oleil-ammonium chloride mg.100, Essential oils composition: isopropyl alcohol, propellers and other ingredients as much as will suffice to 100 g.
Reg. Min. Healt n. 7604Batch number and expiry, see under the bottle.

GERMO S.p.A. – Cormano (MI)Officina Conf. PHARMAC ITALIA S.r.l. – Rozzano (MI)

[xyz-ips snippet="download-snippet"]