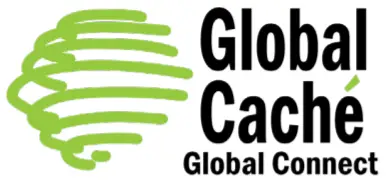 Global ConnectQuick Start Guide
This Quick Start Guide covers the initial setup for all Global Connect devices. For detailed configuration instructions, please see the Global Connect User Guide on our web site at www.globalcache.com/downloads
GETTING STARTED
Connect Global ConnectConnect Global Connect to the network via Ethernet. Power the unit by attaching the included power supply or, if using a PoE capable unit, by connecting the unit to a PoE switch on the RJ45 connector marked "PoE IN".
Discover Global Connect ModulesDownload and run iHelp (http://www.globalcache.com/downloads). Wait up to 20 seconds for all modules to be discovered.
Open Configuration Web Pages Right-click on the first unconfigured module in iHelp and select Configure or manually enter the unit's IP address in a browser address bar.
Configure Network SettingsGlobal Connect modules default to DHCP enabled. To set a static IP address, select Network Settings. Change DHCP to Disabled, and enter the desired IP Address, Subnet Mask, Gateway, and DNS servers. Click Apply Changes followed by Back to return to the home page.
Configure Module SettingsClick the module's setting tab.
Depending on the type, configure the module for control of the attached devices.
GCHMX3
The GCHMX3 module allows for 3:1 HDMI switching, as well as CEC control via CEC injection. No configuration of the switch is necessary.  However, to test the switching action set the Output Port to On (enabling the switch), then select the input port that corresponds to the desired input device, and select Apply Changes.

GCIR3
The GCIR3 module allows for IR output, sensor input, or IR reception through its 3 independent ports. Each module includes 3 flashing IR emitters and one non-visible IR blaster capable of long-range IR transmission. Additionally, sensor input cables and IR receiver cables can be purchased separately. Plug the emitter, sensor, or IR receiver cables into any of the 3 ports. If an IR blaster will be used plug it into IR port 3.  On the configuration webpage, select Emitter, IR Blaster, Sensor/Sensor Notify, or IR Receiver depending on which cable is plugged into each port, then select Apply Changes. For the difference between Sensor and Sensor Notify please refer to the online User Guide.
GC232
The GC232 module allows for serial control of RS232 devices. The module must be configured with serial settings that match the connected serial device. These settings can often be found in the connected serial device's manual. Once these settings have been selected, select Apply Changes.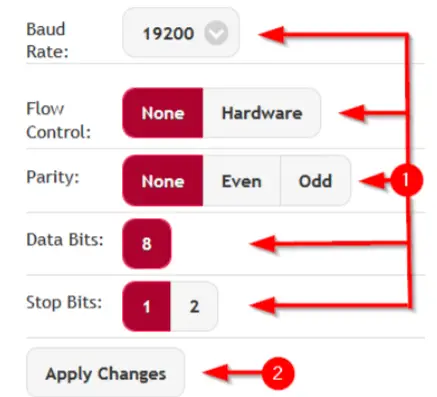 GCRL3A
No configuration is needed for the relays on the GCRL3A module.However, state controls are provided for testing purposes.

6. Repeat for Remaining ModulesRepeat steps 3 through 5 for all Global Connect modules in the chassis.
TROUBLESHOOTING
Global Connect modules can be reset to defaults by depressing the first (left-most) LED/light pipe of each module for 10 seconds at which point the LED will flash rapidly indicating a reset will occur. Additional information and instructions can be found in the Global Connect User Guide. Download from our website at www.globalcache.com/downloads
CONTACT US

Global Caché160 East California StreetPO Box 1659Jacksonville, Oregon 97530 USAPhone: 541-899-4800Email: [email protected]Web: www.globalcache.com
Copyright ©2020 Global Caché. All rights reserved.PN: 110518-01 ver2. Information is subject to change without notice.
References
[xyz-ips snippet="download-snippet"]