LED Video Light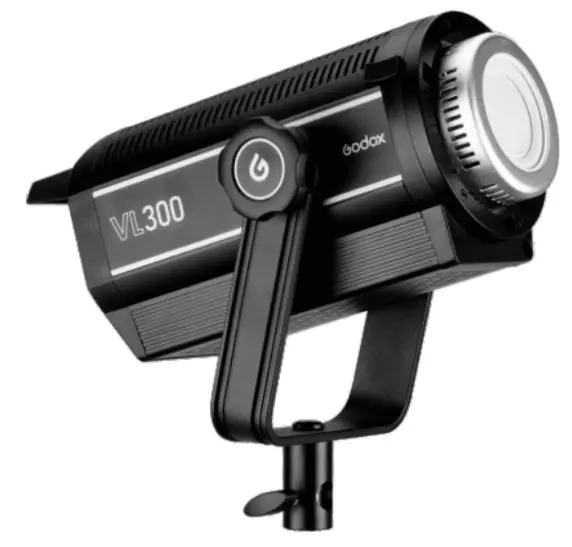 Instruction Manual
Foreword
Thank you for purchasing this Godox Product! LED Video Light VL series are portable and convenient due to the compact light and the separation design of main body, adapter, and controller. It's excellent for children shooting, studio shooting, product shooting, photojournalistic and video recording, etc. VL series creates stable light resources and even illumination for photography. With an included remote control and easy operation, VL series LED lights can be adjusted its light brightness in separate groups. Three models are available: VL150, VL200, and Vl300.
Main Features:
With strong power, stable light source, and adjustable light brightness
Powered by V-port Lithium battery or DC power supply with wide application
Small and portable light body provided with an easy light arrangement
Adapter and controller are separate from the main light body, which offers more convenient operation and better heat dissipation
Achieving wireless control by 433MHz grouping system (6 groups & 16 channels) and smartphone APP through Bluetooth
With U-type bracket to adjust different angles easily
Bowens-mount enables to install various of accessories
Included a carrying bag to pack the whole set
Warning

Always keep this product dry. Do not use in rain or in damp conditions.

Do not disassemble. Should repairs become necessary, this product must be sent to an authorized maintenance center.

Keep out of reach of children.

As this product does not have a waterproof function, please take measures to waterproof in a rainy or damp environment.

Do not use the flash unit in the presence of flammable gases, chemicals, and other similar materials. In certain circumstance, these materials may be sensitive to the strong light emitting from this flash unit, and fire or electromagnetic interference may result.

As this product has a built-in lithium battery, do not disassemble, impact, squeeze or put it into the fire. If a serious bulge occurs, please do not use it. Do not use or store the product if the ambient temperature reads over 50°C. Please charge the product with a specialized charger and correctly operate it within the defined voltage and working temperate according to the instruction manual.

The light source of this luminaire is not replaceable; when the light source reaches its end of life the whole luminaire shall be replaced.

Minimum distances from flammable materials: 10cm.
Body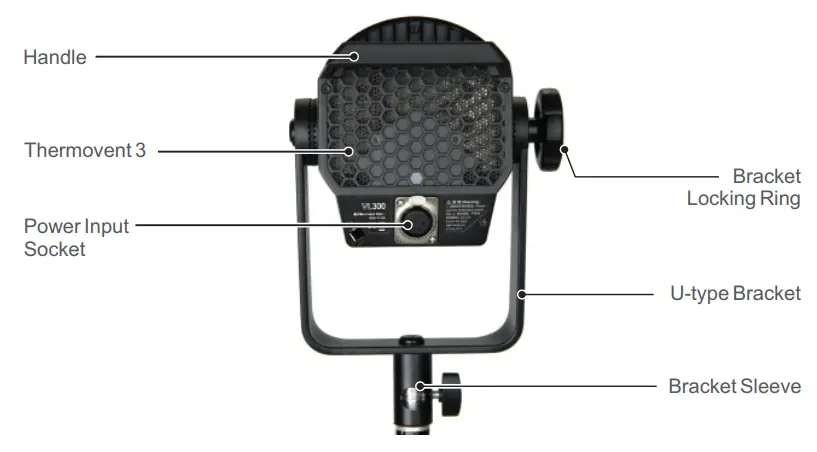 LCD Panel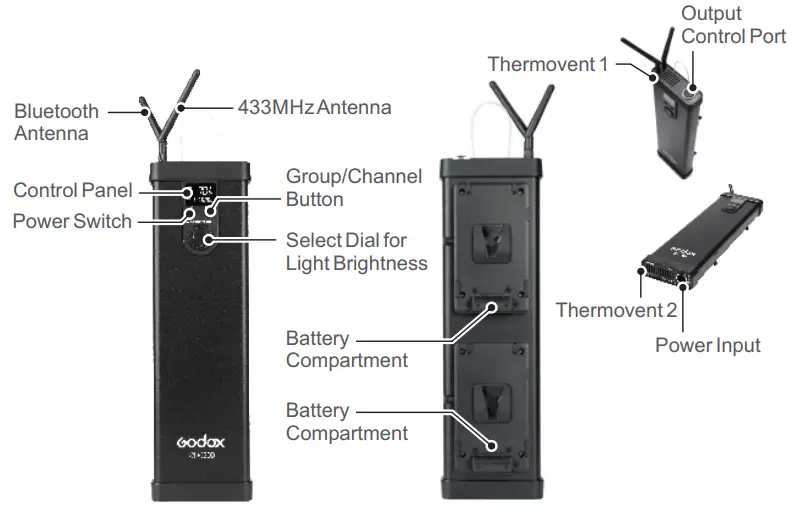 Included Items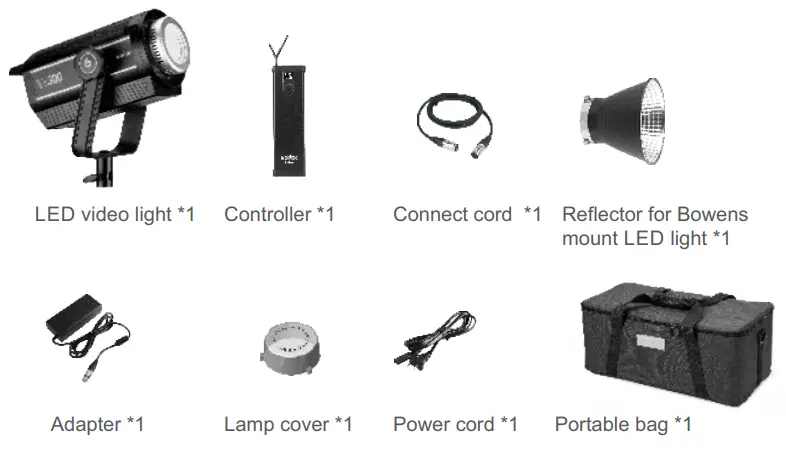 Power Supply
Firstly, plug the two ends of connecting cord separately into the controller's output control port and the light's power input socket. A "click" will be heardonce finished.
Plug the output end of the adapter's connects cord into the controller's power input end.
Use the power cord to connect the power supply.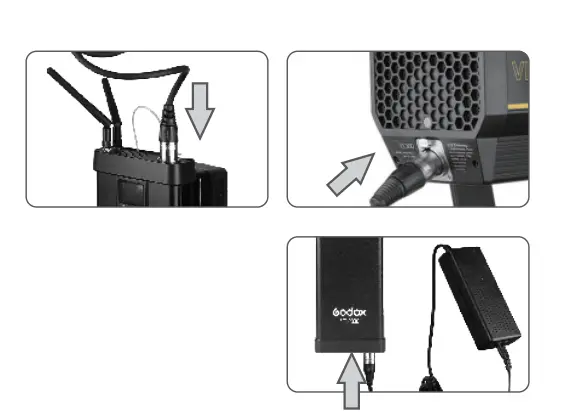 Note: If using a V-port battery, please insert the battery into the LED light and power it on for usage.
Operation
Power on/off: long-press the Power Switch of the controller to power the LED light on or off.
Choose group/channel: press GR/CH button once, and turn the Select Dial for Light Brightness to change the channel value. Then, press GR/CH button again, and turn the Select Dial for Light Brightness to change the group value (the group figure will be displayed recurrently). Press GR/CH button to exit.
Light brightness adjustment: turn the select dial for light brightness to change the value from 0% to 100%.
Power option: press the GR/CH button and power the light on to enter power option mode. Turn the brightness select dial to choose power from 300, 250, and 200. The power is 300W by default. Exit from this mode automatically without operation for 5 seconds.
Note: This function is used for the situation that the battery enters to protection states and cannot word due to some v-port battery doesn't output the corresponding power in strong power output. When entering this mode, the output power of the light can be decreased and the battery can be loaded instead of being protected (this function only applies to VL300).

Wireless Control (433MHz wireless & smartphone APP through Bluetooth)
With a 433 MHz wireless system, the VL series have remote grouping and control function. Up to 6 groups of LED lights can be controlled. 16 channels are available with strong anti-interference capability. Please set the channels and groups of LED light to the same as those of RC-A5I I remote control before usage.

Adjusting Channel/Group of the Controller
Press the GR/CH button and the channel icon blinks. Turn the select dial for light brightness
to choose a channel ID (1 to 16).
Press the GR/CH button twice and the group icon blinks. Turn the select dial for light brightness or color temperature to choose a group ID (A to F).
Adjusting Channel/Group of the Remote Control
Press the CH/GRP button and the group icon blinks. Press the "? or "+" button to choose a group ID (A to F).
Press the CH/GRP button twice and the channel icon blinks. Press the -" or "+" button to choose a channel ID (1 to 16).
Adjusting Light Brightness with the Remote Control
Press the "-" or "+" button to adjust the light
Note: The wireless signal can be received only when the controller is powered on. A remote control is available separately.
Setting color temperature range
The factory setting of the remote control's color temperature range is 2500-10000K. In order to use remote control conveniently, color temperature range settings are added: when the remote control is off, hold down the SET button and turn it on to enter the color temperature adjusting interface. Press CH/GR button to switch the lowest and highest color temperature value and press the "-" or "+" button to change the value. Press the SET button to confirm it.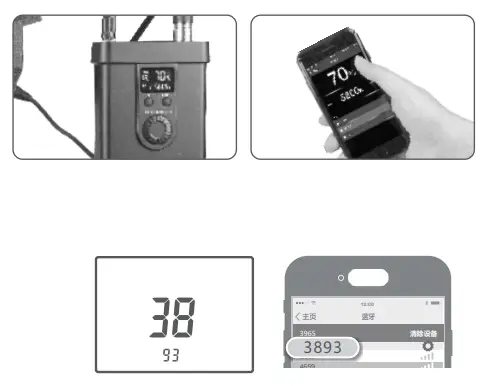 Technical Data
VL Series LED Light
VL150
VL200
VL300
Power Supply
DC Power supply
AC 100V-240V(50:60HZ

/2A(DC16.8V 10A)

AC 100V-240V(50'60HZ

/3.9A(DC33V 7A)

AC 100V-240V(50/60HZ)

4.3A(DC33V 10A)

Lithium battery
V-port battery(sepa ately sold)
Power
150W
200W
300W
Color Temperature
5600-1200K
100% Light Brightness (LUX. 1m)(ft)
Included Reflector
61000
75000
77000
Bare Light
6400
7800
10800
CRI (ft)
96
TLC I (m)
95
Light Brightness Range
0%-100%
Operation Temperature
-10°C–40°C
Channel
16
Group
6 groups (A, B. C.D. E. F)
BT Frequency Range
2402.0-2480.0MHz
Max. Transmitting Power
5dbm
Dimension
30x14x18cm
30x14x18cm
34x14x18cm
Net Weight
Light: 1.97Kg Controller: 0.86Kg Adapter: 0.72Kg
Light: 2.23Kg Controller: 1.19Kg Adapter: 0.96Kg
Light: 2.64Kg Controller: 1.26Kg Adapter: 1.14Kg
Note: The illumination value will be different when changing different accessories.
FCC Statement
This device complies with part 15 of the FCC Rules. Operation is subject to the following two conditions: (1) This device may not cause harmful interference, and (2) this device must accept any interference received, including interference that may cause undesired operation. Any changes or modifications not expressly approved by the party responsible for compliance could void the user's authority to operate the equipment.Note: This equipment has been tested and found to comply with the limits for a Class B digital device, pursuant to part 15 of the FCC Rules. These limits are designed to provide reasonable protection against harmful interference in a residential installation. This equipment generates uses and can radiate radio frequency energy and, if not installed and used in accordance with the instructions, may cause harmful interference to radio communications. However, there is no guarantee that interference will not occur in a particular installation. If this equipment does cause harmful interference to radio or television reception, which can be determined by turning the equipment off and on, the user is encouraged to try to correct the interference by one or more of the following measures:– Reorient or relocate the receiving antenna.– Increase the separation between the equipment and receiver.– Connect the equipment into an outlet on a circuit different from that to which the receiver is connected.– Consult the dealer or an experienced radio/TV technician for help.The device has been evaluated to meet general RF exposure requirements. The device can be used in portable exposure conditions without restriction.
Warranty
Dear customers, as this warranty card is an important certificate to apply for our maintenance service, please fill in the following form in coordination with the seller and safe-keep it. Thank you!
Product Information
Model
Product Code Number
Customer Information
Name
Contact Number
Address
Seller Information
Name
Contact Number
Address
Date of Sale
Note:
Note: This form shall be sealed by the seller.
Applicable ProductsThe document applies to the products listed on the Product Maintenance information (see below for further information). Other products or accessories (e.g. promotional items, giveaways, and additional accessories attached, etc.) are not included in this warranty scope.
Warranty PeriodThe warranty period of products and accessories is implemented according to the relevant Product Maintenancelnformation. The warranty period is calculated from the day(purchase date) when the product is bought for the first time, And the purchase date is considered as the date registered onthe warranty card when buying the product.
How to Get the Maintenance ServiceIf maintenance service is needed, you can directly contact the product distributor authorized service institutions. You can also contact the Godox after-sale service and we will offer you service. When applying for maintenance service, you show provide a valid warranty card. If you cannot provide a valid warranty card, we may offer maintenance service once confirmed that the product or accessory is involved in maintenance scope, but that shall not be considered as our obligation.
Inapplicable CasesThe guarantee and service offered by this document are not applicable in the following cases:1) The product or accessory has expired its warranty period; 2) Breakage or damage caused by inappropriate usage, maintenance, or preservation, such as improper packing, improper usage, improper plugging in/out external equipment, falling off or squeezing by an external force, contacting or exposing to the improper temperature, solvent, acid, base, flooding, and damp environments, etc; 3) Breakage or damage caused by the non-authorized institution or staff in the process of installation, maintenance, alteration, addition, and detachment; 4) The original identifying information of product or accessory is modified, alternated, or removed; 5) No valid warranty card; Breakage or damage caused by using illegally authorized, nonstandard or non-public released software; 6) Breakage or damage caused by force majeure or accident; 7) Breakage or damage that could not be attributed to the product itself. Once met these situations above, you should seek solutions from the related responsible parties and Godox assumes no responsibility. The damage caused by parts, accessories, and software beyond the warranty period or scope is not included in our maintenance scope. The normal discoloration, abrasion, and consumption are not the breakages within the maintenance scope.
Maintenance and Service Support InformationThe warranty period and service types of products are implemented according to the following Product Maintenance Information:
Product Type
Name
Maintenance Period(month)
Warranty Service Type
Parts
Circuit Board
12
Customer sends the product to the designated site
Battery
3
Customer sends the product to the designated site
Electrical parts e.g.battery charger, power cord, sync cable, etc.
12
Customer sends the product to the designated site
Other Items
Flash tube, modeling lamp, lamp body, lamp cover, locking device, package, etc.
No
Without warranty
Godox After-sale Service Call 0755-29609320-8062
705-VL0000-00
QC PASS
GODOX Photo Equipment Co., Ltd.Add: Building 2, Yaochuan Industrial Zone, Tangwei Community, Fuhai Street, Bao'an District,Shenzhen, China Tel: +86-755-29609320(8062) Fax: +86-755-25723423 E-mail: [email protected]godox.comMade in China

References
[xyz-ips snippet="download-snippet"]