hama 014165 FM Transmitter with Bluetooth Function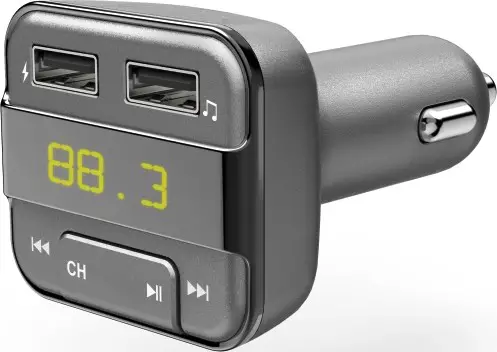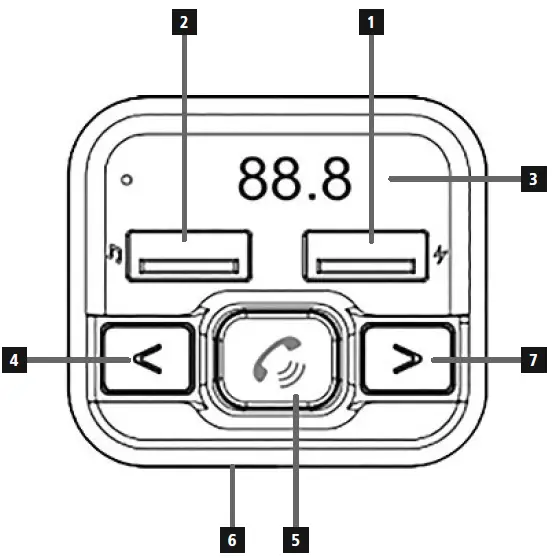 Operating instruction
Controls and Displays
USB charging connection with Qualcomm Quick Charge 3.0 technology
Connector for USB flash drive
Display / Frequency indicator
Previous track/ volume down/ lower frequency
Play/ start/ pause/ activate frequency
microSD card slot
Next track/ volume up/ higher frequency Thank you for choosing a Hama product.Take your time and read the following instructions and information completely. Please keep these instructions in a safe place for future reference. If you sell the device, please pass these operating instructions on to the new owner.
Explanation of Warning Symbols and Notes
Risk of electric shock This symbol indicates product parts energized with a dangerous voltage of sufficient magnitude to constitute a risk of electric shock.Warning This symbol is used to indicate safety instructions or to draw your attention to specific hazards and risks. Note This symbol is used to indicate additional information or  important notes.
Package Contents
FM-Transmitter with Bluetooth ® function
These operating instructions
Safety Notes
The product is intended for private, non-commercial use only.
Use the product for its intended purpose only.
Do not operate the product outside the power limits given in the specifications.
Protect the product from dirt, moisture and overheating, and only use it in a dry environment.
Do not use the product in moist environments and avoid splashes.
Do not bend or crush the cable.
Always pull directly on the plug when disconnecting the cable, never on the cable itself.
Do not drop the product and do not expose it to any major shocks.
Dispose of packaging material immediately according to locally applicable regulations.
Do not modify the product in any way. Doing so voids the warranty.
Do not use the product in the immediate vicinity of heaters or other heat sources or in direct sunlight.
Use the item only in moderate climatic conditions.
Keep this product, as all electrical products, out of the reach of children!
Do not use the product in areas where the use of electronic devices is not permitted.Note
When using this product, observe the applicable local traffic laws and regulations.
Take care that components such as airbags, safety areas, controls, instruments, etc. and visibility are not blocked or restricted.
Check that the product is safely mounted before beginning your journey.
Do not allow yourself to be distracted by the product when driving a vehicle. Always pay attention to the surrounding traffic and your environment.
Risk of electric shock
Do not open the device or continue to operate it if it becomes damaged.
Do not use the product if the charging cable, adapter cable or power cable is damaged.
Do not attempt to service or repair the product yourself. Leave any and all service work to qualified experts.
Product Features
The FM transmitter is used to transmit music or voice from a mobile device (smartphone, tablet, etc.) to an FM playback device (such as a car radio) in high quality in a car, caravan or boat. At the same time, up to two terminal devices can be charged simultaneously using the USB connections. The FM transmitter is compatible with all terminal devices that have a Bluetooth ® function. The FM transmitter can also transmit music or voice directly from a USB stick (maximum of 32 GB) or a microSD card (maximum of 32 GB).
Getting Started and Operation
Plug the FM transmitter into a power socket of your vehicle's electrical system, and then establish the Bluetooth ® connection between the mobile device and the FM transmitteras described below.
Alternatively, audio files can be transferred directly from a USB stick or microSD card.
Note
For some vehicle types, the ignition has to be switched on to supply power to the 12 V car socket. For more information, please refer to your vehicle's operating instructions.
Disconnect all cable and on-board connections after use.
Bluetooth® pairing Note
Check whether your mobile device (MP3 player, mobile phone, etc.) is Bluetooth ® capable.
If not, the only way you can use the FM transmitter for playback is with a USB stick or microSD card.
Note that the maximum range for Bluetooth ® is 10 metres without obstacles such as walls, people, etc.
Make sure that your Bluetooth ® capable terminal device is on and Bluetooth ® is activated.
Plug the FM transmitter into a car socket located near the car radio.
Make sure that the FM transmitter is within the maximum Bluetooth ® range of 10 metres.
Open the Bluetooth ® settings on your terminal device and wait until BT21H appears in the list of Bluetooth ® devices found.
Select BT21H and wait until the FM transmitter is listed as connected in the Bluetooth ® settings on your terminal device. A transmission frequency is now shown on the display.Note – Bluetooth ® password Some terminal devices require a password in order to connect to another Bluetooth ® device.

If your terminal device requests a password for connection to the speaker, enter 0000.Note – Connection impaired After the FM transmitter and terminal device have been paired, a connection is established automatically. If the Bluetooth ® connection is not established automatically, check the following:
 Check the Bluetooth ® settings of your terminal device to see whether BT21H is connected. If not, repeat the steps listed under Bluetooth ® pairing.
Check whether your terminal device and the FM transmitter are less than 10 metres apart. If not, move the devices closer together.
Check whether obstacles are impairing the range. If so, move the devices closer together.
Audio playback (via Bluetooth ®)Start and control audio playback on the connected terminal device accordingly. Alternatively, audio playback can also be controlled on the FM transmitter (if the connected device supports this function).
Press the function button to start or pause audio playback.
Press the>function button to jump forward one title.
Press the<function button to jump backward one title.
Audio playback (via USB stick or microSD card)
Plug the USB stick into the USB socket marked with (2); playback will start automatically.
Insert a microSD card into the card slot (6) on the FM transmitter; playback will start automatically.Note
The capacity of the USB stick or microSD card must not exceed 32 GB.
The following formats are supported for audio playback: MP3. 6.4 Manual station search
Search for an available frequency on your car radio (static without partial signals).
Set the same frequency on the FM transmitter. To do this, press and hold the button (5) for 2 seconds until the frequency indicator on the display (3) begins to flash.
Then press the< or> button to set the desired frequency.
The FM transmitter always stores the last frequency set.
Note – Automatic standby
 After 50 to 60 seconds without a music signal or button being pressed, the FM transmitter switches to standby.
If it receives a music signal or a button is pressed, the FM transmitter is activated again.
Charging function The FM transmitter has a USB charging socket. This supplies the charging currents specified in Point 7. 'Technical specifications'.Note – Car battery With some vehicles, it can happen that power continues to be supplied even though the ignition has been switched off. Therefore, when not using the product, disconnect it from the power supply to protect your car battery from discharge.Note – Connecting terminal devices
Before connecting a terminal device, check whether the power output of the charger can supply sufficient power for the device.
Ensure that the total power consumption of all connected terminal devices does not exceed 3000 mA.
Please refer to the instructions in the operating manual of your terminal device.
Disconnect all cable and mains connections after use.Note – Power Delivery/ QC 3.0, 2.0
Plug & go: No manual setup necessary, just connect and start: Voltage and power are automatically configured by Power Delivery/QC 3.0, 2.0.
For efficient and optimised charging, the Power Delivery (PD)/QC 3.0, 2.0 function must be supported by your terminal device.
With the large quantity of PD/QC-enabled terminal devices with different firmware versions, it can happen that the function is not fully supported.
Hands-free function
 Thanks to its built-in microphone, the FM transmitter features an integrated hands-free function.
When a call is received, the device automatically switches from music playback to hand-free mode; simply press the button to take the call.
Press the button again to end the call. Pressing the button twice, automatically calls the last number dialled.
Care and Maintenance
Only clean this product with a slightly damp, lint-free cloth and do not use aggressive cleaning agents.Note Disconnect the device from the power supply before cleaning or if it will not be used for a long period of time.
Warranty Disclaimer
Hama GmbH & Co KG assumes no liability and provides no warranty for damage resulting from improper installation/mounting, improper use of the product or from failure to observe the operating instructions and/or safety notes.
Technical Data
FM transmitter with Bluetooth ® function
Bluetooth ® technology
Bluetooth ® v4.2
Input voltage
12 – 16V
Input current
2.1 A
Output voltage and current on USB 1 (marked with symbol)
3.6- 6.5V        3A

6.5- 9V        2A

9- 12 V       1.5A

Output current, USB 2(marked with symbol)
No charging function; suitable for USB sticks only
Recycling Information
Note on environmental protection:After the implementation of the European Directive 2012/19/EU and 2006/66/EU in the national legal system, the following applies:Electric and electronic devices as well as batteries must not be disposed of with household waste. Consumers are obliged by law to return electrical and electronic devices as wellas batteries at the end of their service lives to the public collecting points set up for this purpose or point of sale. Details to this are defined by the national law of the respective country.This symbol on the product, the instruction manual or the package indicates that a product is subject to these regulations. By recycling, reusing the materials or other forms of utilising old devices/Batteries, you are making an important contribution to protecting our environment.
Declaration of Conformity
Hereby, Hama GmbH & Co KG declares that the radio equipment type [00014165] is in compliance with Directive 2014/53/EU. The full text of the EU declaration of conformity is available at the following internet address: www.hama.com/00014165/Downloads.
Frequency for the Bluetooth ® transfers
2,402 GHz ~ 2,480

GHz

Bluetooth ® transmitting power
max. 4 dBm
FM frequency range
87.6–107.9 MHz
Transmitting power
max. -43 dBm
Hama GmbH & Co KG86652 Monheim/Germany
Service & Supportwww.hama.com+49 9091 502-0
The Bluetooth ® word mark and logos are registered trademarks owned by Bluetooth SIG, Inc. and any use of such marks by Hama GmbH & Co KG is under license. Other trademarks and trade names are those of their respective owners.All listed brands are trademarks of the corresponding companies. Errors and omissions excepted, and subject to technical changes. Our general terms of delivery and payment are applied.

References
[xyz-ips snippet="download-snippet"]