HAMPTON BAY Fernlake Steel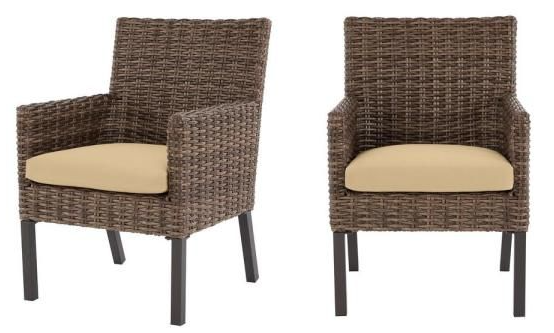 Important Safety Instructions
WARNING: This dining chair was made for the explicit purpose of providing outdoor functions and is not to be used as a toy.This product is intended for normal outdoor use; however, the manufacturer recommends storing and / or covering this product when any formidable / severe weather is approaching.
WARNING: Weight limit for the chairs is 250 lbs (113.39 kg) for each seat.
READ ALL INSTRUCTIONS BEFORE USE
To reduce the risk of injury to persons:
Close supervision is necessary when this product is used by or near children, or disabled persons, if applicable.
Do not move the chairs while the chairs are occupied. Failure to obey this caution could result in injury.
Use this product only for its intended use as described in these instructions. Do not use attachments not recommended by the manufacturer.
Do not rock in the chair as you may fall and cause serious injury.
Please keep children out of the assembly area before assembly
3 YEAR FRAME LIMITED WARRANTY
WHAT IS COVEREDWe warrant the frames to be free of manufacturing defects to the original purchaser for three years.
WHAT IS NOT COVEREDIt remains the customer's responsibility for freight and packaging charges to and from our service center. This warranty does not cover commercial use. We reserve the right to make substitutions with similar merchandise, if the model in question is no longer in production.
Contact the Customer Service Team at: 1-855-HD-HAMPTON or visit www.HamptonBay.com
Pre-Assembly
PLANNING ASSEMBLY
Read all instructions before assembly.To avoid damaging this product, assemble it on a soft, non-abrasive surface such as carpet or cardboard.NOTE: More than one person may be required to assemble this product.
HARDWARE INCLUDED
NOTE: Hardware not shown to actual size.

| | | |
| --- | --- | --- |
| Part | Description | Quantity |
| AA | M6x20 combination bolt | 24+1 |
| BB | Hex wrench | 1 |
CHAIR PACKAGE CONTENTS
| | | |
| --- | --- | --- |
| Part | Description | Quantity |
| A | Seat | 2 |
| B | Front Leg | 4 |
| C | Left Rear Leg | 2 |
| D | Right Rear Leg | 2 |
| E | Seat Cushion | 2 |
Chair Assembly
ATTACHING THE FRONT LEG, LEFT REAR LEG AND RIGHT REAR LEG TO THE SEAT
Place the seat (A) upside down on a soft surface.
Attach the front leg (B), left rear leg (C), and right rear leg (D) to the seat (A) using M6x20 combination bolt (AA).
NOTE: Loosely tighten all bolts using the hex wrench (BB).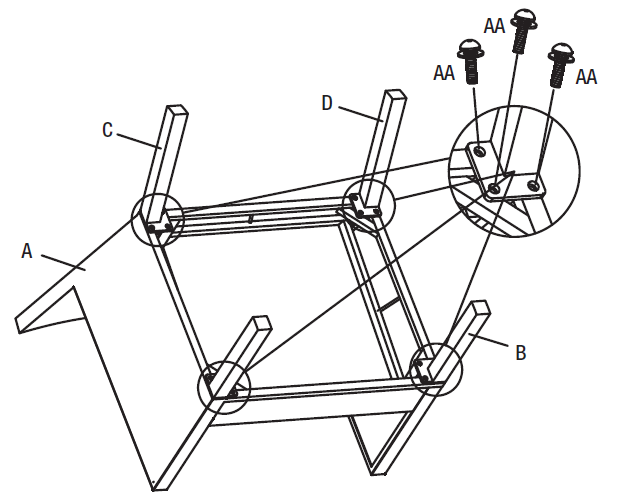 TIGHTENING ALL BOLTS AND PUT THE SEAT CUSHION ON THE CHAIR
Once all of the bolts are in place, fully tighten all the bolts using hex wrench (BB).
Turn the chair right side up.
Put the seat cushion (E) on the chair.
Ensure all connections are secure before use.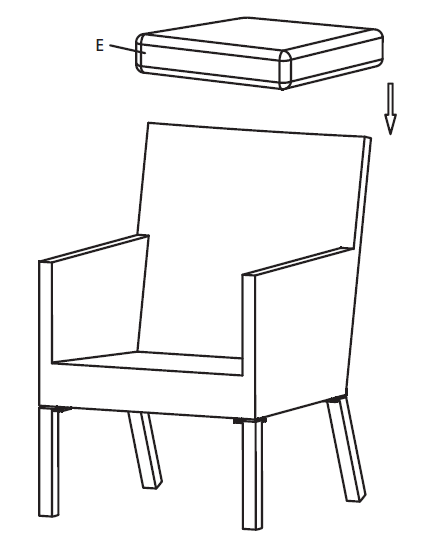 Care and Cleaning
For best results, clean the frame and cushions with a damp cloth and dry thoroughly. This will help prevent mildew by removing dirt particles that may accumulate.
Do not clean with abrasive materials, bleach, or solvents.
Store the chair in a dry, sheltered place when not in use.
Keep the chair away from , extreme heat, freezing conditions, and inclement weather such as rain, hail, sleet, snow, or wind.

References
[xyz-ips snippet="download-snippet"]